Argentina romps past Ecuador
Javier Saviola notched a hat trick as Argentina crushed Ecuador 6-1 while Mexico blew a 2-1 lead and man advantage in conceding a 2-2 draw to Uruguay in the Copa America on Wednesday.
Argentina's biggest output in nine years lifted it to the top of Group B in a successful first appearance at the Copa since 1999. It missed the 2001 event in Colombia because of security concerns.
Saviola led a second-half goalfest, rescuing Argentina from a 1-1 deadlock and finding the back of the net in the 64th, 74th, and 79th minutes. Cristian Gonzalez, Andres D'Alessandro, and Luis Gonzalez also scored in Argentina's most lopsided win against Ecuador in 44 years.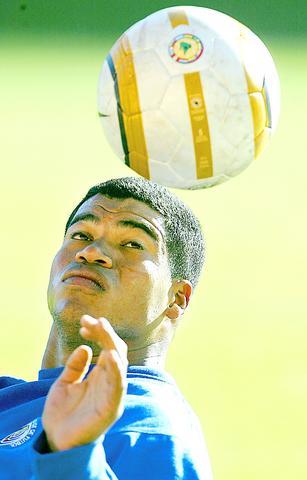 Ronald Gomez of Costa Rica heads the ball during a training session in the San Agustin Stadium in Arequipa, Peru, Wednesday. Costa Rica will face Paraguay today in the first round of the Group C of the Copa America 2004 tournament.
PHOTO: REUTERS
Agustin Delgado scored the lone goal for Ecuador, which included many starters from its 2002 World Cup squad.
"Argentina put on a show," Ecuador coach Hernan Gomez said. "They outplayed us in every aspect and embarrassed us.
"This is the kind of result that gets coaches fired," he added.
Argentina coach Marcelo Bielsa, under fire for the team's recent lackluster play, pumped his fist in the air in celebration after each goal.
"We didn't expect to win by such a large margin," he said. "But we've taken an important first step."
He quickly cautioned: "Although it doesn't guarantee what will happen next."
Cristian Gonzalez made it 1-0 in the fifth minute on a penalty. Referee Carlos Amarilla awarded the spot kick after Ecuador defender Giovanny Espinoza shoved Luis Gonzalez off the ball in the penalty area as he turned to receive a pass. Cristian Gonzalez converted as goalkeeper Giovanny Ibarra dove to his right, sending his shot in the opposite direction.
Argentina played its tournament opener only hours after learning it had fallen out of FIFA's top 10 rankings for the first time since 1998, slipping six places to 11th.
Ecuador rarely threatened in the first half, but after the break Delgado came off the bench and equalized in the 61st minute, shooting a blistering shot between three Argentine defenders.
Saviola responded three minutes later, outmaneuvering four defenders and shooting as he leaned to his left. Ten minutes later, Saviola leapt and beat Ibarra with a header that set off a goal fiesta -- Argentina scored four in the final 30 minutes.
Earlier, former Uruguay captain Paolo Montero headed in an 88th-minute corner in his first international in two years to help his 10-man team draw Mexico 2-2.
Montero retired from international duty after leading Uruguay at the 2002 World Cup, but justified his recall by new coach Jorge Fossati with his equalizer.
The presence of the Juventus defender helped unfancied Uruguay surprise favored Mexico by scoring first and last, after replacement Richard Morales was sent off in the 81st for a late body slam on Pavel Pardo, who scored Mexico's second goal on a 25-meter blast.
Uruguay had allowed 11 goals in its last three World Cup qualifiers, but rose to the occasion at Elias Aguirre Stadium.
"We were really pleased with the way we played, but with everything we've suffered, it's a result to be happy about," said Uruguay coach Jorge Fossati.
Fossati was pleased with his team's defensive work. "That's what worried us and it was the first thing we needed to work on," he said.
"Uruguay demonstrated a strong defense and that we're headed in the right direction."
Mexico has retained the veteran core which led it to the last two World Cups and 2001 Copa final with the stated intention of finally winning the Copa America, but the two-time runner-up appeared to look leg-weary towards the end.
"We need to keep working and be more creative," Mexico coach Ricardo Lavolpe said. "I would have been happy only if we won, but a point is a point and we're still in the race."
Comments will be moderated. Keep comments relevant to the article. Remarks containing abusive and obscene language, personal attacks of any kind or promotion will be removed and the user banned. Final decision will be at the discretion of the Taipei Times.