Mets edge past Yankees in ninth
MAJOR LEAGUE BASEBALL Shane Spencer came back to haunt the Yankees after he knocked in the winning run with the bases loaded in the ninth inning in Queens
Shane Spencer hit a dribbler against his former team with the bases loaded in the ninth inning to drive in the winning run, capping an afternoon of comebacks and giving the Mets a 10-9 victory Saturday over the Yankees.
Tony Clark homered twice and tied his career high with four hits, but the Yankees wasted leads of 3-1, 6-4 and 8-6 and failed to score with the bases loaded in the ninth against John Franco (2-4).
Cliff Floyd, Ty Wigginton and Richard Hidalgo homered off Jose Contreras, but the Mets made two errors that led to four unearned runs and failed to hold leads of 4-3 and 9-8.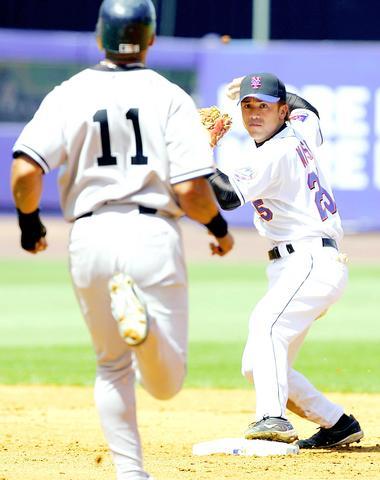 Shortstop Kaz Matsui, right, of the Mets, turns a double play as Gary Sheffield of the Yankees runs toward second base at Shea Stadium in Queens borough, New York, Saturday. The Mets won the game 10-9 when former Yankee Shane Spencer knocked home an RBI.
PHOTO: AFP
With the score 9-all in the bottom of the ninth, Tanyon Sturtze (3-1) relieved and walked Kaz Matsui, who had three hits. Mike Piazza then popped out, Floyd walked and Hidalgo was hit by a pitch. That brought up Spencer, who earlier gave the Mets a 9-8 lead with a two-run double.
Cubs 4, White Sox 2, 5 1/2 innings
In Chicago, Greg Maddux pitched around three rain delays for his 296th win, and Sammy Sosa backed him with a homer and a great sliding catch on a wet day at Wrigley Field.
The game was called after it was delayed a fourth time for 77 minutes after the top of the sixth inning. Umpires and both manager inspected the field before the game was declared over because of unplayable conditions.
Returning to the mound after delays of 31, 15 and 59 minutes, Maddux (7-6) allowed five hits and two runs in 5 1-3 innings.
Felix Diaz (1-2), who beat the Cubs a week ago for his first major league win, lasted just four innings, giving up six hits and three runs.
Athletics 6, Giants 2
In San Francisco, Mark McLemore's tiebreaking RBI single sparked a four-run ninth inning.
Barry Bonds went 1-for-2 with two walks, snapping his streak of homering in four straight games with an at-bat. But he now has 2,189 walks for his career -- including 119 this season -- to trail Rickey Henderson's career record by only one.
Damian Miller's RBI double tied it in the eighth for the A's, who broke it open in the ninth against Matt Herges (4-3).
Justin Duchscherer (4-1) pitched two scoreless innings for the win as Oakland beat their cross-bay rivals for the second time in five games this season.
Cardinals 8, Mariners 1
In St. Louis, Jim Edmonds returned to the lineup with a home run and three RBIs, and Jason Marquis pitched effectively before and after a 1 hour rain delay.
Albert Pujols hit a two-run homer and Edmonds, making his first start in center field in eight days, went 2-for-3.
Bret Boone homered and Randy Winn had two hits for the Mariners, who have lost nine of 12.
Marquis (8-4) followed the lead of Woody Williams, who was solid before and after a 2 hour rain delay on Friday. Boone's 11th home run was the only damage against him in the first 2 1-3 innings, and after the delay Marquis gave up only two hits the rest of his outing.
Devil Rays 6, Marlins 1
In Miami, Victor Zambrano gave up four hits in seven shutout innings and drove in his first career run.
The Devil Rays improved to 30-10 since May 20 and moved two games over .500 (40-38) for the first time since starting the 2002 season 3-1.
Previously, the latest in a season Tampa Bay had been two games over .500 was at 22-20 on May 21, 1999. The club is 5-0-1 in its last six series, including winning both three-game sets in the Citrus Series.
The Marlins have lost four straight and 11 of 15.
Zambrano (9-4) won his sixth consecutive decision and hasn't lost since May 15. He struck out four and walked four.
Red Sox 6, Braves 1
In Atlanta, Curt Schilling stopped another Boston losing streak by pitching a six-hitter, Nomar Garciaparra homered and Doug Mirabelli had a grand slam.
Johnny Damon also connected for the Red Sox, coming off a pair of painful losses in extra innings to the Yankees and Braves the previous two nights.
Schilling (11-4) struck out 10 and walked one in his second complete game this season and the 81th of his career. Boston ended a four-game skid and won for only the fourth time in 13 games.
Schilling led only 2-0 before the Red Sox chased Braves starter John Thomson (6-7) with five runs on two homers in the sixth inning.
Reds 4, Indians 2
In Cincinnati, Paul Wilson won for the first time in more than a month and D'Angelo Jimenez hit a two-run homer.
Wilson (8-2) held Cleveland to two runs in 6 2-3 innings, one night after the Indians set a season high for runs against five Reds' pitchers in a 15-2 win. Wilson allowed eight hits with six strikeouts and two walks, one intentional.
Danny Graves pitched a perfect ninth for his major league-leading 31st save in 38 opportunities.
Scott Elarton (0-1) lost for the fist time in his fifth start for Cleveland. He gave up three earned runs on five hits with four strikeouts in six innings.
Phillies 7, Orioles 6
In Philadelphia, pinch-hitter Tomas Perez hit an RBI single in the eighth inning.
David Bell's two-run homer off Jason Grimsley (3-5) tied it at 6 in the eighth, and Perez delivered against B.J. Ryan.
Placido Polanco and Mike Lieberthal also homered for the NL East-leading Phillies, who improved to 4-2 in the midst of their season-high 14-game homestand.
Miguel Tejada and Luis Lopez each homered and Erik Bedard had a career-high 10 strikeouts for Baltimore, which had won three in a row.
Rheal Cormier (4-3) allowed one run in 1 2-3 innings. Billy Wagner finished for his 12th save in 14 chances.
Astros 10, Rangers 8
In Houston, Morgan Ensberg hit a grand slam, and Mike Lamb and Raul Chavez each drove in two runs.
The Rangers and Astros combined for 13 runs in the nearly hour-long fifth inning, giving the sellout crowd of 42,889 an offensive outburst on fireworks night.
Alfonso Soriano and Gary Matthews Jr. both hit three-run homers in the fifth, giving the Rangers a 6-1 lead before the Astros came back in the bottom of the inning.
David Weathers (1-1) pitched a scoreless 1 2-3 innings to get the win. Dan Miceli worked 1 1-3 innings for his first save.
Brocail (0-1) took the loss, giving up five runs and five hits in 1 1-3 innings.
Blue Jays 2, Expos 0
In San Juan, Puerto Rico, Roy Halladay showed his Cy Young form, pitching seven sharp innings.
Eric Hinske went 4-for-4 and scored twice on RBI singles by Chris Gomez. Halladay (7-5), winner of the AL Cy Young Award last year, allowed only five hits. He struck out six and walked one.
Vinnie Chulk pitched the eighth and rookie Jason Frasor the ninth for his eighth save, completing the six-hitter.
Tony Armas Jr. (1-3) was on a strict pitch count. He did not return after the rain delay and 69 pitches.
Rockies 11, Tigers 6
In Denver, Vinny Castilla had three RBIs and Preston Wilson put an emphatic end to his slump with a two-run homer.
Castilla, who missed Friday's game while attending to a personal matter, was 2-for-4, leaving him two hits short of tying Jorge Orta (1,619) for most by a Mexican-born player.
Wilson hit his first homer of the year off Mike Maroth (5-6) in the fifth inning. He was 2-for-5 to end a 4-for-43 slump that started when he came off the disabled list June 18.
Jason Jennings (7-7) was shaky in his five innings, allowing nine hits, five walks and six runs, but still picked up his fourth straight win at Coors Field. Charles Johnson added three hits.
Randall Simon's opposite-field groundball double drove in two runs Saturday to break a sixth-inning tie as the Pittsburgh Pirates won their eighth successive game, beating the Milwaukee Brewers 5-3.
Jason Bay, coming off an eight-RBI performance in the second game of Friday's doubleheader, added an RBI single to help the Pirates win their ninth in 11 games since they dropped 19 of 22. The winning streak is their longest since an eight-game run Sept. 1-8, 2000, during Gene Lamont's final month as manager.
Bay has 10 RBIs in the first three games of the four-game series that wraps up Sunday.
"We're just trying to keep it up and keep the momentum going as long as we can," Simon said. "We know we can beat anybody. We're putting offense, defense and pitching together and everything is just fine."
Benson (6-7) pitched seven innings to win for only the second time in seven starts. Benson's contract is up after this season and, with the Pirates not looking to re-sign him, likely will be traded this month.
Comments will be moderated. Keep comments relevant to the article. Remarks containing abusive and obscene language, personal attacks of any kind or promotion will be removed and the user banned. Final decision will be at the discretion of the Taipei Times.