Teenager tackles Serena Williams for title
EXPLOSIVE ARRIVAL The 17-year-old Maria Sharapova dispatched of her rivals in impressive fashion and has a steely determination that could threaten the champion
At 22 years old, Serena Williams is hardly a veteran but in today's Wimbledon final she will go up against a player five years her junior.
Russian 17-year-old Maria Sharapova is the second-youngest Wimbledon finalist in the Open era behind Martina Hingis and her explosive arrival among the elite of the sport represents a genuine threat to the Williams dynasty.
On the face of it Serena, bidding to become the first woman to win three straight Wimbledon titles for the first time since Steffi Graf from 1991 to 1993, should have too much power and grass court savvy for the leggy blonde debutant.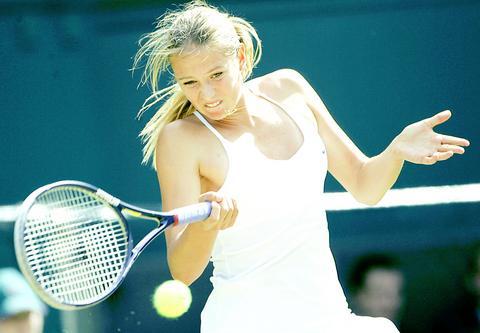 Thirteenth seed Russia's Maria Sharapova, who overhauled former champion Lindsay Davenport 2-6 7-6 6-1 on Thursday to become the second-youngest Wimbledon finalist since tennis turned professional.
PHOTO: REUTERS
But the six-times Grand Slam winner and top seed says she is taking nothing for granted against Sharapova.
"She's tough, solid on both sides and she's really focussed. And we both pump our fists a lot," she said.
"I don't think experience will be a big factor. I remember when I was young, I was really determined to fight and win.
PHOTO: REUTERS
"When I played my first Grand Slam final [US Open 1999] you really run on adrenaline.
"Maybe if it was 7-7 in the third set a little more experience would kick in, but I think it all boils down to talent. She has enough experience already."
Sharapova, playing in just her second Wimbledon, fought back from a set down in her last two games and she closed out American veteran Lindsay Davenport in impressive fashion in their semifinal.
She has confidence a-plenty and a steely determination that evokes memories of Monica Seles at her best.
"I have worked hard and believed in myself, but I never expected to do so well at such an early age -- to get to the final," she said.
Speaking prior to Williams' thrilling three-set win over France's Amelie Mauresmo in the other semifinal, Sharapova said she would have nothing to lose.
"I just want to go out and have fun. It's my first Wimbledon final and it's an amazing feeling. And at this point I don't really think it matters," she said.
Curiously it is the Siberian-born Sharapova who has had the more typical US tennis upbringing.
She left home as a seven-year-old and has been groomed for stardom at the classic tennis academy of Nick Bolletieri in Florida, having to separate from her mother for two years as she was unable to get a visa for the US.
Williams has never been part of the US tennis establishment, going it alone with sister Venus under the tutelage of father Richard from their roots in the tough Los Angeles district of Compton.
But there are some similarities according to Williams.
"It was just the same with me when I was younger, except she is at Wimbledon and with me it was at the US Open," she said.
That 1999 triumph over Hingis at Flushing Meadow for the 17-year-old Serena was the last time she has had an opponent other than sister Venus on the other side of the net in a Grand Slam final.
Since then she has won two Wimbledons, a second US Open and one French and one Australian Open, all with her sister as losing finalist.
One more factor could be the Centre Court crowd which is expected to rally behind the photogenic and expressive Russian. But Williams said that would not bother her.
"Hey, the crowds always root for the underdog, at least when I'm playing. I'm always not the underdog," she said.
Comments will be moderated. Keep comments relevant to the article. Remarks containing abusive and obscene language, personal attacks of any kind or promotion will be removed and the user banned. Final decision will be at the discretion of the Taipei Times.