Greeks celebrate at home
Jubilant fans waving Greek flags and honking car horns poured into the streets Friday to celebrate the national team's run to the semifinals of soccer's European Championship.
Greece beat France 1-0 in their quarterfinal match and advanced to the last four in a major tournament for the first time.
"It's over! It's over! Greece is in the final four," said an announcer on state-run NET television which was broadcasting the game.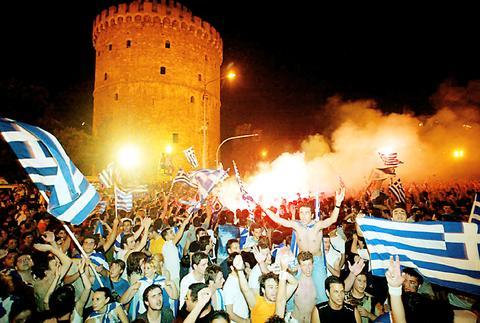 Greek fans celebrate in front of the White Tower, a landmark of the northern port city of Thessaloniki, Greece, early Saturday, after knocking France out of Euro 2004.
PHOTO: AP
Another private TV station displayed a headline: "Bring us the cup."
Thousands of fans started to gather in Athens' busy Omonia Square within minutes from the final whistle, waving Greek flags and singing the national anthem. Some cried with joy and embraced.
"I feel like a Greek, proud. And this team that has made it this far is worthy," a young fan who had a Greek flag draped on his back told AP.
``There was no game. It was all ours. All of it. We drove everyone crazy. Everyone is ours,'' said another who had his hair painted blue, one of the national colors.
The entire city was illuminated as fireworks formed a bright drape over the ancient Acropolis and other monuments.
"All Greeks across Greece celebrate today a just victory, the historic qualification of our national team to the four best teams in Europe," said Prime Minister Costas Caramanlis in a statement. "Our players made us all proud."
A message was even sent to the team from the leader of Greece's powerful Orthodox Church.
"The victory of our national team filled the soul of all Greeks, and particularly of the young people, with national pride," Archbishop Christodoulos said. "I wish, and we all pray for that, that you bring a similar victory in the final."
Greeks poured into central squares in cities across the country, singing and dancing. In villages in central Peloponnese and the southern island of Crete people fired guns in the air to celebrate the victory.
"I don't believe that anyone has stayed home. Everyone seems to be in the streets," noted one TV commentator as the channel was broadcasting live scenes from several Greek cities.
Celebrations were expected to last all night.
"On foot, by train or by car, all Greeks must come to Portugal," said a Greek fan who was interviewed by a Greek television channel in Portugal. "All Greeks stand united."
Comments will be moderated. Keep comments relevant to the article. Remarks containing abusive and obscene language, personal attacks of any kind or promotion will be removed and the user banned. Final decision will be at the discretion of the Taipei Times.