Juan Dominguez beats Yankees in first outing
Juan Dominguez shut down the New York Yankees for his first major league win, and Brad Fullmer homered and scored a career-high four runs in the Texas Rangers' 8-1 victory Saturday. \n"He was outstanding. It was a big day for the young man," said Texas manager Buck Showalter. "We talked about where we are as an organization, and we wanted to expose him to this environment. He really responded." \nMark Teixeira also connected and drove in three runs as Texas teed off on Jon Lieber (4-3), handing the Yankees only their second loss in 12 games. New York had won four straight, all come-from-behind victories. \nFullmer homered leading off the second, then doubled, singled and walked to reach safely in his first four plate appearances. He knocked in two runs and is 9-for-15 (.600) with three homers lifetime against Lieber. \nDominguez (1-1), called up from Triple-A Oklahoma on May 29, allowed only Ruben Sierra's fifth-inning home run. Facing a lineup missing Derek Jeter, he pitched eight impressive innings, giving up five hits, striking out five and walking one. The rookie retired 11 in a row during one stretch. \n"I don't think fear is ever going to be a factor with him," Showalter said. "He has a confidence. Today was a product of a lot of people in our system -- and Juan." \nAthletics 4, Blue Jays 0 \nIn Oakland, California, Tim Hudson pitched an eight-hitter to give Oakland a much-needed win over Toronto. \nScott Hatteberg hit a three-run homer in the third inning off Pat Hentgen (2-5) and Bobby Crosby added a solo shot in the fourth. That proved to be more than enough for Hudson (6-2), who improved to 69-2 in his career when getting at least four runs of support. \nMariners 4, White Sox 2 \nIn Seattle, Bret Boone ended a 1-for-19 slump with a tiebreaking, two-run homer in the fifth and Ryan Franklin pitched seven strong innings to help Seattle defeat Chicago. \nBoone hit his ninth homer of the season off Scott Schoeneweis (5-3) after John Olerud walked with one out in the fifth. The 438-foot shot landed in the second deck in left field. \nFranklin (3-4) won for the first time since May 7 and ended his two-game losing streak. He allowed two runs on six hits and three walks, and had four strikeouts. \nEddie Guardado pitched the final 1 1-3 innings for his 10th save in 13 opportunities. \nRed Sox 8, Royals 4 \nIn Kansas City, Missouri, David Ortiz, Mark Bellhorn and Kevin Youkilis hit two-run home runs to help Boston down Kansas City to snap a four-game losing streak. \nCurt Schilling (7-3) gave up a 445-foot home run to Mike Sweeney on his ninth pitch of the game and then shut out the Royals until Benito Santiago's sacrifice fly with one out in the seventh. Winning his third straight decision, Schilling gave up three runs on six hits in seven innings. \nDarrell May (2-8) became the major's first eight game loser this season. He gave up all three Boston homers, putting him in the league lead with 17 home runs allowed. \nPinch-hitter Damion Easley hit a tying three-run homer in the seventh inning, and Alex Gonzalez had a two-out, RBI single in the eighth to give the Florida Marlins a 7-6 win over the New York Mets. \n"I was just trying to get a good pitch to handle," Easley said. "It wasn't that complicated or more detailed than that. It's always exciting to give the team a boost off the bench. You've got one bullet and you don't want to waste it." \nWith runners on second and third in the seventh, Lenny Harris was sent in as a pinch hitter but the Mets called for left-hander Mike Stanton. Easley batted for Harris and hit his second homer of the season to tie it at 5. \n"I wanted a groundball double play," Stanton said. \n"He got under the ball and it carried. It's not like he doesn't have the power to do it. He got good wood on it." \nAn inning later, Hee Seop Choi beat out an infield single with two outs against reliever David Weathers (5-2). Jeff Conine walked and Gonzalez followed with a single to right. Choi beat Shane Spencer's throw to the plate, sliding under catcher Vance Wilson's tag. \nMatt Perisho (4-2) pitched 1 1-3 for the win. \nArmando Benitez allowed Mike Piazza second homer of the game leading off the ninth before finishing for his 22nd save in 23 opportunities. \nCubs 6, Pirates 1 \nIn Chicago, Carlos Zambrano pitched eight solid innings and Rey Ordonez hit a two-run single in the seventh to lead Chicago over Pittsburgh. \nDerrek Lee added a two-run homer in the eighth for Chicago. \nZambrano (6-2) allowed one run on four hits, and struck out seven and walked two. He retired six of the last seven batters he faced. \nPittsburgh was without manager Lloyd Mclendon, serving the first of a two-game suspension for his shouting match with Cardinals manager Tony La Russa on Thursday. The Pirates have lost six of their last seven games. \nCardinals 10, Astros 4 \nIn St. Louis, Jim Edmonds overcame a sore ribcage to drive in four runs and throw out a runner at third base as St. Louis defeated Houston. \nEdmonds almost didn't start after straining a ribcage muscle on his right side during batting practice the previous night, but chose to play -- helping the Cardinals win their sixth in a row. \nDodgers 10, Diamondbacks 3 \nIn Phoenix, Paul Lo Duca homered in his third consecutive game, and Dave Roberts hit a three-run homer as Los Angeles thrashed Arizona. \nOdalis Perez (3-3) gave up three runs on eight hits in five innings, but issued no walks for his first win in seven starts since April 28. He also had an RBI ground-rule double in helping the Dodgers win for the sixth time in seven games. \nRobby Hammock and Luis Gonzalez drove in runs for the Diamondbacks, who dropped their fourth in a row to the division leaders.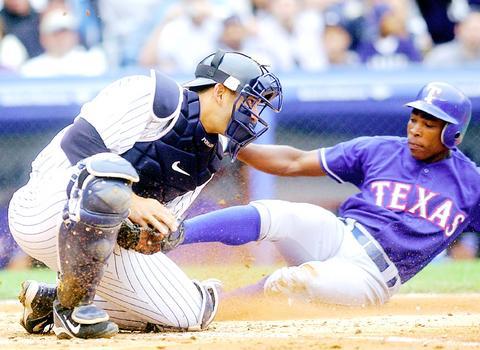 Alfonso Soriano, right, of the Rangers, slides past Jorge Posada of the Yankees on a double by Brad Fullmer during the fourth inning in New York, Saturday.
PHOTO: AP
Comments will be moderated. Keep comments relevant to the article. Remarks containing abusive and obscene language, personal attacks of any kind or promotion will be removed and the user banned. Final decision will be at the discretion of the Taipei Times.