Roddick about to face Coria in finals
NASDAQ-100 OPEN The American's opponent for the championship will be third-seed Guillermo Coria, who overcame four match points to advance
US Open champion Andy Roddick advanced to the final of the Nasdaq-100 Open for the first time, playing nearly flawless tennis to beat Vince Spadea 6-1, 6-3 on Friday. \nRoddick took the first set in just 21 minutes and won seven consecutive games against fellow American Spadea, whose normally steady game unraveled in his first Key Biscayne semifinal. \nRoddick's opponent tomorrow will be No. 3-seeded Guillermo Coria, who overcame four match points to beat Fernando Gonzalez in an all-South American semifinal 4-6, 7-6 (6), 6-1. \nSerena Williams will play for the women's championship today in her first tournament following an eight-month layoff. The two-time defending champion faces No. 5-seeded Elena Dementieva of Russia, who seeks a sweep of the Williams sisters after upsetting Venus in the quarterfinals. \nThe unseeded Spadea had been on a run over the past month that included his first tournament title at age 29, but he struggled from the start against Roddick. \nSecond-seeded Roddick came out firing with an ace and two service winners to take the opening game at love. Along with big serves, he kept Spadea on the defensive by consistently pounding deep groundstrokes while committing just 11 unforced errors. \nRoddick, who leads the ATP Tour in victories this year, improved to 25-5 and avenged a defeat last month against Spadea at Scottsdale, Arizona. \nSpadea lost his second service game with four consecutive unforced errors to fall behind 3-1, and when Roddick erased two break points to take the next game, he was in front to stay. \nFour unforced errors and a double fault cost Spadea another service game to start the second set. The rout left the crowd mostly subdued, but midway through the second set, a fan shouted, "Hide the children!" \nSpadea sailed a backhand long to reach match point, then slammed his racket to the concrete, but the fit didn't help. Roddick closed out the win on the next point, and Spadea sent the racket skidding across the court. \nThe next challenge for Roddick will be Coria. Roddick is 2-0 against the Argentine and won their most recent meeting at the season-ending Tennis Masters Cup in Houston last November. \n"I'm still pretty hot about my loss," Coria said. "I would like to have revenge ... I'm going to fight hard every point. Roddick is going to have to earn it." \nCoria won his semifinal match despite trailing Gonzalez 5-3 in the second set and 6-4 in the tiebreaker. \n"I never give up," Coria said. "The match is never over until I shake hands with the opponent." \nFans chanted, sang and waved their country's flag during the match between Coria and Chile's Gonzalez, seeded 21st. But the mood turned tense with Gonzalez on the verge of victory when his strokes went haywire. \nHolding two match points serving for the victory at 5-4 in the second set, Gonzalez double-faulted and hit a forehand into the net. \nThat marked the start of Coria's comeback, as Gonzalez's shots became more and more tentative. The Chilean conceded that nerves got the best of him. \n"This is the first time that this happened to me in an important tournament like this one," he said. "I'm very disappointed. Everybody's nervous, but you have to play good when you are nervous. I tried to." \nPart of the drama surrounding the women's final involves what the top-seeded Williams will wear. She generated a buzz with the apparel she has unveiled at Key Biscayne: A white and silver corset dress, and a revealing fitted tank top and hot pants. Williams wore the latter outfit against fellow American Jill Craybas. \n"You've got to have confidence to do it," Craybas said. "She definitely has the confidence to do it. But, you know, good on her if she has the guts to wear it. You won't find me in that.'' \nWilliams' self-assurance extends to her game, and at Key Biscayne she's been the same intimidating presence as before her hiatus. Her shots in the semifinal had Eleni Daniilidou of Greece dodging out of the way at least twice.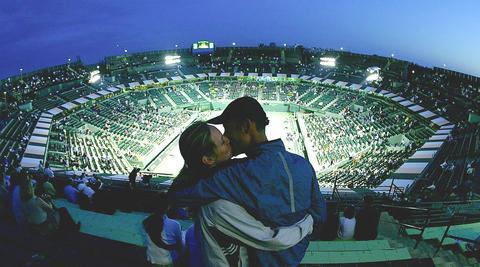 A couple kisses before the all-US semifinal match between Andy Roddick and Vincent Spadea during the Nasdaq-100 Open on Key Biscayne, Florida, Friday. Roddick defeated Spadea 6-1, 6-3.
PHOTO: EPA
Comments will be moderated. Keep comments relevant to the article. Remarks containing abusive and obscene language, personal attacks of any kind or promotion will be removed and the user banned. Final decision will be at the discretion of the Taipei Times.