Yao outlasts a wolf pack
NATIONAL BASKETBALL ASSOCIATION Minnesota had a chance to tie the game with 3.4 seconds left, but Troy Hudson's 3-pointer attempt hit the front of the rim
Yao Ming scored 27 points Friday as the Houston Rockets withstood two last-second shot attempts by Minnesota to outlast the Timber-wolves 112-109.
"From the beginning of the game we played great offense, but coach was continually getting on us about our defense," Yao said through an interpreter.
Steve Francis added 25 for the Rockets.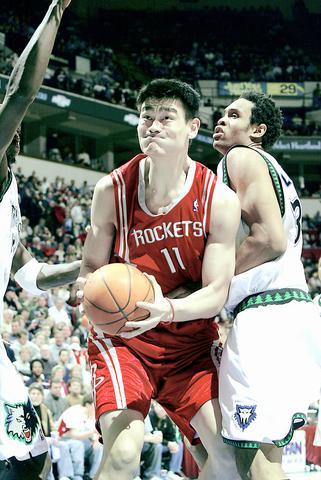 Yao Ming, center, of the Rockets, looks to take a shot against the Timberwolves at Target Center in Minneapolis, Minnesota, Friday.
PHOTO: AP
Minnesota had a chance to tie the game with 3.4 seconds left, but Troy Hudson's 3-pointer hit the front of the rim. The Timberwolves got a second chance with 3.1 seconds left after Adrian Griffin missed two free throws, but Garnett's straightaway 3-point attempt was way off.
"We got what we wanted, we just missed the shots," said Sam Cassell, who had 25 points and 13 rebounds for Minnesota. "That's how the game goes."
Neither Hudson nor Garnett got clean looks at the basket as Rockets' defenders played them tight down the stretch.
Cuttino Mobley had 18 points and Maurice Taylor added 16 off the bench for Houston, which had lost two straight overall and four in a row on the road.
Garnett had 32 points and 18 rebounds and Michael Olowokandi had 12 points and seven rebounds for Minnesota. The Timberwolves lost for just the third time in 12 games.
Celtics 94, Wizards 90
Paul Pierce scored 24 points, grabbed 10 rebounds and had eight assists to lead the Boston Celtics to their fourth straight win, 94-90 over the Washington Wizards on Friday night.
Ricky Davis scored 13 of his 17 points in the second half and Mark Blount added 17 points for the Celtics, whose winning streak is their longest under interim coach John Carroll. They won five straight in December under Jim O'Brien.
"I think the chemistry is starting to come together," Pierce said. "This was a big win for us. This was a team that we are battling with for the eighth spot for the playoffs."
Gilbert Arenas had his fourth consecutive strong game, leading Washington with 26 points. It was the Wizards' second loss in their last six games and dropped them to 6-23 on the road.
"You have to give [Boston] credit," Wizards coach Eddie Jordan said. "They picked it up, they denied us."
Magic 101, Hawks 96
In Orlando, Florida, Tracy McGrady had 28 points and Tyronn Lue scored eight consecutive points in the final 1:42 for Orlando's third victory over the Atlanta this season.
The Magic, who shot 51.9 percent, got 16 points from Juwan Howard and 14 from reserve Drew Gooden. Lue had his fifth consecutive game in double figures, shooting 8-of-11 and scoring 20.
Knicks 109, Raptors 103
In Toronto, Stephon Marbury had 35 points, and Nazr Mohammed had a season-high 20 points and 18 rebounds to make New York coach Lenny Wilkens a winner in his return to Toronto.
Wilkens returned to Toronto for the first time since being fired after last season. Fans booed his introduction.
New York moved 1 1/2 games ahead of Toronto for sixth place in the Eastern Conference.
Vince Carter had 32 points and nine assists for the Raptors, who have lost 11 of 12. Rod Strickland, signed by the Raptors earlier in the day, shot just 2-for-10. New York outrebounded Toronto 49-37, including 19-8 on the offensive glass.
Spurs 113, Mavericks 100
In San Antonio, Tony Parker scored 25 points, Hedo Turkoglu added 21 and San Antonio put together two big first-half runs and then held off a fourth-quarter comeback from Dallas.
Dirk Nowitzki, held to four points in the first three periods, went 7-for-9 in the fourth for 17 points as the Mavericks slashed a 26-point deficit to 95-90 with nearly three minutes remaining.
Malik Rose added 18 points and 10 rebounds for San Antonio, which played its fourth straight game without top scorer and rebounder Tim Duncan. Nesterovic had his fourth straight double-double with 13 points and 15 rebounds.
Cavaliers 88, Hornets 85
In New Orleans, LeBron James scored 19 points and Carlos Boozer had 18 as Cleveland beat New Orleans.
James hit a 3-pointer with 1:22 left to put Cleveland ahead 84-83, and Boozer made a pair of free throws with 6 seconds remaining for the final margin.
Jamal Mashburn -- who made a late 3 to force overtime in a Hornets' victory Wednesday night -- had a chance to do it again, but this time his long-range fade was off the mark.
Tony Battie added 12 points for the Cavaliers, while Jeff McInnis had 11 assists. Baron Davis led New Orleans with 26 points, hitting four 3-pointers.
Pacers 96, Jazz 88
In Salt Lake City, Ron Artest scored eight of his 17 points in the fourth quarter and Reggie Miller hit a 3-pointer with 24.9 seconds remaining as Indiana downed Utah.
Jermaine O'Neal had 30 points and 10 rebounds and Fred Jones scored 10 for the Pacers, who blew a 15-point lead and needed to rally for their fourth straight win.
Andrei Kirilenko had 19 points, nine rebounds and five blocks for Utah, which had won four straight.
The Jazz outrebounded the Pacers 42-29, but Indiana made up for it at the free throw line, going 34-for-38. Indiana, which swept the Jazz for the first time since the 1999-2000 season, has won eight of 10.
Lakers 99, SuperSonics 91
In Los Angeles, Shaquille O'Neal took over after Kobe Bryant went out early with a shoulder injury to score 32 points in the Los Angeles Lakers' win over Seattle.
Bryant hurt his right shoulder in a collision with Seattle's Reggie Evans in the first minute of the game and left the arena to have an MRI. There was no immediate report on the severity of the injury.
The Lakers' star underwent surgery on the same shoulder this past offseason, and also missed six games earlier this year after he sprained it on Jan. 12 in a collision with Cleveland's Kedrick Brown.
O'Neal added eight rebounds and six assists as Los Angeles won for the ninth time in 11 games.
Nets 78, Warriors 74
In Oakland, California, Richard Jefferson scored 23 points as New Jersey made a late rally to Beat Golden State for another victory without Jason Kidd.
Jason Richardson scored 22 points for the Warriors, who lost their fourth straight. Mike Dunleavy had 20 -- but Golden State was shut out in the final 3:59, blowing another home game with a pathetic fourth-quarter effort on offense.
Lucious Harris' jumper with 1:58 left gave New Jersey a 75-74 lead -- its first of the second half. Jefferson then drove for an acrobatic layup, and Golden State couldn't hit its next two shots.
The Nets were whistled for a shot-clock violation with 5.9 seconds left, but Richardson accidentally kicked the ball out of bounds on the inbounds play. Kerry Kittles, who scored 17 points, hit one free throw to clinch it.
Comments will be moderated. Keep comments relevant to the article. Remarks containing abusive and obscene language, personal attacks of any kind or promotion will be removed and the user banned. Final decision will be at the discretion of the Taipei Times.