Tabloids blast `league of shame'
PREMIER LEAGUE Nine players from Leicester City were arrested while in Spain this week after allegedly breaking into a hotel room and sexually assaulting three women
For years, hooligans have given English soccer a bad name. Now, it's the players who are repeatedly shaming the game. \n"Not Again!" screamed the back page headline Friday in the Daily Mail following the latest off-field scandal to shake the sport. \n"Another black day for the league of shame," said the Daily Telegraph. \nOn Friday, three of the players -- Keith Gillespie, Frank Sinclair and Paul Dickov -- were charged with sexual assault and breaking and entering. They were sent to Sangonera jail outside Murcia, and are expected to be back in court in Cartagena tomorrow. \nTwo players, Matt Elliott and Lilian Nalis, were freed without bail but remain under investigation. James Scowcroft was released on 20,000 euros (US$24,700) bail but also faces further investigation and must report to Spanish consular officials twice a month. \nIn Spain, conviction for sexual assault carries a maximum prison sentence of 12 years. \nTwo others players, Nikos Dabizas and Danny Coyne, were freed conditionally Thursday night. German player Steffen Freund was released without charge. \nPolice said three women, described as German tourists of African origin, alleged a group of players forced their way into a hotel room in Cartagena and sexually assaulted them, causing injuries. \nThe Leicester players were at a midseason training camp at Spain's La Manga complex, a favorite resort for English clubs because of its balmy weather and top sports facilities. \nFour years ago, Leicester was thrown out of the same resort after one of its players, Stan Collymore, set off a fire extinguisher in a piano bar. \nWhether or not any of the players are convicted, the arrests in Spain were viewed here as another example of the degeneration of what Brazilain great Pele once called "the beautiful game." \n"We have come to expect the worst of our overpaid, overrated and overindulged Premiership degenerates," Daily Mail sports columnist Jeff Powell wrote Friday. "Through their moronic conceit, they continually plumb new depths of debauchery, without a thought of the shame they heap upon the game which pays them so excessively." \nIn the Independent, James Lawton lamented that "a culture of hedonism and professional irresponsibility is now deeply entrenched" in English soccer and accused pampered players of "defrauding'" the fans. \nHardly a day or week has gone by this season without blaring headlines involving players accused of sex offenses, drunk driving or nightclub brawls. \nIn September, the sport was rocked by allegations that a 17-year-old girl was gang-raped by Premier League players at a five-star London hotel. Charlton's Carlton Cole and Newcastle's Titus Bramble were arrested but no charges were filed because police said there was insufficient evidence for a conviction. \nThe case led to lurid headlines and stories about "roasting" -- groups of players sharing women for sex. \nAnother term, "dogging," was brought into the national mainstream this week by Collymore, who admitted going to remote parking lots to watch or engage in sex with strangers in cars. He was dropped as a BBC radio soccer commentator. \nIn other cases, Leeds United midfielder Jody Morris is due in court later his month on charges of raping a 20-year-old woman last October. On Thursday, former Nottingham Forest defender Gary Charles was ordered to stand trial on charges of sexual assault. \nLeicester said Friday it believed its players were innocent and would "move heaven and earth" to bring them back to England. But Leicester, winless in its last 15 games and facing relegation, also acknowledged the damage caused to the image of the club and the game in general. \n"Certainly professional footballers are ambassadors, are role models for many, many people," chief operations manager Paul Mace said. "There is an onus of responsibility to conduct themselves in the best possible light at all times." \nA former Leicester player, Steve Claridge, said the club should have considered a curfew for players in Spain. The players were reportedly out celebrating a teammate's birthday the night of the alleged attacks. \n"When you have 20-25 lads sometimes things can get out of hand," Claridge said. "At some stage, they've got to realize the situation they put themselves in." \nThe seedy reputation of English soccer contrasts sharply with the clean-cut image of English rugby. England won the rugby World Cup in November and its stars are held up as a model of professionalism. \n"We talk about it a lot, even before the World Cup," coach Clive Woodward said. "It is not just being in the spotlight when you play for England, you are in that spotlight 365 days of the year and you cannot afford to do anything wrong. We are very lucky that we have a group of players who take their responsibilities very seriously."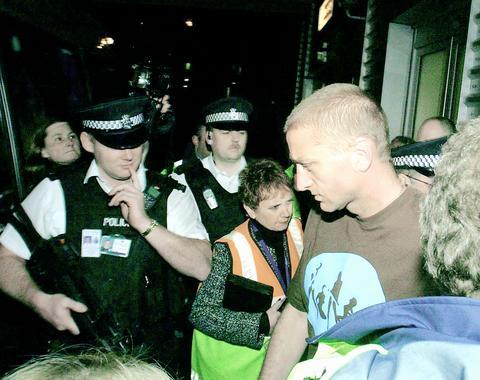 Leicester City player Matt Elliott leaving Luton Airport Friday after being released by a Spanish court.Three players from the team remained in custody in Spain over an alleged sexual assault on three women.
PHOTO: EPA
Comments will be moderated. Keep comments relevant to the article. Remarks containing abusive and obscene language, personal attacks of any kind or promotion will be removed and the user banned. Final decision will be at the discretion of the Taipei Times.