Double blow for Bengals' playoff hope
FINAL STRETCH A loss to St. Louis, which has gone 14 games unbeaten at home, and victory for the Baltimore Ravens leaves Cincinnati in poor shape
Marshall Faulk ran a yard for one touchdown and hauled in a nine-yard Marc Bulger pass for another to help the St. Louis Rams overcome the Cincinnati Bengals 27-10 Sunday.
The Rams (12-3), who can finish no worse than second in the NFC, completed an undefeated season at the Edward Jones Dome where they have won a club record-equalling 14 straight games.
Running back Faulk, who finished with a game-high 121 rush yards, told reporters: "I don't worry about the numbers and how they stack up.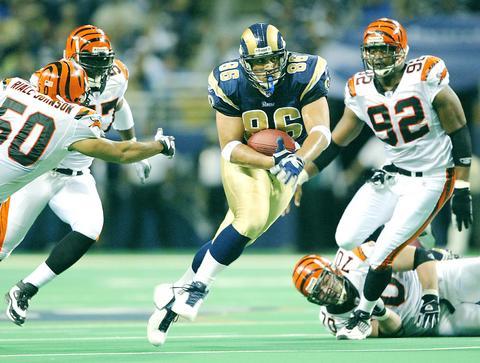 Brandon Manumaleuna of the St. Louis Rams carries the ball past Duane Clemons, right, of the Cincinnati Bengals in the fourth quarter at the Edward Jones Dome in St. Louis, Missouri, on Sunday.
PHOTO: AFP
"As long as I move the chains and score the touchdowns and do the things that make this offense go, I'm satisfied," said Faulk, the NFL's Most Valuable Player in 2000.
Bulger hooked up with favorite target Torry Holt from 28 yards for another St. Louis score.
Jon Kitna found Kelley Washington from two yards for Cincinnati's lone TD.
The playoff hopes of the Bengals (8-7) were dealt a double blow when the Baltimore Ravens also won in Cleveland.
Broncos 31, Colts 17
In Indianapolis, rookie Quentin Griffin piled up 136 rushing yards and versatile quarterback Jake Plummer raced for two touchdowns and threw for a third to carry the Denver Broncos to a 31-17 upset of the Colts.
Indianapolis (11-4) could have sewn up the AFC South Division with a win but instead it was the Broncos (10-5) who earned an AFC wild-card berth.
Denver held NFL passing leader Peyton Manning, who surpassed 4,000 yards for a record fifth straight season during the game, to 146 yards and no TDs.
Cowboys 19, Giants 3
In Dallas, Quincy Carter threw for 240 yards and a TD as the Cowboys (10-5), who were 5-11 a year ago, locked up a playoff berth with an easy 19-3 triumph over the New York Giants.
Billy Cundiff added four field goals, the longest from 49 yards. Dallas is playoff bound for the first time since 1999.
49ers 31, Eagles 28 (OT)
In Philadelphia, Todd Peterson booted a 22-yard field goal following a Donovan McNabb interception on the first offensive play of overtime to give the San Francisco 49ers a 31-28 victory over the Eagles, snapping their nine-game win streak.
The loss put the Eagles (11-4) a game behind St. Louis for the best mark in the NFC. McNabb hooked up with Todd Pinkston with a minute left in regulation to force overtime.
Kevan Barlow ran for a game-high 154 yards and scored twice for the 49ers. Team mate Terrell Owens left at the half with a broken collarbone.
Ravens 35, Browns 0
In Cleveland, rush leader Jamal Lewis rambled for a whopping 205 yards and two TDs as the Baltimore Ravens (9-6) returned to the top of the AFC North with a 35-0 whitewash of the Browns.
"We're not worried about [division rival] Cincinnati," said Lewis. "We just have to take care of our business on the field."
An errant Tim Couch toss led to another Baltimore score, Chad Williams bringing it back 52 yards.
Dolphins 20, Bills 3
In frigid Buffalo, the Miami Dolphins did it with defense, sacking ineffectual Bills quarterback Drew Bledsoe six times and hurrying him all afternoon in a 20-3 win that kept alive their post-season chances.
The Bills amassed only 11 yards of offense in the opening half. Jay Fiedler hooked up with Chris Chambers from 23 yards for Miami's only offensive TD.
Panthers 20, Lions 14
In Charlotte, North Carolina, Jake Delhomme completed 29 of his 35 passes for 260 yards and two TDs as the Panthers held on to down the Detroit Lions 20-14.
It was a record 24th straight road loss for the Lions.
Titans 27, Texans 24
In Houston, quarterback Steve McNair was not supposed to play but instead went all the way, hitting Drew Bennett from 23 yards with 17 seconds left to hand the Tennessee Titans a 27-24 win over the Texans.
McNair, who finished with 268 pass yards, hooked up with Erron Kinney from two yards for another Tennessee (11-4) TD.
Jaguars 20, Saints 19
In Jacksonville, Fred Taylor ran for 194 yards and a TD as the Jaguars surprised the New Orleans Saints 20-19 while holding the explosive Deuce McAllister to 50 rush yards.
The Saints nearly forced overtime in a spectacular finish, Aaron Brooks passing 42 yards to Donte Stallworth, who found Michael Lewis. He then pitched to McAllister, who set up Jerome Pathon for a 21-yard TD. But John Carney's conversion attempt went wide to end the contest.
Bears 27, Redskins 24
In Chicago, Paul Edinger's 45-yard field goal with time running out lifted the Bears to a 27-24 victory over the Washington Redskins.
Rex Grossman, in his second NFL start, threw for 249 yards and two Chicago scores.
Backup QB Tim Hasselbeck twice passed to Laveranues Coles for Washington TDs.
Seahawks 28, Cardinals 10
In Seattle, the speedy Shaun Alexander scampered for 135 yards and two TDs, one of 44 yards, to help the Seahawks (9-6) pound the Arizona Cardinals 28-10.
Arizona's Anquan Boldin pulled in 10 passes to set an NFL rookie record for receptions in a season with 96, eclipsing Terry Glenn (90).
Steelers 40, Chargers 24
In Pittsburgh, Tommy Maddox hit Plaxico Burress for two TDs and found Hines Ward from 20 yards for a third as the Steelers went up 21-0 and hung on to beat the San Diego Chargers 40-24.
Jerome Bettis rumbled for 115 yards and another Pittsburgh TD. LaDainian Tomlinson ran for 91 yards and two short scores to give the Chargers hope.
Comments will be moderated. Keep comments relevant to the article. Remarks containing abusive and obscene language, personal attacks of any kind or promotion will be removed and the user banned. Final decision will be at the discretion of the Taipei Times.