Bryant back in court, but this time it's hardwood
Kobe Bryant may wish that the jury for his upcoming sexual assault trial includes members of the sellout crowd at Thursday's National Basketball Association exhibition game at the Arrowhead Pond.
Bryant scored 15 points in his first action since his legal troubles in the Los Angeles Lakers' 107-101 loss to the Los Angeles Clippers.
Coming off offseason knee surgery, Bryant saw action with free agent additions Gary Payton and Karl Malone for the first time in a game. He was greeted by a warm response from the crowd of 18,298 fans, including many of all ages clad in his Lakers No. 8 jersey.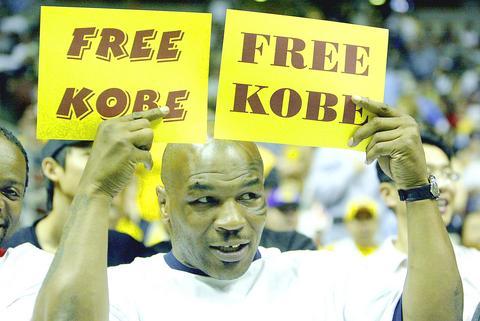 Boxer Mike Tyson hold signs in support of Los Angeles Lakers' Kobe Bryant during the Lakers' exhibition game on Thursday.
PHOTO: AP
"I don't think I'll be affected by all the great players I have around me," Bryant said. "We have some of the greatest players that have ever played the game. Never thought I'd see a lineup like this on the floor, except at the All-Star Game."
After an offensive foul the first time he touched the ball, Bryant scored his first points on a fadeaway jumper over the Clippers' Quentin Richardson 80 seconds into the game. He scored 13 points in the first half.
"I had a good time in practice," Bryant said. "On my first basket, I didn't think I was going to get the legs to get it up."
Bryant was just 4-of-14 from the floor and handed out five assists. One of his assists was a nifty, no-look pass to Devean George for a dunk in the second quarter.
"Kobe made some nice moves in the lane," Lakers coach Phil Jackson said. "He shot the ball well in the first half and it looked like he tired a little."
On Monday, Eagle County Judge Frederick Gannett ruled that Bryant must stand trial on a felony rape charge. A 19-year-old hotel employee alleges that Bryant sexually assaulted her in his room on June 30.
Free on US$25,000 bond, Bryant denies he raped the woman but has admitted to having consensual sex with her. Married -- wife Vanessa attended Thursday's game -- and with an infant child, Bryant faces four years to life in prison if found guilty.
Bryant is scheduled to appear in court on Nov. 10, at which time he will be formally advised of the charges.
Comments will be moderated. Keep comments relevant to the article. Remarks containing abusive and obscene language, personal attacks of any kind or promotion will be removed and the user banned. Final decision will be at the discretion of the Taipei Times.