Knuckleballer confounds the Yankees
CHAMPIONSHIP SERIES Relying on baseball's most mysterious pitch, Tim Wakefield beat Mike Mussina for the second time in their AL series
American LeagueNo fists, just knucklers. \nTim Wakefield and the Boston Red Sox won this duel with a baffling knuckleball pitch that floated and fluttered past the New York Yankees in a 3-2 win Monday night that knotted the American League championship series at two games apiece. \nTodd Walker and Trot Nixon hit solo homers for Boston's struggling offense, and pinch-hitter Jason Varitek had a key RBI grounder in the seventh, speeding to first to just avoid an inning-ending double play. \nMost significantly, there were no more fights between the old foes. \n"I think it was kind of good to let everybody calm down," Nixon said. "I think we all disrespected the game the other night.'' \nAfter a one-day break caused by a rainout, there was none of the brawling that marred Game 3 on Saturday. Relying on baseball's most mysterious pitch, Wakefield beat Mike Mussina for the second time in the series, which now must return to Yankee Stadium later this week. \n"Being rained out yesterday got everybody cooled down," Wakefield said. \nUntil the ninth, New York's only run came home on Derek Jeter's fifth-inning double that hit third base. But after Scott Williamson struck out Nick Johnson leading off the ninth, pinch-hitter Ruben Sierra closed New York within a run with a homer, ending a streak of 19 1-3 shutout innings for Boston's much-maligned bullpen. \nWilliamson, who had relieved Mike Timlin to start the inning, then struck out David Dellucci and Alfonso Soriano to earn the save. \n"It was nice to have a nice clean game for baseball fans," Varitek said. \nThe series continues at Fenway Park on Tuesday, originally a travel day. David Wells pitches for New York against Derek Lowe in Game 5. \nAfter Sunday's rainout, fans had a festive time on the warm autumn night, booing Yankees catcher Jorge Posada, who screamed Saturday at Pedro Martinez after the Boston pitcher hit Karim Garcia with a pitch. Posada went 0-for-4 with two strikeouts, leaving seven runners on base. \nThey also chanted "We want Nelson," a reference to New York reliever Jeff Nelson, involved in Saturday's ninth-inning bullpen scuffle. Nelson entered to boos in the eighth just after Felix Heredia hit Walker in the shoulder. There was no hint of trouble on this one -- Walker went directly to first base and said he wasn't upset. \nStill, there was at least one dispute -- but even then, it was resolved quickly and civilly. \nAfter Nelson's first pitch, Boston manager Grady Little came out to talk to the umpires, who then checked the pitcher's belt and glove. But they didn't find anything against the rules. \n"We had some indication that we saw a little something out there," Little said. "We didn't know." \nNelson didn't mind, saying it probably was in retaliation for New York asking umpires to check Timlin in the opener. \n"His ball moves a lot, my ball moves a lot. It didn't bother me," Nelson said. \nThere was extra security in the Yankees bullpen following the Game 3 fight that involved a member of Boston's grounds crew. There was a police officer stationed there from the start of the game Monday and no grounds crew personnel. \nBut the focus in this one was on the starters. \nWakefield improved to 4-0 in League Championship Series play -- he went 2-0 for Pittsburgh in 1992 against Atlanta. His eight strikeouts matched his season high, and he allowed just five hits. \n"I think it had a little more depth tonight," Wakefield said. "It was moving quite a bit in New York, but it didn't have as much depth as it did today." \nWhile the Yankees had runners in four of the first five innings, Wakefield pitched out of trouble, holding New York to 1-for-8 with runners in scoring position and leaving the bases loaded in the fifth, when Posada ended the inning with a flyout. Wakefield then struck out the side in the sixth and retired the side in the seventh on four pitches. \n"He's very unpredictable," Posada said. "It's a pitch that he never knows what it's going to do. The catcher doesn't know what it's going to do." \nWhile Boston's staff has been led by Martinez in recent years, Wakefield has taken the lead against New York. \n"Outstanding," Martinez said. "He's our ace right now." \nWakefield threw 11 of 20 pitches for balls in the first. After Soriano walked leading off and Jeter singled, Jason Giambi hit a scorcher to first that was caught by Kevin Millar, who doubled up Jeter. After a walk to Bernie Williams, Posada took a called third strike. \n"I got lucky enough that Kevin Millar was standing on the right spot," Wakefield said. \nBoston's offense, which led the major leagues during the regular season, has not scored more than five runs in any postseason game. But the Red Sox made due with Walker's homer leading off the fourth, Nixon's starting the fifth and Varitek's RBI in the seventh. \nWalker's homer was his fifth of the season, a record for Boston players. \n"I'm more focused now than I've ever been in my life because you're battling every at-bat, and more specifically, every pitch," Walker said. \nVaritek -- just 2-for-36 against Mussina -- didn't hit the ball as far, but his run made the difference. With one out in the seventh and the bases loaded following an intentional walk to Bill Mueller, he grounded to Jeter, who made a nice pickup at shortstop. Jeter threw to Soriano for the force, but Varitek just legged it out. \n"I thought that was the most important play of the game," Little said. \nMussina has allowed five homers in the two starts against Boston, is 0-3 in this year's playoffs and is winless in his last six postseason starts. \nNational League \nWhatever happens at Wrigley Field this week, whether his team reaches the World Series or not, Dusty Baker already has posted a huge victory for the Chicago Cubs. \nHe's managed to get them to shed their longtime image as baseball's lovable losers. \nCute cubby bear on their sleeves? Friendly Confines? Warm and fuzzy feel? \nForget it. \nWatch Mark Prior and Kerry Wood buzz a batter, even if it's Barry Bonds. See Kenny Lofton knock down Florida pitcher Mark Redman with a loose elbow. Listen to Baker shout out Tony La Russa. \nMore like grizzlies than baby bruins, these Cubs. \n"What we've been fighting here all year long," Baker said Monday, a day before the Cubs played Florida in Game 6 of the NL championship series. "Everytime you lose a game, somebody conjures up something negative in history that happened before." \nAhead 3-2, the Cubs can wrap up their first World Series trip in 58 years with a win Tuesday night. Prior will start against Carl Pavano, with Wood set to pitch Game 7 if necessary. \nA win would give the Cubs a chance to claim their first Series championship in 95 years. Jack McKeon had no good reason for the Cubs' long drought. \n"I don't know. I'm not that old. I haven't been following them that long to see what goes on," the 72-year-old Marlins manager said Monday. \n"There's a lot of luck involved and I don't know whether the hex or the curse in Boston ... I guess if you want to believe that, that's what will happen. So, I hope you all keep believing the hex is still on." \nBaker wants to keep the focus on the field, though he knows a lot of fans will be thinking about the Cubs' past. \n"Most of these guys in 1984 -- Kerry Wood in 1984 -- what was he, like 8?" Baker said. "Half of this stuff doesn't apply to them. They can't help the fact that they are playing for the Cubs, Dodgers or A's or whoever they are playing for, and they can't help what happened in the past." \nBaker guided San Francisco to the Series last year, losing in Game 7 to Anaheim.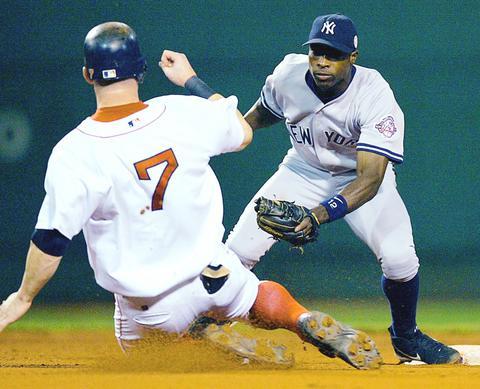 Alfonso Soriano, right, waits with the ball to tag out Trot Nixon of the Red Sox as he tries to steal second base during the third inning of Game 4 of the American League Championship Series at Fenway Park in Boston, Monday.
PHOTO: AP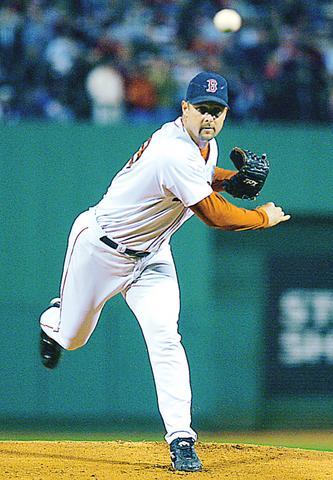 Tim Wakefield pitches against the Yankees in the first inning of Game 4 of the AL Championship Series Monday at Fenway Park in Boston.
PHOTO: AP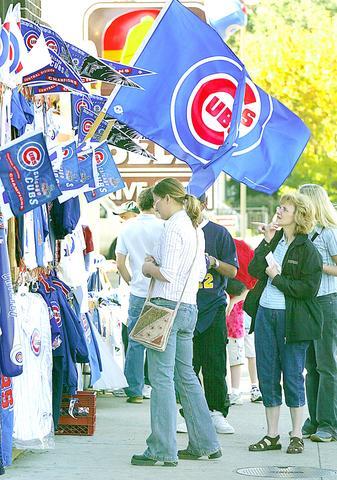 Fans shop for Chicago Cubs merchandise near Wrigley Field in Chicago, Illinois, Monday. The Cubs are one win away from playing in their first World Series since 1949.
PHOTO: AFP
Comments will be moderated. Keep comments relevant to the article. Remarks containing abusive and obscene language, personal attacks of any kind or promotion will be removed and the user banned. Final decision will be at the discretion of the Taipei Times.