Injuries already piling up
RUGBY WORLD CUP Following the first round, a number of key player are nursing wounds that may keep them out of upcoming matches or hinder their performance
The World Cup is only four days old and already the treatment rooms are full of the sick and injured. \nThe bad news on Tana Umaga's injured knee was confirmed as a ruptured ligament on Monday while England sent for another scrumhalf with three of them hobbling around in danger of missing the showdown with South Africa. \nUmaga suffered his injury colliding with All Blacks teammate Carlos Spencer in Saturday's 70-7 victory over Italy in Melbourne. \nThe team confirmed the talented center had ruptured the posterior ligament of his left knee but hadn't given up hope that he would be back to play some part in the rugby World Cup. \nIn a statement, the All Blacks said Norm Maxwell had been contacted as a standby option but there was "no certainty he would be the replacement if in fact a replacement for Umaga is required." \nSpencer and winger Joe Rokocoko also suffered injuries during the game but team spokesman Matt McIlraith said they were "not major injury concerns." \nFiji will have to play the US on Wednesday without winger Rupeni Caucaunibuca, but not because of injury. On Monday night, he was suspended for two matches by a judiciary hearing for his part in a brawl during last Saturday's loss to France. \nThe decision, announced after a hearing that went nearly four hours, suspended Caucaunibuca until Oct. 23, meaning he will miss Fiji's next two matches against the US in Brisbane and against Japan in Townsville. \nHe will be available for Fiji's last pool match against Scotland in Sydney on Nov. 1. \nMillions of TV viewers saw the winger, who had already scored a memorable try during his team's 61-18 loss at Brisbane, launch himself into a brawl that had already started after a double tackle on French flyhalf Frederic Michalak. \nIn the England camp, there were more wounded players and, unfortunately for coach Clive Woodward, they were all scrumhalves. \nInjuries to first-choice scrumhalf Matt Dawson, backup Kyran Bracken and possibly third choice Andy Gomarsall led Woodward to scramble for cover in the early hours of Monday. \nBracken failed to take his place on the bench in Sunday's 84-6 win over Georgia because of a back injury, Dawson came off in the first half and spent the rest of the game with ice strapped to his knee and Gomarsall appeared to hobble from the field at the end. \nWith Bath's Martyn Wood already boarding a plane for Australia after Austin Healey apparently ruled himself out through injury, Dawson said he hoped to make it for the crucial match against the Springboks on Saturday. \n"I came off towards halftime with a knock on my leg but don't believe it will affect my availability for selection," the British Lion said. \n"It was decided that I should come off more as a precaution than anything. South Africa is a match that none of us wants to miss." \nThe match in Perth is rated the biggest of all 44 pool games. \nWhoever wins has a comparatively easy ride through to the semis while the loser almost certain will face championship favorite New Zealand in the quarters. \nThe last time they met, a 53-3 victory for England 11 months ago, South Africa had a player sent off and were accused of dirty play. \nSpringboks captain Corne Krige said Monday his players had their penalty infringements counted during the this year's Super 12 and Tri-Nations campaigns this year as part of an effort to clean up their rugby. \n"Guys have been monitored, habitual criminals have been spoken to," said Krige, who was accused by the Australians of spitting. "They've been hard on us so our penalty count has come down in Super 12 and Tri-Nations and we'll keep working on that." \nThe defending champion Australians have their injury and illness problems too. \nAlready ruled out of Saturday's game against Romania, lock David Giffin is still recovering from a horror fall on his head and shoulder against Argentina, center Stirling Mortlock building up strength after a stomach bug and fullback Chris Latham trying to regain fitness after pneumonia. \nHaving been trounced by the All Blacks, the Italians faced up to Tonga in Group D with a virtually brand new lineup. Only winger Nicola Mazzucato survives from the starting lineup although many others are on the bench. \nCoach John Kirwan has stuck by his promise that he would use all his squad members in the first two matches. \nThat means experienced stars such as team captain Alessandro Troncon, center Christian Stoica, brothers Denis and Manuel Dallan and flanker Aaron Persico will start against the Tongans who won their only other meeting with the Italians 28-25 at the 1999 World Cup. \nMeanwhile, the US announced the lineup for its first game of the tournament against Fiji and hoping for a better result that last time, when the Eagles lost all three matches. \nCoach Tom Billups warned that his players "could be a handful" for unwary opponents.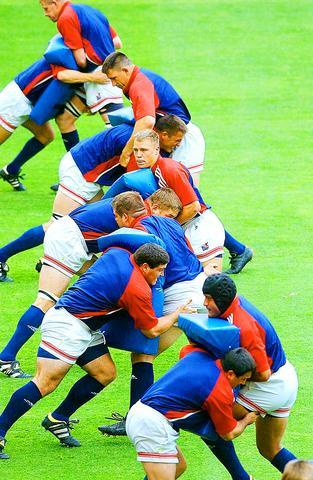 The US rugby team during their training session in Brisbane yesterday ahead of their Rugby World Cup pool match against Fiji tonight.
PHOTO: EPA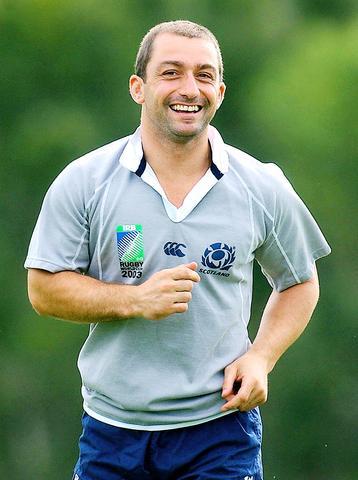 Scottish Rugby captain Bryan Redpath at training in Caloundra , Australia, Monday. Redpath will retire after the Rugby World Cup in Australia.
PHOTO: AP
Comments will be moderated. Keep comments relevant to the article. Remarks containing abusive and obscene language, personal attacks of any kind or promotion will be removed and the user banned. Final decision will be at the discretion of the Taipei Times.