Ramon Hernandez bunts way to win
MAJOR LEAGUE PLAYOFFS By the time Eric Chavez crossed the plate shortly after 11
Ramon Hernandez dropped a perfect bases-loaded bunt with two outs in the 12th inning Wednesday, scoring Eric Chavez with the winning run to lift the Oakland Athletics over the Boston Red Sox 5-4 in their playoff opener.
At 4 hours, 37 minutes, the game was the longest in Oakland's postseason history, and it ended in the most improbable way: with the hard-hitting A's executing a small-ball play to eke out a run.
"It was the biggest hit in my career," said Hernandez, Oakland's All-Star catcher. "When you're playing a team like the Red Sox that's got good pitching and good hitting, you've got to try whatever you can to win."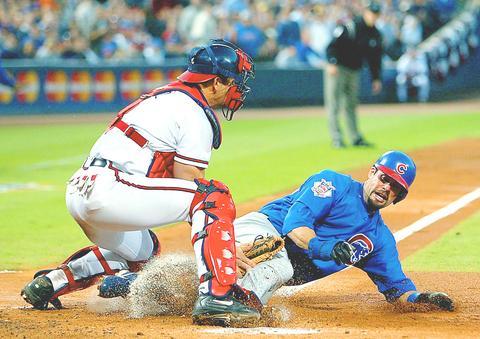 Mark Grudzielanek, right, of the Cubs slides safely into home plate as catcher Javier Lopez of the Braves prepares to apply the tag during the first inning of Game 2 of the NL Division Series at Turner Field in Atlanta, Georgia, Wednesday. Chicago ended up losing the game after winning the first contest in the best-of-seven series.
PHOTO: AFP
Chavez helped prevent Boston from taking the lead in the top of the 12th, making a tremendous play at third base. On the basepaths moments later, he alertly stole third, and Derek Lowe later intentionally walked Terrence Long to load the bases.
"Freaky, just freaky," Chavez said. "It was probably the best game I've ever been involved in."
Hernandez and Chavez both acted on their own, according to manager Ken Macha.
"What an ending. Who would have thought that? A's win with a bunt," Macha said. "Shame on anybody who missed it."
Atlanta 5, Cubs 3
John Smoltz, making a rare two-inning appearance in a game the Braves had to have, allowed the tying run before Mark DeRosa's two-run double in the eighth pushed Atlanta past Chicago.
The Braves evened the best-of-five National League division series at one game each. Game 3 is Friday at Chicago's Wrigley Field, with Greg Maddux starting for the Braves against Mark Prior.
Atlanta's vaunted lineup was overshadowed by a guy who doesn't usually play much. DeRosa was starting at second base in place of Marcus Giles, who had a deep bruise on his left leg after tumbling over first base in Game 1.
The Cubs walked Rafael Furcal intentionally to get to DeRosa, who made them pay by lining a 1-2 pitch from Dave Veres to the wall in left-center.
"You understand that they're intentionally walking Furcal to get to you," DeRosa said. "You try to use that anger."
As an added bonus, Giles appeared as a pinch-hitter in the sixth and came through with a run-scoring single that put the Braves ahead 3-2.
Anxious to protect the lead, Braves manager Bobby Cox called on Smoltz in the eighth -- even though he missed nearly a month at the end of the season with a sore elbow.
Braves starter Mike Hampton overcame a terrible start to pitch six solid innings before a Turner Field crowd of 52,743 -- the most ever for a postseason game in Atlanta. For the second successive night, thousands of Cubs fans boosted the standing-room-only turnout.
After managing only three hits in Game 1, the Braves pounded Chicago starter Carlos Zambrano for 11 hits in 5 2-3 innings.
Marlins 9, Giants 5
In San Francisco, Juan Encarnacion homered and Juan Pierre had a bases-loaded double in the sixth inning as Florida evened its series at 1-1 by defeating a sloppy San Francisco in Game 2.
After an energized Barry Bonds helped the Giants take a 4-1 lead, Sidney Ponson couldn't hold it. Pierre had four hits as the Marlins rallied to send the best-of-five series back Florida at one apiece.
"Getting down 4-1, I think they were confident they would get us again," Pierre said. "We put the pressure on them and kept the pressure on."
Game 3 is Friday in Miami. Kirk Rueter pitches for San Francisco against Mark Redman.
Pierre said before this series started that the Giants hadn't yet seen the wild-card Marlins at their best. He led a 15-hit effort, a day after Florida was held to just three.
Carl Pavano, the winning pitcher when Florida clinched the wild card, earned another important victory by getting two outs.
"It was just a weird day," Giants first baseman J.T. Snow said. "They are a good team. There's a reason they are here. When you get to this point in the year, there's no quit in anybody."
Most of all, Florida kept Bonds from doing major damage. Rookie Dontrelle Willis, Florida's probable Game 4 starter, did his part by relieving in the eighth and retiring Bonds on a foul out.
On a day the 39-year-old Bonds showed unusual energy in left field and on the bases, the Marlins again made sure the slugger wouldn't beat them at the plate. After Bonds doubled to drive in a run in the first, he was walked twice.
Bonds made a sliding catch in left field and hustled home from first base on Edgardo Alfonzo's double.
But Bonds was about the only one who looked like himself.
"They played better. They won. That's the end of it. Go away," Bonds said.
Comments will be moderated. Keep comments relevant to the article. Remarks containing abusive and obscene language, personal attacks of any kind or promotion will be removed and the user banned. Final decision will be at the discretion of the Taipei Times.