Phelps continues to improve times
WORLD CHAMPIONSHIPS That test will come a year from now in Athens where the American has a chance to supplant Thorpe and match Mark Spitz's record
Michael Phelps may have replaced Ian Thorpe as the world's No. 1 swimmer. \nNot even the "Thorpedo" has ever managed what the Baltimore native did Friday night during a 45-minute stretch in the world swimming championships. \nPhelps became the only man to set two world records in two different events on the same day -- the 100m butterfly (51.47 seconds) and the 200m individual medley (1:56.04). \nThrough six days of the worlds, Phelps has lowered world marks four times in three different events. And a few more could go in the last two days on Saturday and Sunday. \nAt 15, Phelps became the youngest man to set a world mark. \nNow at 18, he seems unfazed by what's he doing. Questions to him often yield a sheepish grin and short, repetitive answers. \nWhen the scoreboard showed he'd broke the 200m IM record, he bounded up and down in the pool at Palau Sant Jordi, smiling broadly and wagging both index fingers above his head like they were six-shooters and he was firing them to celebrate. \n"I wouldn't say anything is impossible," Phelps said. \n"I think that everything is possible as long as you put your mind to it and you put the work and time into it. I think your mind really controls everything." \nPhelps now holds four world records -- more than any current swimmer. \nHe has two gold medals and one silver medals (800m freestyle relay) in the worlds with three more events to swim. \nThere's only one caution: the world championships aren't the Olympics -- and Phelps has yet to win an Olympic medal. \nThat test will come a year from now in Athens where the American has a chance to supplant Thorpe and match Mark Spitz's record of seven gold medals set 31 years ago. \n"I think he's getting in the league with Ian Thorpe," Phelps' coach Bob Bowman said. "He's clearly the guy who's swimming at the cutting edge of his events." \n"But before Michael can be named the No. 1 swimmer in the world, he has to have an Olympic performance that matches this." \nFriday's 45-minute frenzy started when Andrii Serdinov of the Ukraine lowered the world mark in the 100m butterfly semifinals (51.76). \nHis record was broken five minutes later by Phelps (51.47) in the second semifinal heat. \n"I think seeing that, you could say it fired me up bit more," Phelps said. "I was ready for that race." \nPhelps warmed down for 15 minutes, ate a quick-energy bar, changed suits -- and he was back on the starting platform for the 200m IM. \nThis time he obliterated a record he'd set Thursday in the semifinals by 1 1/2 seconds, clocking 1:56.04. Thorpe took the silver medal (1:59.66), more than 3.5 seconds behind. Italy's Massimiliano Rosolino (1:59.71) claimed bronze. \nThorpe has three gold medals, one sliver and one bronze in the worlds. But he hasn't broken any world mark and has been far off his best performances. Two years ago in the worlds in Fukuoka, Japan, he won six golds and broke three world records. \n"I see Michael as being an incredibly talented swimmer," Thorpe said, sitting next to Phelps. "I have the utmost respect for him." \nBowman is still hoping for more. \n"I think Michael's being swept along by the emotion of the performances and the environment here. Tonight he reached an emotional and psychological peak. I just hope he's got something in the tank. There's not much now." \nThough Phelps is the first man to do it, East German Kornelia Ender matched the feat of two records in two different events on the same day in the 200m free and 100m fly at the 1976 Olympics. \nIn six of eight days at the worlds, nine world marks have been broken and one equaled. \nAmerican Amanda Beard won the 200m breaststroke in 2:22.99, matching the world mark China's Qi Hui established two years ago. Australia's Leisel Jones took the silver medal in 2:24.33 and Qi claimed the bronze in 2:25.78. \nAnother American, Aaron Peirsol, won the gold medal in the 200 backstroke in 1:55.92, ahead of silver medalist Gordan Kozulj of Croatia (1:57.47) and bronze medalist Simon Dufour of France (1:57.90). \nAlso Friday, Hanna-Maria Seppala became the first Finnish woman to win a gold medal at the worlds by taking the 100m freestyle title (54.37) Jodie Henry (54.58) took silver and bronze went to eight-time Olympic champion Jenny Thompson of the US (54.65). Grant Hackett of Australia won the 800m freestyle gold (7:43.82). Larsen Jensen of the US took silver (7:48.09) and Ihor Chervynskyi of the Ukraine earned the bronze (7:53.15).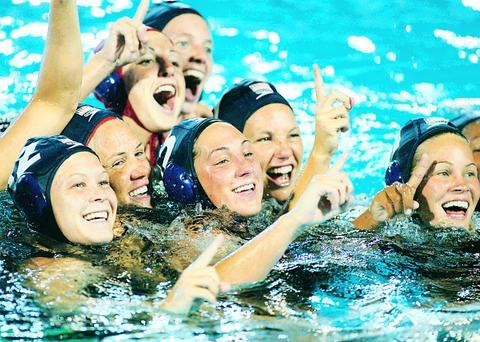 Members of he US team celebrate after defeating Italy 8-6 in the women's water polo final match at the World Swimming Championships in Barcelona, Spain, Friday.
PHOTO: AP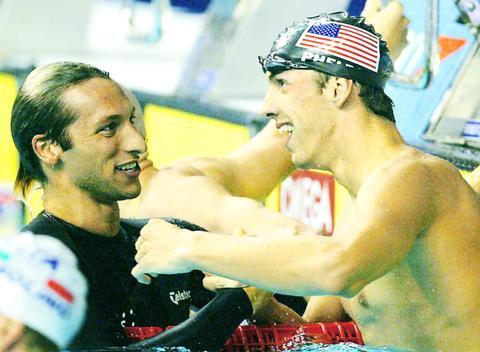 Michael Phelps of the US, right, shakes hands with second placed Ian Thorpe, from Australia after Phelps set a new world record in the men's 200m individual medley final at the World Swimming Championships in Barcelona, Spain, on Friday. Phelps clocked 1 minute 56.04 seconds.
PHOTO: AP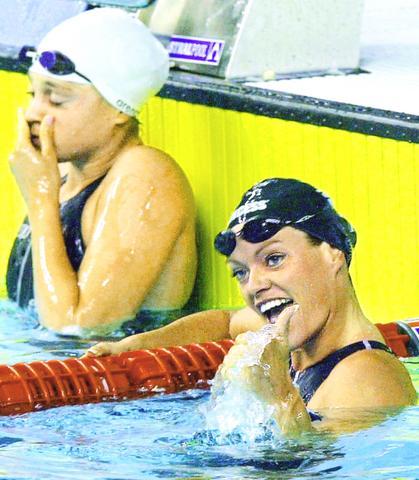 Inge De Bruijn of Holland celebrates after winning her heat for the women's 50m butterfly semifinals in Barcelona, on Friday. De Bruijn tied the world record.
PHOTO: AFP
Publication Notes
Phelps' world records
* 200m IM, 1:56.04
* 100m butterfly, 51.47
* 200m butterfly, 1:53.93
* 400m IM, 4:10.73
Comments will be moderated. Keep comments relevant to the article. Remarks containing abusive and obscene language, personal attacks of any kind or promotion will be removed and the user banned. Final decision will be at the discretion of the Taipei Times.