Popov rules the pool in Barcelona
GLORY A day after beating Ian Thorpe and Pieter van den Hoogenband to win the 100m gold, the Russian legend almost broke his own world mark in the 50m
Four-time Olympic champion Alexander Popov came close to toppling his 50m freestyle world record yesterday, a day after he won gold in the 100m freestyle at the World Swimming Championships.
Popov clocked a fast 21.98 in the 50m qualifier, just above his world record of 21.64 set in 2000.
American Jason Lezak was second with 22.29 and Dutchman Johan Kenkhuis was third at 22.32.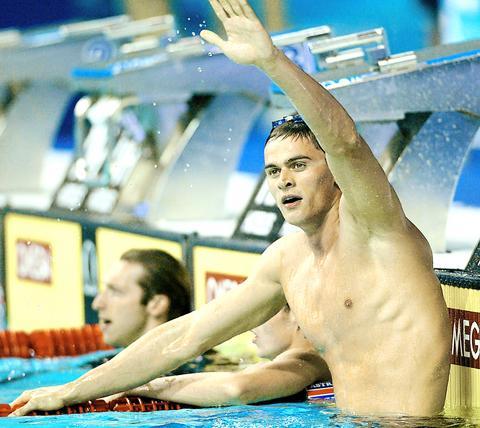 Russia's Alexander Popov celebrates after winning the gold medal in the 100m freestyle final at the 10th World Swimming Championships in Barcelona on Thursday. Popov clocked 48.42 seconds.
PHOTO: REUTERS
The 31-year-old Russian won two gold medals here 11 years ago, and he seems glad to be back.
Popov claimed the 100m freestyle in 48.42 seconds on Thursday, forcing the 25-year-old Pieter van den Hoogenband -- the defending Olympic champion -- to settle for silver (48.68). Aussie Ian Thorpe took bronze (48.77).
"Barcelona has always been a special city in my life," Popov said. "This is the place where I started ... and continue."
Thorpe, who has succeeded Popov as the world's top swimmer, had high praise for him.
"For me, of all the swimmers in history Alex is the one that I've looked up to the most. He's the best sprinter the world has ever seen," Thorpe said.
Also yesterday, American star Michael Phelps led 100m butterfly qualifying, just a day after setting his second world record.
Phelps clocked 52.27 seconds followed by fellow American Ian Crocker in 52.35. France's Franck Esposito was third with 52.85.
Phelps could become the first person to ever set two world records in two different disciplines on the same day when he swims later yesterday in the 100m butterfly semifinal and the 200m individual medley final.
The Baltimore-born Phelps bettered his own world record on Thursday in the 200m IM semifinal, setting a new mark of 1:57.52. His old record of 1:57.94 was set in Santa Clara, California, last month.
"I went out to get a world record and I did, even though I didn't feel good, hadn't slept well," Phelps said. "I'm going to rest now and try to beat the world record once again tomorrow."
On Tuesday, Phelps also surpassed his own world record in the 200m butterfly semifinals and then won gold in the final Wednesday.
Phelps also holds the world 400m IM mark and has been within 0.03 seconds of matching the 100m fly mark.
At 15, he became the youngest male swimmer to ever set a world record when he established the 200m fly mark.
He's already won two golds and a silver medal in these championships and has a chance of winning seven gold medals next year in the Athens Olympics, which would match Mark Spitz's feat of 31 years ago.
In other qualifying yesterday, Dutch swimmer Inge de Bruijn led the women's 50m butterfly in 26.33 followed by American Jenny Thompson (27.01) and world record-holder Anna-Karin Kammerling (27.16).
De Bruijn holds the world record in the 50m and 100m freestyle and the 100m butterfly.
US swimmer Diana Munz timed best in the women's 800-meter freestyle with 8:32.44. China's Chen Hua was second at 8:32.72 and third-place Russian Regina Stych clocked 8:32.86.
The women's 200m backstroke qualifier went ahead without ailing American star Natalie Coughlin who has suffered from a fever for the past week.
Team officials said Coughlin was "still resting" and decided to scratch from event.
Russian Stanislava Komarova clocked best with 2:10.98 while Ukrainian Iryna Amshennikova was second with 2:11.93. American Margaret Hoelzer was third with 2:12.35.
Coughlin has already fallen from the qualifying heats in two events, the 100m backstroke -- her favorite event -- and 100 freestyle. She's among the world's best in both events.
Comments will be moderated. Keep comments relevant to the article. Remarks containing abusive and obscene language, personal attacks of any kind or promotion will be removed and the user banned. Final decision will be at the discretion of the Taipei Times.