Alomar wins one for the White Sox
MAJOR LEAGUE BASEBALL Roberto Alomar went 1-for-5 in the leadoff spot, a day after the White Sox got the 12-time All-Star second baseman from the New York Mets
Roberto Alomar scored the winning run in his White Sox debut, trotting home on Frank Thomas' second homer of the game to give Chicago an 8-6 victory in 12 innings over the Minnesota Twins on Wednesday. \nPinch-hitter Paul Konerko hit a tying, solo homer with two outs in the 11th for the White Sox. Then in the 12th, Alomar walked with one out and Thomas homered with two outs. \nAlomar went 1-for-5 in the leadoff spot, a day after the White Sox got the 12-time All-Star second baseman from the New York Mets for three minor leaguers. Carl Everett, obtained Tuesday night from Texas for minor leaguers, was 0-for-4. \nThe White Sox completed a three-game sweep, winning for the sixth time in seven games and reaching the .500 mark at 42-42. Minnesota has lost five of seven. \nEddie Guardado (1-3) gave up Thomas' winning homer. \nBilly Koch (5-4) pitched the 12th to get the victory. \nBlue Jays 8, Tigers 2 \nIn Detroit, Roy Halladay won his 12th consecutive decision and Carlos Delgado hit two solo home runs as the Toronto beat Detroit to break a four-game losing streak. \nDelgado raised his RBIs total to 91 and Vernon Wells drove in four runs for the Blue Jays. \nHalladay (12-2) allowed two runs on seven hits and no walks in seven innings. He has not lost in 15 starts since April 15 -- his streak is the second-longest in team history to Roger Clemens' 15-game string in 1998. \nDetroit has lost 22 of its last 26 games. Adam Bernero (1-12) took his sixth straight loss. \nRed Sox 5, Devil Rays 4 \nIn St. Petersburg, Florida, Pedro Martinez pitched seven solid innings and Nomar Garciaparra, Trot Nixon and Kevin Millar homered to lead Boston over Tampa Bay. \nMartinez (6-2) allowed three unearned runs and six hits. He struck out seven and moved ahead of Cy Young into second place on Boston's career strikeout list. \nMillar's two-run homer off Jesus Colome (1-4) snapped a 3-3 tie in the eighth. \nGarciaparra and Nixon hit solo homers and Jason Varitek added a RBI single to give Martinez a 3-0 lead. The Boston ace failed to hold it when he gave up a three-run homer to Aubrey Huff in the fifth. Huff added an eighth-inning sacrifice fly. \nSouth Korea's Kim Byung-hyun pitched a perfect ninth to earn his first save since being moved from Red Sox's starting rotation to the bullpen in the closer's role. \nRoyals 8, Indians 2 \nIn Kansas City, Missouri, Raul Ibanez drove in three runs without getting a hit and Darrell May pitched a six-hitter for his third career complete game to lead Kansas City past Cleveland. Carlos Beltran and Desi Relaford each had three hits and two RBIs for the Royals. \nMay (2-4), who went 16 starts without a victory before winning his previous start, walked two and struck out three in his first complete game since last July 11 against Anaheim. \nIbanez drew a bases-loaded walk in the first, drove in another run with a fielder's choice grounder in the fourth and added a sacrifice fly in the sixth. \nThe Royals scored four runs in the second off Cleveland left-hander Billy Traber (3-5). \nSammy Sosa homered on the first pitch of the ninth inning and four Chicago pitchers combined on a one-hitter as the Cubs snapped the Philadelphia Phillies' seven-game winning streak with a 1-0 victory Wednesday night. \nMatt Clement, Mark Guthrie, Kyle Farnsworth and Joe Borowski teamed to stop the Phillies. Clement allowed a leadoff infield single in the fifth inning to David Bell. \nSosa, who was 0-for-3 with three strikeouts going into the ninth, hit a fastball from Turk Wendell (1-2) for his 11th home run. Guthrie got two outs in the eighth inning, Farnsworth (3-0) threw one pitch -- Bobby Abreu was caught stealing -- to end the eighth. Borowski pitched the ninth for his 16th save. \nGiants 4, Cardinals 1 \nIn St. Louis, Barry Bonds homered twice and scored three times to lead rookie pitcher Jerome Williams and San Francisco Giants over St. Louis. \nThe National League West-leading Giants have won three straight games in a series that ends Thursday. The Cardinals lead the NL in hitting, but have been held to exactly one run for three successive games. \nBonds has 637 career home runs, 23 behind Willie Mays for third on the lifetime list. Bonds had his 63rd multihomer game, moving past Hank Aaron and matching Mays for third place. \nBonds hit his 460th homer for the Giants on a low liner to right leading off the fourth, passing Mays for second on the San Francisco list and pulling nine behind Willie McCovey for first overall. \nHe hit his 24th homer of the season against Jason Isringhausen leading off the ninth. \nWilliams (3-1) won his third straight start, allowing four hits in six-plus innings. Garrett Stephenson (4-8) took the loss. \nBraves 2, Marlins 1 \nIn Miami, Rafael Furcal's leadoff homer in the 13th inning helped Atlanta avoid a three-game sweep with a win over Florida. \nMarlins rookie left-hander Dontrelle Willis allowed only one run in eight innings, but failed to match a club record by winning his eighth straight start, leaving with the score tied at 1-1. \nGary Sheffield had three hits for the Braves, who managed just three runs in 30 innings in this series against Florida before Furcal connected off Armando Almanza (4-5) for his 11th homer of the season. \nKevin Gryboski (5-3) earned the win in relief. John Smoltz, the sixth Atlanta pitcher, allowed a leadoff single in the 13th but got the final three outs for his 30th save. \nMike Lowell hit his 26th home run of the season in the fourth inning for Florida, which was trying to sweep a three-game series from Atlanta for the first time since September 1996. \nExpos 11, Mets 4 \nIn New York, Brian Schneider and Edwards Guzman had two RBIs each as Montreal used a pair of five-run innings to beat a sloppy New York. \nLivan Hernandez (7-6) settled down after a shaky start, holding New York scoreless over his final five innings to salvage the finale of the three-game series. \nThe Mets broke out to a 4-0 lead after three innings but fell apart after that. \nThey committed four errors and failed in an attempt for their first series sweep of the season. South Korea's Seo Jae-weong Seo (5-4) faced the minimum nine batters in the first three innings before Montreal capitalized on poor fielding and pitching to score five runs each in the fourth and fifth. \nRockies 6, Diamondbacks 2 \nIn Denver, Jason Jennings allowed only two hits in 6 2-3 scoreless innings, Jay Payton had three RBIs and Colorado beat Arizona. \nJennings (8-6) walked four and struck out three to win for the fifth time in his last six starts. \nSteve Finley hit a solo homer off Javier Lopez in the Arizona eighth. Brian Fuentes got the last two outs for his first career save in three opportunities. \nReds 4, Pirates 3 \nIn Pittsburgh, Barry Larkin's two-out single drove in the go-ahead run during yet another Cincinnati ninth-inning rally, and the Reds -- twice within a strike of losing -- came back to beat Pittsburgh. \nThe Reds won it with three consecutive hits on full-count pitches by Pirates closer Mike Williams -- Ray Olmedo's single, pinch-hitter Reggie Taylor's tying double down the right-field line and Larkin's single to short right field. Cincinnati won for a major league-leading 21st time in its final at-bat and also leads the majors with 19 one-run victories.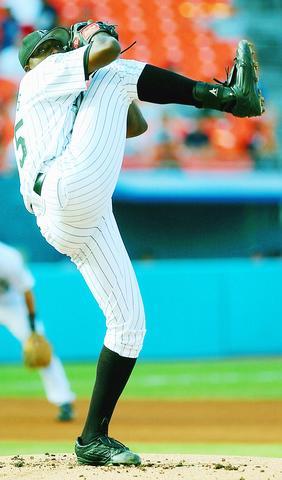 Florida Marlins' Dontrelle Willis pitches against the Atlanta Braves during the second inning in Miami on Wednesday.
PHOTO: AP
Comments will be moderated. Keep comments relevant to the article. Remarks containing abusive and obscene language, personal attacks of any kind or promotion will be removed and the user banned. Final decision will be at the discretion of the Taipei Times.