Ban slapped on gymnasts revealing all
ATHLETIC `ACTRESSES' Money was the motive for three former Olympic gymnasts from Romania who appeared nude in a DVD film and photographs
The Romanian Gymnastics Federation banned three former gymnasts from coaching and refereeing in official competitions for five years after they appeared nude in a DVD film and photographs published in Japan.
The film, which began to be marketed in Japan two weeks ago, shows Romanian gymnasts Lavinia Milosovici, 26, Claudia Presecan, 23, and Corina Ungureanu, 22, posing and performing gymnastics naked.
``Their action [posing nude] has damaged Romanian gymnastics,'' Adrian Stoica, the secretary general of the federation, said on Wednesday.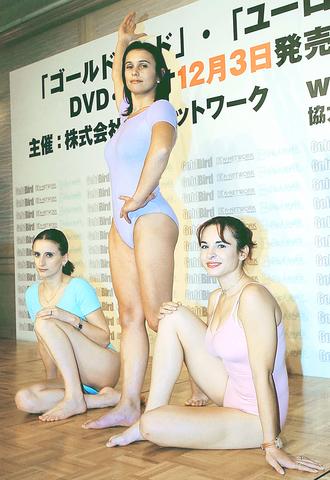 Romanian Olympic gymnasts, from left, Claudia Presecan, 23, Lavinia Milosovici, 26, and Corina Ungureanu, 22, at a Tokyo hotel on Monday.
PHOTO: AP
The suspension means the athletes can coach privately, but cannot take part in any official competitions organized by the federation. Milosovici is a gymnastics coach while Presecan teaches gymnastics in a school.
Stoica said that while athletes had the right to pose nude, they should not have used gymnastics suits with emblems of the Romanian federation.
Milosovici won two gold medals at the 1992 Barcelona Olympics, while Presecan took a gold at the 2000 Sydney Olympics.
The decision to suspend them comes a day after the Japanese Junior Gymnastic Club Federation officials debated whether to ban Romania from a youth tournament scheduled to take place in Yokohama, Japan, next September.
Japanese organizers, who were concerned that the three former stars could set a bad example for teenage gymnasts, decided in the end to allow two Romanian gymnasts to be among the 40 athletes from 14 nations expected to take part in the competition.
The flap over the DVDs comes weeks after the three former gymnasts bared all in photos carried in the Nov. 16 edition of Shukan Gendai, a Japanese weekly magazine. The magazine bought the photos from Tokyo-based Ongaku Senaka Co, which published a book of the photos last month.
Both the publisher and the DVD producers refused to say how much the former athletes earned, but Romanian newspapers reported the former gymnastics stars earned some US$40,000 each for the pictures and the film.
Ungureanu, a member of the Romanian team that won the World Championship title in 1997 and 1999, was at the center of a similar scandal in 1999 when she posed nude for the Romanian edition of Playboy magazine.
Comments will be moderated. Keep comments relevant to the article. Remarks containing abusive and obscene language, personal attacks of any kind or promotion will be removed and the user banned. Final decision will be at the discretion of the Taipei Times.