Daly fined for storming out of Open
WILD THING The short-tempered American had to pay up for verbally abusing officials who disagreed with him on where he should place the ball for a penalty drop
American golfer John Daly has been fined A$10,000 (US$5,500) over his outburst at the Australian PGA. He also refused to sign his scorecard and was disqualified.
Meanwhile, a tropical thunderstorm forced the early abandonment of the Australian PGA Championship yesterday with almost half the field still to complete the third round.
Daly, whose mother died last week of cancer, also threw his putter into a lake on the 18th green after a 6-over-par round of 78 and after he became upset with an official ruling on where to take a penalty drop on the 13th hole.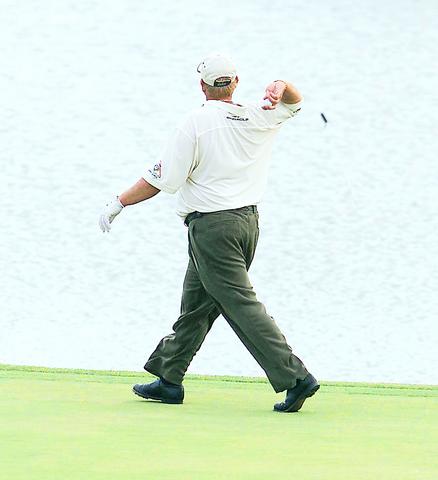 John Daly throws his club and ball into the water at the Australian PGA on Friday.
PHOTO: AP
Yesterday, Australasian PGA tour operations director Andrew Langford-Jones initially said Daly would not be fined, but another tour official, speaking on the condition of anonymity, later confirmed that Daly had been fined A$10,000.
Daly was also asked to write a letter of apology to an Australasian PGA tour official that he had verbally abused, and to his playing partners Craig Parry and Greg Norman. Daly wrote the letters before he left Australia yesterday morning, the tour official said.
The official also said that the Australasian PGA tour was attempting to contact US PGA tour commissioner Tim Finchem to inform him that one of its members had been reprimanded.
Yesterday, divers searching for lost balls at the 18th green lake retrieved Daly's ball and putter, both of which will be added to a memorabilia collection in the Hyatt Regency resort clubhouse.
Daly, who left his golf bag at the 18th green and walked alone back to his villa at the resort after Friday's round, later donated the bag and his clubs to the Australian branch of the Make-A-Wish foundation for a future charity auction.
``John was very apologetic,'' said Langford-Jones after a meeting with Daly. ``He has had a few personal issues and he genuinely regrets what he did.''
Jones said while the tour did not appreciate Daly's unacceptable behavior, it had been sympathetic to his personal circumstances following the death of his mother Lou in Las Vegas nine days ago.
``We don't condone what John did out there, but he came out here under a lot of pressure and he pulled a lot of people to the tournament,'' said Langford-Jones.
Daly had made the turn Friday in 4-under 32 and was likely to make the two-round cut when he hooked his drive into the water on the 13th hole.
His understanding of where his ball crossed the hazard conflicted with that of Parry, who was marking his card, and that of rules officials who viewed videotape of his shot before making him go back 100m to hit his third shot from the tee end of the lake.
Daly then hit his next shot towards the green but it hit a rules officials cart and went into the water.
At the 1997 US Open, Daly walked off the course after the second round without telling his partners.
In 1992, at the Australian Masters, he was disqualified after failing to sign a scorecard and a year earlier in Jamaica, he was disqualified for signing an incorrect card.
Tournament promoter Tony Roosenberg, a close friend of Daly's, said yesterday that while Daly had honored a deal to play despite his mother's death, he was disappointed that Daly did not honor the integrity of the game.
``We promoted him as the Wild Thing and he proved to be the Wild Thing,'' said Roosenberg.
Thunderstorm stops play
Tournament officials cancelled play for the day because of the threat of lightning strikes after the Coolum course in Queensland was hit by a severe electrical storm.
Just 38 of the 62 players who survived the cut had finished their rounds and officials instructed the remaining 24 to finish their rounds early today.
Jarrod Moseley was leading the field at 16-under-par after 10 holes when play was halted. Two-time Australian Open winner Aaron Baddeley was in second spot at 14-under with Peter Lonard a further three shots back.
Moseley said tournament officials had done the right thing by calling off play.
"It was a good decision and a credit to the PGA," he said.
The clubhouse leader was Nathan Gatehouse who shot a 68 for a 54-hole total of six-under-par 210, one stroke clear of Peter O'Malley and Rod Pampling.
Baddeley trailed Moseley by one shot at the start of the day but seized the outright lead when he eagled the 507m par-5 fifth hole.
Moseley responded immediately with a birdie at the next hole then moved back in front when he birdied the eighth.
Comments will be moderated. Keep comments relevant to the article. Remarks containing abusive and obscene language, personal attacks of any kind or promotion will be removed and the user banned. Final decision will be at the discretion of the Taipei Times.