Rescue workers struggling with shortages as military moves in to disaster areas
RELIEF EFFORTS Responding to emergency conditions in hard-hit areas of Nantou and Taichung Counties, the government has set up relief effort centers and mobilized some 5,000 soldiers
Disaster centers have been established in 30 city and county districts in the wake of yesterday's earthquake, while the military has sent a contingent of 5,000 soldiers to areas hit hardest to help with rescue efforts.
However, officials said there were still shortages of food, shelter, morgue space and ice to help preserve bodies of those killed in the massive quake.
Officials at Taichung Veteran's Hospital said it had admitted more than 100 people, most of whom arrived by helicopter. Hu Wei-shung (胡為雄), the hospital's emergency room director, said several helicopters ferried survivors of the quake from the hard-hit area of Puli in Nantou County.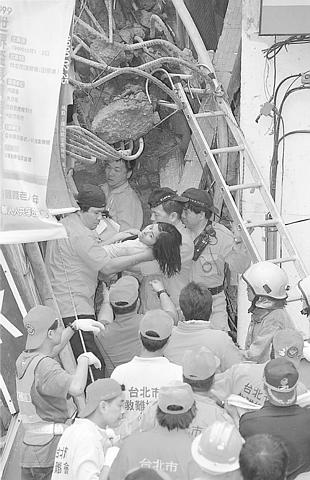 Rescue workers pull a survivor from the rubble of the Tunghsing building in the Sungshan district of Taipei yesterday.
PHOTO: CHIANG YING-YING, TAIPEI TIMES
"Most of them suffered serious fractures and head injuries, while some of them had critical burns covering over 60 percent of their bodies. We are running out of beds and spaces in our hospitals," the deputy director of the nursing department at Taichung's Jen-ai hospital said.
Chao said the hospital had set up a first-aid station in front of the building.
"There are more patients waiting to be cared for at our branch in Tali (大理) in Taichung County," she said.
The situation in some areas of Taichung County and Nantou County was serious, especially where traffic conditions or road problems made transportation difficult.
"There were no telephones, no electricity, no water, not even radios to contact people inside these areas," said a relief worker, adding that around 1,000 members of a rescue force were working in Taichung County and that they were expecting reinforcements soon.
The Defense Ministry had so far sent more than 5,000 soldiers and 10 medical teams to the major disaster areas throughout the country, with 12 helicopters dispatched to deliver food to the worst affected areas.
The ministry has set up six rescue centers in Taipei, Taichung, Changhua, Nantou and Yunlin. A temporary shelter at Nantou Coun-ty Stadium was set up and was accommodating some 1,000 people.
According to police, Chungliao village, Chichi village, Puli village in Nantou County and Taichung County recorded the most deaths and casualties.
Hundreds of survivors in those villages could only sit in front of wrecked homes and wait for help. Death and destruction was everywhere.
"There was not even enough cloth and boards to cover the dead bodies," a local resident was quoted as saying on a TV news program.
Local residents said they were also in urgent need of ice and containers to take care of the dead.
Taichung City Mayor Chang Wen-ying (張溫鷹) had earlier told President Lee Teng-hui that ice in the funeral parlors and mortuaries in central Taiwan had almost been used up.
The Buddhist Compassion Relief Tzu-Chi Association (慈濟功德會) set up relief centers in Taipei and Taichung, with over 5,000 tents, sleeping bags and cushions sent to disaster areas by yesterday evening.
Comments will be moderated. Keep comments relevant to the article. Remarks containing abusive and obscene language, personal attacks of any kind or promotion will be removed and the user banned. Final decision will be at the discretion of the Taipei Times.