Infrastructure dealt a crippling blow
STATE OF REPAIR The island's services will take varying times to recover from the earthquake; Taipei's MRT system was up and running within hours, while Taichung Port will not be fully operational for at least two years
Yesterday's earthquake has wreaked unprecedented havoc on Taiwan's infrastructure. Among services affected so far are:
Roads
The cities and counties most seriously affected by bridge and road collapses are Taichung County, Nantou City and County, Chiayi County, and Yunlin County.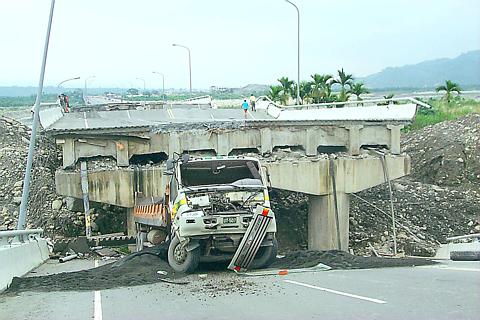 A gravel truck remains wedged between two severed sections of a bridge on the third provincial highway in central Taiwan.
PHOTO: YOU WEN-YU, LIBERTY TIMES
The earliest date by which roads in Yunlin and Chiayi Counties will be fully operational again is estimated at three days from now, while repair of severe road damage in the more seriously affected Taichung and Nantou counties will take at least two to three months. The national freeways linking the north and south of the island were not affected.
Taipei's Mass Rapid transit system (MRT)
Operation of the three lines of Taipei Mass Rapid Transit system (MRT) was suspended early Tuesday, due to electricity shortages in Taipei city. The Mucha Line resumed operating at noon yesterday, while the Tamshui Line and Chungho Line restarted operations later in the afternoon.
Trains
Most train services resumed yesterday, though one section from Taichung to Miaoli is expected to resume today.
Ports
The port of Taichung, one of the four international ports located in Taiwan, has been seriously damaged, with five of its wharfs having reportedly collapsed. Officials from the Ministry of Transportation and Communi-cation (MOTC) estimated repair costs of about NT$2 billion, and don't expect the damaged wharfs to become fully operational for two years. Officials suggest ships planning to dock at this harbor divert to the southern Kaohsiung Harbor or Keelung Harbor in the north.
Air Services
Neither domestic nor international air services were affected by the disaster, MOTC officials said.
Power outages
The earthquake knocked out Taipower's Chungliao power substation in Nantou County, leaving all areas north of Changhua in darkness. The Chungliao substation is one of Taipower's three major substations in Taiwan. Taipower sent investigators to the Chungliao substation by helicop-ter.
Power generators at Taipower's first and second nuclear power plants were shut down by the quake. At least five hydroelectric and thermal power plants across northern Taiwan were also affected.
The earthquake also paralyzed hydroelectric stations and substations along the Tachia River watershed in central Taiwan. Taipower teams were unable to reach the stations yesterday as roads leading to the plants had been cut off.
Overall, electricity was cut off to an estimated 6.5 million house-holds, about two-thirds of Taiwan. By 5am yesterday morning, power had been restored to important facilities in northern Taiwan, including government agencies, CKS airport, bus, train, and MRT stations, hospitals and water supply facilities.
Taipower officials said they hoped to restore power to 75 percent of households in northern Taiwan sometime today. But power for industrial use might take longer. Full restoration of Taiwan's power grid may take two days, the officials said
Water and Reservoirs
The earthquake also seriously damaged some of the major reservoirs in central Taiwan, cutting water supply to parts of Taichung County, Changhua County, and the Hsinchu Science-based Industrial Park.
The Sun Moon Lake Reservoir in Nantao County suffered a 150-meter-long, 5cm-wide crack.
The Shihkangpa and Liyutan reservoirs on the Tali River in Taichung County were also severely damaged by the earthquake.
The Shihkangpa Reservoir, which supplies water to the Greater Taichung and Changhua areas, leaked all two million tons of its water yesterday.
A water pipeline from Feng-yuan Water Treatment Plant to the Hsinchu Science-based Industrial Park was also seriously damaged.
Minister of Economic Affairs Wang Chih-kang (王志剛) set up an emergency task force yesterday morning to handle repair work for damaged reservoirs, water and gas pipelines plus oil storage facilities.
Dams
Taipower warned that two of its hydroelectric dams in central Taiwan may have been damaged.
"Our technicians checked the Takuan and Mingtan dams and found abnormal signs," a Taipower official said without elaborating. "Further evaluations will be still needed to examine the structure of the two dams."
But he noted the structure of the largest dam in the area -- Tehchi reservoir -- remained intact despite damage to the power generating facilities.
The Feitsui Reservoir, which supplies water to the Greater Taipei area was not damaged, the official added.
Gas and oil
Of the 580-plus gas stations run by China Petroleum Corp (CPC), only 375 were in operation yesterday. Stations in the Taichung area were most seriously affected, with only 11 in operation.
In Taipei, the Great Taipei Gas Corp received several hundreds of reports of gas leakages yester-day. The company sent a 25-member team to the area around the Tung Hsing Building in Sungshan District, which collapsed yesterday morning, to stop gas leakages. Unable to reach the building's gas pipes, the team used two backhoes to stop the pipes on Pateh Road and Fuyuan Street.
Comments will be moderated. Keep comments relevant to the article. Remarks containing abusive and obscene language, personal attacks of any kind or promotion will be removed and the user banned. Final decision will be at the discretion of the Taipei Times.