Lee's wife appears at TSU rally
FORMER FIRST LADY The appearance sought to dispel rumors that she is unhappy with her spouse's campaign schedule, which some have said is too harsh
Former first lady Tzeng Wen-hui (曾文惠) appeared for the first time during the election campaign at rallies for Taiwan Solidarity Union (TSU) candidates in southern Taiwan yesterday. \nFull of smiles, Tzeng's appearance dispels rumors that she and her husband Lee Teng-hui (李登輝) have been at odds over the damage his hectic campaign schedule may have on his health. \nDuring the rallies, Lee -- considered the spiritual leader of the TSU -- lent his strong backing to an initiative put forward earlier by President Chen Shui-bian (陳水扁) to form a "cross-party alliance for national stabilization" after the Dec. 1 polls. \n"[Chen's] idea is similar to mine. Only by forming a cross-party coalition government to end the ferocious battles between the parties can [Chen's administration] take off," Lee said. \nStanding next to her husband and looking a little shy, Tzeng told the crowds that, "I know my husband's love for Taiwan is greater than his affection even for me." \n"I am standing here because I am deeply touched by the sincerity of the TSU and how party members show their love for Taiwan," Tseng said. \nThe former first lady told residents of Kaohsiung and Pingtung counties to support TSU candidates so that her husband's wish to turn Formosa -- or beautiful island -- into the Switzerland of Asia can be fulfilled. \nLee said he brought his wife with him to end speculation that she was opposed to his return to politics. \n"Not being a great speaker, my wife talked with her heart," said Lee. \nWhile campaigning in the country's main Hakka region yesterday, Lee called on residents to determine their own fate by voting for candidates that have the nations future at heart. "It's high time we became our own master, and put a halt to alien rule." \nLee said, while reflecting on his life experiences, that he had good reason to stress the significance of advocating the concept that a country should be "ruled by its own people." \nLee recalled the 1940s when Taiwan went from Japanese to KMT rule. "My dream of having a better country [under KMT rule] was crushed after I returned home from Japan as a soldier after World War II," Lee said. \n"Taiwanese lived in fear during the White Terror implemented by the KMT administration." \nAfter overcoming tremendous difficulties, our forefathers came to Taiwan with the hope of a more prosperous future but the opposite hashappened, said Lee. \nLee said he was proud to be Taiwanese, and said Taiwanese were people with strong characters who would not succumb to pressure. \n"Taiwan cannot be ruled by an alien power, it should be governed by its people," said Lee.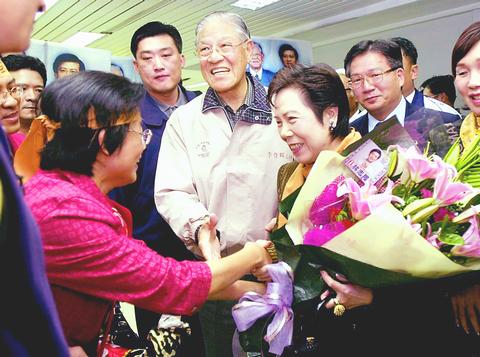 Former president Lee Teng-hui and his wife Tzeng Wen-hui are greeted by supporters yesterday at Hsiaokang Airport in Kaohsiung as they arrived in the city to campaign for TSU candidates there.
PHOTO: CHANG CHUNG-YI, TAIPEI TIMES
Comments will be moderated. Keep comments relevant to the article. Remarks containing abusive and obscene language, personal attacks of any kind or promotion will be removed and the user banned. Final decision will be at the discretion of the Taipei Times.