Dec. 1 elections: Lien heaps scorn on Chen's `little favor'
The president's promise not to cut the pay of civil servants amounts to vote-buying, KMT Chairman Lien Chan (連戰) said yesterday. \nLien said President Chen Shui-bian's (陳水扁) "little favor" to civil servants would not boost their morale. What government workers really need, he said, was the restoration of their dignity. \n"As the elections draw nearer, [Chen] is offering a little favor to the military, government employees, teachers and policemen," Lien said during a campaign stop for the party's legislative candidates in Taipei yesterday. \n"But people haven't lost faith in the government because they need a little favor. What they need is dignity," Lien said. \nAt a DPP campaign rally in Hsinchu County on Wednesday, Chen promised not to cut the pay of civil servants during his term. \nHe also promised to keep in place a program whereby government workers earn 18 percent interest on their savings annually. \nLien said the DPP only cares about civil servants at election time. \nWhile civil servants had enjoyed an average 3-percent pay hike every year during the KMT's rule, almost all the benefits they originally enjoyed have been abolished since the DPP came to power, he said. \nIn addition, Lien noted that the DPP has called civil servants a band of "old bureaucrats" and has blamed government workers for the DPP's inefficiency. \nWhen the professionalism of civil servants does not receive due respect, "political interference" gets in the way of their advancement, Lien said. \n"No wonder there has been one wave of retirements after another since the new government came to power," he said. \nMeanwhile, People First Party Chairman James Soong (宋楚瑜) yesterday focused his criticism on the government's cross-strait policy. \nWhile campaigning for the PFP's legislative candidate in Pingtung County, Soong urged the government to lift the ban on direct cross-strait shipping soon to boost the nation's economic development. \nOn Wednesday, the government said it would relax the "no haste, be patient" policy on investment in China. \n"Some people attacked me for `selling out Taiwan' when I asked the government to review the `no haste, be patient' policy. But the government finally has thought through the matter," Soong said. \nSoong, however, said the relaxation of the policy is insufficient to resolve Taiwan's problems. He also said Taiwan should abandon the "state-to-state" principle on cross-strait relations put forth by former president Lee Teng-hui (李登輝).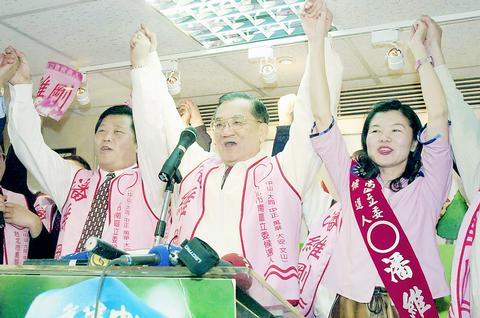 KMT Chairman Lien Chan, left, stumps for the party's Taipei City legislative candidate Tina Pan, right, at her campaign headquarters yesterday.
PHOTO: CHIANG YING-YING, TAIPEI TIMES
Comments will be moderated. Keep comments relevant to the article. Remarks containing abusive and obscene language, personal attacks of any kind or promotion will be removed and the user banned. Final decision will be at the discretion of the Taipei Times.