Gay community decries attack
HOMOPHOBIA Gay rights groups have condemned an incident in which a brick was thrown through a Taipei bookstore window, as an attack on the gay community
Gay rights groups in Taiwan have jointly denounced a recent attack on a gay and lesbian bookstore in Taipei, calling the anonymous violence a serious setback to their efforts to eliminate homophobia. \nThe condemnation, initiated by the gay rights group Hotline (同志諮詢熱線協會), and endorsed by dozens of other gay and lesbian groups, was issued in the wake of the attack on Gin Gin's (晶晶書店), a Taipei bookstore specializing in gay and lesbian literature, on the early morning of Jan 27. \n"It seemed a minor case of a small gay and lesbian bookstore being attacked with a brick and the mere breaking of a window seems like no big loss at all. But, if the attack on Gin Gin's was made because it's a gay and lesbian bookstore, then that sends a strong message of hatred against homosexuality," the groups said in a written statement. \n"If the attack with a brick is tolerated today, we might see attacks with petrol bombs in the future," the groups noted. "What happened to Gin Gin's may not be unique. We need to denounce such violence and make sure it will never happen again." \nLai Jeng-jeh (賴正哲), owner of the bookstore, which is located on Roosevelt Rd Sec. 3, Taipei, said the anonymous attackers had broken the store's window with a brick while the shop was closed. \nHe said it is not known yet whether the attack was a deliberate homophobic act, but said he felt saddened and frustrated about the incident, which is now the subject of a police investigation. \nSince no loss of property was reported following the incident, Lai said it was very unlikely to be a case of burglary. He said he had improved the store's security since the incident but would continue to run the store as normal. The store sells books written by, for, and about the gay, lesbian, bisexual and transgender communities. \nGin Gin's, which opened in January 1999, is one of only a few locations in Taiwan committed to providing a discrimination-free environment for gays and lesbians. relations with neighbors. \nLai has developed a "Rainbow Community" -- which is friendly to homosexuals -- in the Kungkuan district with local businesses, who display rainbow stickers.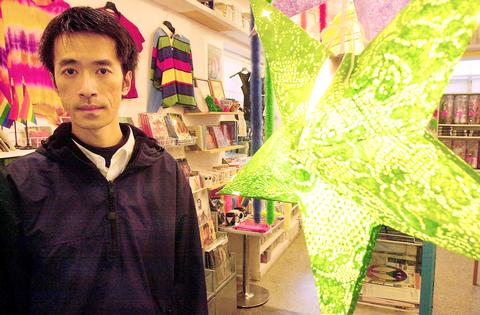 Lai Chen-che, left, the owner of Gin Gin's, which features homosexual literature.
PHOTO: CHEN CHENG-CHANG, TAIPEI TIMES
Comments will be moderated. Keep comments relevant to the article. Remarks containing abusive and obscene language, personal attacks of any kind or promotion will be removed and the user banned. Final decision will be at the discretion of the Taipei Times.