Taipei a `city of garbage'
Taipei has turned into a "city of garbage" after the Taipei City Government gave residents a two-day reprieve from its official garbage collection system prior to the Chinese New Year, officials said.
Officials at the city's Bureau of Environmental Protection (環保局) yesterday said that garbage collectors picked up more than 7,110 tonnes of trash on Sunday, about four times the daily average. More than 9,073 tonnes of trash were collected on Monday, setting a new high for collections in the days prior to Chinese New Year.
Officials said that many Taipei residents did not wait until garbage collection vehicles arrived, as required by the law. Instead, they piled trash in the city's alleys and on sidewalks, making it difficult for pedestrians to pass in many places. Collection crews worked extra shifts to try to clean up the mess and garbage collection vehicles were bumper-to-bumper on their way to the municipal garbage incinerator and dumps.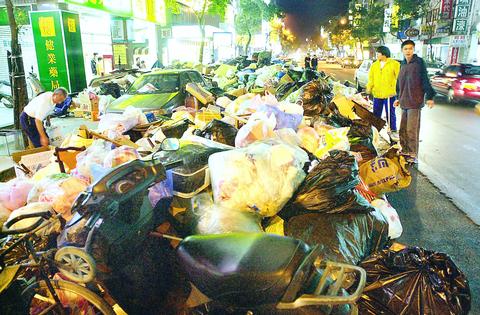 Taipei residents took advantage of the city government's relaxation of restrictions on throwing out garbage during the 48-hour period from Sunday to Monday. Residents were told that they did not have to use approved bags, but many misunderstood and dumped large items like mattresses and even motorcycles.
PHOTO: GEORGE TSORNG, TAIPEI TIMES
Officials ordered all garbage to be collected by Tuesday at noon.
Collection crews resumed normal schedules on Tuesday, which was Chinese New Year's Eve. As much as 8,220 tonnes of garbage had been picked up by local garbage collectors on Chinese New Year's Eve, officials said.
Garbage collections ended yesterday and will not resume until Saturday.
Taipei began its new garbage collection system last July, requiring residents to buy official garbage bags and to not dump garbage at collection spots until trash crews arrive.
The volume of trash generated dropped by about 40 percent after the new system was implemented.
Taipei Mayor Ma Ying-jeou (馬英九) announced earlier this month that the city would halt the new system for the two days prior to Chinese New Year's Eve. Ma said the two-day reprieve was called "to express the city's appreciation for the residents' cooperation under the new system, which has made the city cleaner and better."
But perhaps Ma overestimated the public's municipal spirit; many trash collectors have been complaining of residents who let their garbage pile up for a week in order to dump it for free.
People found not using official bags or dumping bags outside specified garbage collection points will face fines of between NT$1,200 and NT$4,500.
Comments will be moderated. Keep comments relevant to the article. Remarks containing abusive and obscene language, personal attacks of any kind or promotion will be removed and the user banned. Final decision will be at the discretion of the Taipei Times.