Astrologers see a trying year ahead
PREDICTIONS The Year of the Snake could bring problems for both Chen Shui-bian and Jiang Zemin, who are both tigers, traditional enemies of the snake
With crackling fireworks, dancing lions and clouds of incense, Chinese around the world welcomed the Year of the Snake yesterday, a period astrologers say could be lucky for the new US president but dangerous for the leaders of China and Taiwan. \nThe start of the Lunar New Year is the biggest holiday for Chinese -- about one-fifth of the world's population -- and most spent the day feasting, showing off new clothes, praying in temples, playing mahjong and visiting friends and relatives. \nStreets that are normally clogged with traffic in bustling Hong Kong, Beijing and Taipei were eerily empty during the morning rush hour as most people slept in and relaxed during the public holiday. \nAccording to the 12-symbol Chinese horoscope, this is the year of the snake -- or "little dragon" for those who like to put a positive spin on things. Those born under the symbol are supposed to be diplomatic, charming, deep-thinking and romantic, but they can also be stingy with money, vain and unfaithful in marriage. \nFamous snakes include US President John F. Kennedy and Chinese revolutionary leader Mao Zedong (毛澤東) -- both charismatic philanderers. \nThe snake can bring upheaval, revolutions and disasters. But this year won't be a time of great change, predicted Taiwanese astrologer Shao Chung-ling, a master of the Book of Changes, an ancient Chinese book used for predictions. \n"You won't see major successes or failures in world events," Shao said. "The year can't be too good or too bad." \nBut it could be a good year for new US President George W. Bush -- the world's most powerful leader. Bush, born in 1946, is a dog, which is believed to be able to get along with the snake. \nFor a more accurate prediction for Bush's first year in office, Taiwanese soothsayers say, other factors have to be considered. \nExamining a picture of Bush, Taipei astrologer Ni Su-chuan noted the firm and curvy contour of the president's upper lip. \n"At 54, his luck is determined by his lips, and his fortune thrives at this point," Ni said. \n"His lips have nice contours, but not wide enough," she said, explaining that Bush may be good at continuing the policies of his predecessor but not broad-minded or bold enough in ushering in a new era. \nThe two leaders of the world's largest Chinese states, Taiwan and China, should be worried about the upcoming year, according to Chinese astrology. President Chen Shui-bian (陳水扁) and Chinese President Jiang Zemin (江澤民) are both tigers -- bitter enemies of the snake. \nChina's anticipated entry into the WTO this year could shake up the giant communist nation's economy and bring instability. The country's secretive leadership is also gearing up for a transfer of power -- traditionally a time of infighting and maneuvering. \nIn Beijing, the Year of the Snake got off to a tense start with protests in Tiananmen Square, the nation's symbolic heart. \nOn the eve of the holiday, five protesters with the outlawed Falun Gong sect set themselves on fire, a possible sign that the group is becoming more radical despite Jiang's aggressive campaign to quash it. \nTrouble in China could create problems for Chen. \nMany Chinawatchers believe that China's leaders might try to divert the public's attention from domestic woes by starting a war with tiny Taiwan. \nChen is trying to improve relations with China, while his minority government seeks to calm a hostile, opposition-dominated legislature. \nTaiwan astrologer Lin Chen-yi said the intelligent but stubborn Chen is a "sparkling sun" whose success depends on whether he can share glory with others. \n"The year of the snake is a year to plant seeds and consolidate your base," Lin said. \n"By next year, the year of horse, the dark cloud will dissipate to unveil the sun if the right things are done," Lin added. \nMeanwhile, in Hong Kong, tens of thousands of spectators lined the streets for the Lunar New Year parade of dancing lions, dragons and floats. Guest participants this year included cowboys from Canada's Calgary Stampede and cheerleaders from the Denver Broncos football team. \nMany weren't ready to let the snake symbolism discourage hopes for more luck. \n"I think it will be a better year, and I hope it will be smoother for me at work," said Issara Leung, 50, a cleaning agent who turned out for the parade.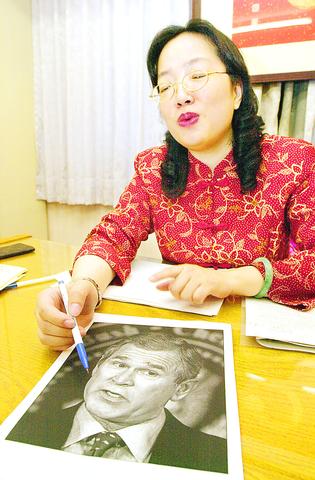 Astrologer Ni Su-chuan points to facial features of US President George W. Bush in her Taipei office. Ni explains that the contours of Bush's lips lead her to predict that he may be able to continue the policies of his predecessor but will not be broad-minded or bold enough to usher in a new era. Fortune tellers predict brisk economic and political activity in the Year of the Snake.
PHOTO: AP
Comments will be moderated. Keep comments relevant to the article. Remarks containing abusive and obscene language, personal attacks of any kind or promotion will be removed and the user banned. Final decision will be at the discretion of the Taipei Times.