Cross-strait trade nothing new
ECONOMIC TIES Trade and travel between Taiwan and China has flourished for years, but Chinese business owners are now urging implementation of direct links
While China poured cold water on Taiwan's preparations to lift the ban on the "small three links," -- direct commerce, transportation and communications between the offshore island groups of Kinmen and Matsu and the Chinese mainland -- the reality is that cross-strait direct shipping has been going on for the best part of 20 years. It has been legal under Chinese law but not until recently under Taiwan law and is still highly restricted.
"About 18 years ago, my ship was probably the first ship to sail directly from Taiwan to the Houzai harbor (后仔港) in Quanzhou city -- a trip that Taiwan regarded as illegal but China welcomed," said chairman of the Association for Taiwanese Businessmen in Macau (澳門台商總商會), Chen Kuo-shiun (陳國勳), adding that only a routine checkup had been given before they landed.
Zhuang Lailong (庄來龍), is the Chinese policeman who boarded Chen's ship to conduct the checkup.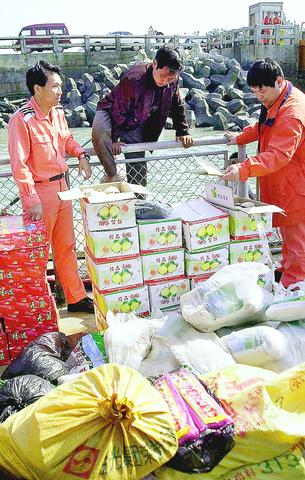 Two coast guards, left and right, seize goods smuggled from Xiamen, southern China from Chinese fisherman, Chen Mun-ping, center, at Shuitou harbor in Kinmen, in this file photo from Dec. 30. Although Taiwan lifted a ban on direct trade, transport and postal contact between the island groups of Kinmen and Matsu and the Chinese cities of Fuzhou and Xiamen in Fujian Province on Jan. 1, illegal direct trade has been going on for years.
PHOTO: AFP
"I remembered that there seemed to be some people who hid inside the ship, not daring to come out. All I did was make sure their IDs showed who they were," Zhuang said, adding that the only entrants that China feared and forbade were Taiwanese secret agents.
Another policeman, Lin Zhixu (林志蓄), however, said that the trip should have been regarded as a smuggling trip into China. "But we just turned a blind eye to it," Lin added.
At a time when the two sides of the Strait were still hostile to each other and had no official contact at all, any personal trips made from Taiwan to China were likely to be warmly welcomed and treated as examples of "returning to the motherland," tools of unification propaganda. Chen says, however, that his trip was made for purely business reasons.
"[Those ships] brought in a lot of living necessities, such as TV sets, appliances and textile products that some local residents needed," director of the Taiwan Affairs Office (TAO) in Quanzhou, Lin Min (林敏), said, adding that most residents could not afford such luxury items, but it was the only channel open to the Chinese to make such purchases.
Lin added that China treated Taiwanese ships no differently from ships from other Chinese provinces or foreign countries. As far as tariffs were concerned, however, Lin said that Taiwanese ships were levied rates that were between those for boats from other local Chinese ports and those for boats from foreign countries.
Besides cross-strait transportation, commercial links have also existed between Taiwan and China for years. In Quanzhou City, there are more than 200 businesses from Taiwan, while approximately 45 percent of all foreign investment in Xiamen is made by Taiwanese.
"Taiwanese businessmen brought in their capital, technology, management and, most important of all, their knowledge of international commerce, which helped boost the local economy," said Qiu Jiali (邱加力), a local businessman in Quanzhou, adding that average of Chinese incomes had increased eight- to 10-fold after Taiwanese first started investing in southeastern China 10 years ago.
Given the fact that cross-strait links have existed for years, the "big three links (大三通)" policy -- the opening of direct transportation, commerce and communications between Taiwan proper and China -- trumpeted by the Taiwan government is actually good news for most people on both sides in the private sector.
Chen Yiming (陳意明), a Xiamen businessman who imports food and goods from Taiwan, said if direct transportation were to be made possible, exports from Taiwan would increase and become cheaper and, therefore, more competitive.
"If direct transportation is made between Kaohsiung and Xiamen, we will make 10 percent more profit ... And it also saves a lot of traveling time," Chen said.
He warned that "Taiwan surpassed China economically 20 years ago, but China will speed up and overtake Taiwan in 20 years," urging Taiwan officials to take advantage of the market in China.
Pressure from the business sector appears to be making the opening of the big-three-links inevitable. Political obstacles, however, have made the issue a thorny one since China insists on the "one China" principle that the DPP government in Taiwan shows no signs of accepting.
"We can actually take advantage of one common principle that both sides have agreed upon. That is, economic development comes before the settlement of political differences," Chen Kuo-shiun said, adding that he hoped the big three links policy would be implemented within in three months.
He added that the leaders of both sides should put the controversy over unification or independence aside, resume dialogue and allow as much cross-strait exchange as possible in order to enhance mutual understanding and trust before an agreement could be reached.
Comments will be moderated. Keep comments relevant to the article. Remarks containing abusive and obscene language, personal attacks of any kind or promotion will be removed and the user banned. Final decision will be at the discretion of the Taipei Times.