Critics deride criminal probe of flight SQ006
Aviation experts say attempts to bring charges of criminal negligence against the three pilots of the doomed flight would hurt safety in the long run
Efforts by local prosecutors to bring charges of criminal negligence against the pilots of Singapore Airlines flight SQ006 may strain Taiwan's diplomatic and economic ties with the international community. \nAviation experts say it goes against international practice to hold responsible the three pilots of the doomed flight, in which 82 people lost their lives. International pilots' associations have also raised concerns over inquiries into whether the pilots should be held criminally liable. \nStill, the Ministry of Justice says prosecutors have the right to probe the cause of the Oct. 31 crash alongside the Aviation Safety Council, which is interested in preventing future accidents. \nThe ministry arrived at that conclusion recently after consulting the Ministry of Foreign Affairs and the Ministry of Transportation and Communications. \nInvestigation should be left to the experts \nBut officials from the Aviation Safety Council and National Transportation Safety Board of the US say it is better to leave the questions to the aviation experts. Throughout the world, they say, uncovering the cause of plane accidents is best done by aviation professionals. \n"Unless there is a potential crime -- such as the implantation of a bomb -- prosecutors won't interfere in the investigation conducted by professionals," said Ron Schleed, a former senior investigator at the US National Transportation Safety Board. \nBut local prosecutors say they are examining whether charges of criminal negligence should be brought in the SQ006 case. \nPilots of the ill-fated 747-400 attempted to take off from a CKS airport runway partially closed for repairs, barrelling into construction equipment. \nThe plane broke into three pieces and exploded. \n"Our criminal law suggests that we should be there when death is involved in a case," the prosecutors said. \nA question of jurisdiction \nMinistry of Justice officials also argue that Taiwan has jurisdiction over how the investigation into the plane crash proceeds, not anyone else. \nThat closely echoes statements from Taoyuan prosecutors, who said Taiwan's "criminal law should be applied to the case since the accident happened here in a sovereign state. It is humiliating to the nation and inimical to its sovereignty not to handle this case in accordance with our law." \nMeanwhile, the three pilots of the flight -- Malaysian captain Foong Chee Kong, and Singaporean co-pilots Latiff Cyrano and Ng Kheng Leng -- have been barred by prosecutors from leaving the country, arousing complaints from several pilots' associations. \nPrevention, not prosecution \nIn any case, many aviation safety experts have warned that threatening to bring criminal charges against the pilots would hinder the flow of information about the crash. \nThat would make it difficult to prevent future air traffic accidents, they say, and it undermines the goal of carrying out investigations in the first place. \n"It is very unfortunate," Schleed said, after learning that the Ministry of Justice planned to allow prosecutors' probes to go forward. \nWhile the ministry says the inquiry is to determine whether "criminal liability" should be assigned to the pilots, Schleed said the case is a matter of human error and the pilots had no criminal intent. \nFurthermore, Schleed said, introducing the threat of criminal charges would pose a threat to the safety of the world's aviation system. \n"The threat of criminal charges will lead aviation crews to cover up their minor errors during their flight operations," he said. "Then, as its consequence, air safety will not be improved, which may even cause significant accidents afterwards." \nLu Peng-jeu (陸鵬舉), chairman of the department of Aeronautics and Astronautics at National Cheng Kung University (成功大學), agrees. Lu said that some past aviation accidents in Taiwan were caused by the reoccurrence of mistakes that pilots had concealed. \nIf pilots don't report their mistakes, other pilots don't have a chance to learn from them. \nLu said many countries prefer to focus on improving aviation safety rather than punishing pilots for professional negligence. Lu said that an emphasis on flight safety allows a greater number of lives to be saved. \nRobert Vandel, executive vice president of the US-based Flight Safety Foundation, said that aviation accident rates have declined tremendously over the years by "utilizing what we have learned from accident investigations." \nBut if the threat of criminal charges is introduced, pilots and other aviation personnel may not be forthcoming about factors contributing to a crash. \n"Taiwan is a benefactor of this system and the island should not inhibit in any fashion the work of the independent accident investigation team," Vandell wrote in a letter to the Ministry of Justice and the Ministry of Transportation and Communications. \nAviation safety specialists say that many other countries besides Taiwan have faced the issue of balancing the law with the need to improve safety. \nYong Kay (戎凱), executive director the Aviation Safety Council, says some countries have passed laws preventing accident reports from being used in the courts. \n"Canada, Australia and New Zealand have passed laws to prevent investigation reports by professionals from being used in judicial proceedings," Yong said. \nNew Zealand passed its law last year. John Britton, of that nation's Transport Accident Investigation Commission, said the law has already brought about its desired effect. \n"There are no more reports of airline crews turning cockpit voice recorders off, and it is easier to persuade people to talk frankly with investigators," Britton said. \nLu also notes that the US had developed "a confidential reporting system," whereby pilots are allowed to report their mistakes without fearing repercussions. \n"They once recalled the system because of the prosecutors' objections, too," Lu said. "But they put the system back in place, as they realized that the threat of criminal charges and penalties against pilots never really addressed the issue of improving aviation safety." \nIn addition, groups such as the International Civil Aviation Organization have asked their members to review their laws to determine whether the threat of criminal liability is blocking the collection of information that could prevent future accidents. \nStill, the Ministry of Justice says there are no specific international regulations sparing pilots from criminal liability. \nJudgement vs. the rule book \nLocal prosecutors argue that, in probing the accident, they are merely doing what the law requires them to do. \nBut Brian Kennedy, a former US prosecutor and frequent contributor to the Taipei Times, said that "any prosecutors' office anywhere in the world has some latitude of prosecutorial discretion." \nYong also said that prosecutors should exercise some discretion. Yong said that the purpose of pursuing criminal charges is to prevent future crimes. But as is the case with many aviation accidents, unintentional human error is often the cause. \nKennedy said that prosecutors should use reasonable individual judgement instead of merely sticking to the rule book. \nKennedy also suggested that an "inter-agency rivalry" may exist between the Ministry of Justice and aviation experts. That may be why the ministry has refused to give up its right to conduct an investigation or file charges against the pilots. \n"They want to be seen as having done something, as being in the lead, as not surrendering to any other agencies, such as the Aviation Safety Council," Kennedy said. \n"In fact, the judicial system should not worry too much about decriminalizing pilots' error in the air accident. Pilots in general, compared to other transportation operators, are well trained and closely monitored. They're less likely to commit an intentional crime," Kennedy said. \n"To make a general policy of not filing criminal charges against pilots is crucial, otherwise there's a greater chance for us to risk future aviation safety compared to miss punishing a seriously guilty pilot," he said. \nKennedy also criticized the Ministry of Justice for appealing to Taiwan's sense of nationalism in defending its right to probe the plane crash. He said the legal and aviation safety issues involved in the case have little to do with national sovereignty, a popular issue in Taiwan. \nTaiwan may be subject to boycotts by pilots \nYong and many others have warned that if prosecutors insist on bringing charges, Taiwan may suffer from a boycott from pilots, hurting Taiwan's economic and diplomatic ties with the rest of the world. \nThe International Federation of Airline Pilots' Association, which represents more than 100,000 pilots from nearly 100 countries worldwide, has warned of such as boycott. \nThe federation, along with the Malaysia Airlines Pilots' Association, have asked that the three pilots be allowed to go home, saying keeping them here in Taiwan will do little to help the investigation.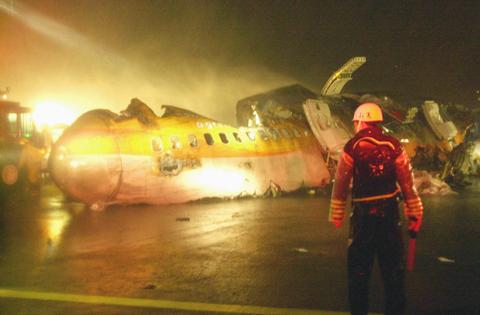 Singapore Airlines flight SQ006 hit construction equipment and crashed during takeoff on the night of Oct. 31, after the plane mistakenly entered a runway closed for repairs. The accident claimed 82 lives.
TAIPEI TIMES FILE PHOTO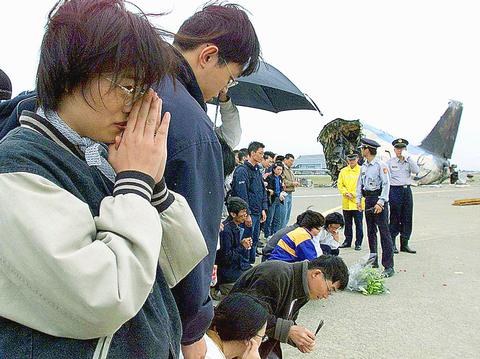 Relatives of SQ006 crash victims pray for their loved ones at the crash site.
TAIPEI TIMES FILE PHOTO
Comments will be moderated. Keep comments relevant to the article. Remarks containing abusive and obscene language, personal attacks of any kind or promotion will be removed and the user banned. Final decision will be at the discretion of the Taipei Times.