Dancing her way to the top and the biggest prize
Following The National Culture and Arts-Foundation annual prize awards, staff reporter Lin Mei-chun profiles one of its winners, who was once famously dubbed 'diamond-bright' dancer, Lo Man-fei
Being innovative is not the only characteristic of artists who achieve eminence. Persistence and discipline play more crucial roles in enabling budding performers to stand out, according to Yang Chao (楊照), editor-in-chief of the Journalist Magazine.
Yang's remark was made as he lauded the distinguished career of 45-year-old Lo Man-fei (羅曼菲), a renowned dancer and choreographer in Taiwan, listed on Aug. 21 as a winner of the National Culture and Arts Foundation (NCAF, 國家文化藝術基金會) awards.
"Creative energy does not guarantee them success. Only with the imposition of self-discipline and strict self-control can they make themselves conspicuous figures in the fields of art and culture.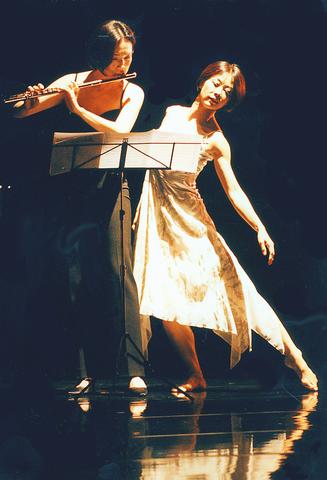 Lo Man-fei performs with flautist Ellie Lai during a concert tour in Sept. 1999.
CNA FILE PHOTO
These are the factors behind Lo's winning the award for dance this year," said Yang at a press conference to publicize the prizes yesterday.
Lo, an associate professor at the National Institute of Arts, Artistic Director of Cloud Gate II (雲門舞集II) and Director of the Taipei Crossover Dance Company (越界舞團), is best noted for her solo performance in Requiem (輓歌), in which she maintains a spin for more than 10 minutes.
Requiem is choreographed by Lin Hwai-min (林懷民), founder of Taiwan's premier dance group, Cloud Gate Dance Theater.
"I just knew I could do it. Spinning requires abundant physical strength and stern leg training. Before I took the role [as a soloist] in Requiem, I knew I had to train myself even better -- for me, this meant I had to keep dancing.
"People think constant physical movement will wear you out. But it is not the case for us dancers. We've discovered a way to rest while moving," Lo was once quoted as saying when questioned how she could keep her balance for so long.
A dancer for nearly 30 years, Lo has developed through dancing a philosophical approach to her art.
She once said that when dancers try to relax, they do not completely stop drawing upon their energy.
Physical power for good dancers is like a stream, which runs slowly but uninterruptedly, she says.
The way young dancers dance is like tap water rushing out of a faucet: the flow will be exhausted very quickly.
More experienced dancers know how to control the flow of energy. They can adjust the volume of the flow; sometimes they tune it to flow faster, sometimes more slowly.
It is all within the prerogative of the dancer, according to Lo.
Lo began her professional career in 1974 with the Neo-Classic Dance Company of Taiwan.
She later continued her training at the Martha Graham Dance School, the Alvin Ailey School of American Dance, and the Jose Limon Dance School in New York.
While in New York, she took part in various theatrical works, including the Broadway musical The King and I, starring Yul Bryner.
She is a highly acclaimed soloist and choreographer for Cloud Gate.
NCAF is a non-profit organization founded in 1996, whose goals include providing locales for cultural-artistic endeavors, encouraging cultural-artistic work and improving cultural-artistic standards.
The NCAF awards annual prizes in five art categories, including dance, literature, music, theater, and painting.
The other four winners this year are: Writer, Yang Mu (楊牧), painter Chia Yang (夏陽), and percussion musician Ju Tzong-ching (朱宗慶), and Chinese opera singer Wang Hai-ling (王海玲).
The awards ceremony is scheduled for Sept. 30.
Comments will be moderated. Keep comments relevant to the article. Remarks containing abusive and obscene language, personal attacks of any kind or promotion will be removed and the user banned. Final decision will be at the discretion of the Taipei Times.