All quiet in Strait: NSB
NATIONAL SECURITY Ministry of National Defense officials said China was not intending to launch attacks against Taiwan, but Beijing may step up its rhetoric
National Security Bureau (NSB) officials yesterday told legislators that cross-strait relations have recently been "tense," but that there were no "daggers drawn" (劍拔弩張) that would hint at an immediate conflict with China, despite incoming President Chen Shui-bian's (陳水扁) stated refusal to mention "one China" in his inaugural speech as Beijing has demanded.
Defense officials also said yesterday that there were still no signs that Beijing plans to use force against Taiwan around the time of tomorrow's presidential inauguration.
Nonetheless, during a briefing for legislators yesterday, the defense ministry said the army would be placed on heightened alert (重點戒備) during the inauguration period from 5pm May 19, to 8pm May 22.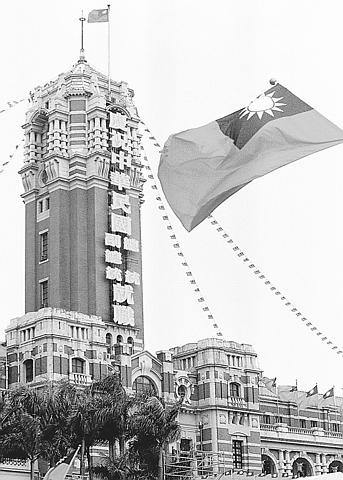 ROC flags fly over the Presidential Office yesterday, where preparations for tomorrow's presidential inauguration ceremony are nearing completion.
PHOTO: CHU YU-PING, LIBERTY TIMES
After the closed-door meeting, incoming Minister of National Defense Wu Shih-wen (伍世文) told reporters that the tension between China and Taiwan was due to political, not military factors.
Regarding possible threats from China, Wu said the military has been making decisions daily based on various kinds of incoming information to draw up possible contingency plans.
According to DPP lawmaker Lee Wen-chung (李文忠), officials said national security authorities have obtained five secret documents regarding Beijing's diplomatic pressure on Taiwan, including attempts to thwart foreign representatives from joining inauguration ceremonies in Taipei and overseas.
In addition, Lee said, the documents showed Beijing will go all-out to prevent outgoing president Lee Teng-hui (李登輝), incoming President Chen and Vice Presicent Annette Lu (呂秀蓮) from going abroad, and to discourage DPP members from engaging in independence activities outside Taiwan.
He said Beijing would otherwise take retaliatory actions against Taiwan. Beijing also demanded Taiwanese businessmen in China "choose sides."
When asked how Chen will respond to China's threats, NSB officials suggested Chen "feed China with something like chewing gum," meaning something that is sweet, but cannot be swallowed.
Officials also said Chen has been expressing sincerity since he was elected president, and that t China has been placed in a position of "sending the army out without a righteous cause" (師出無名) if it insists on doing so.
At an earlier session yesterday with legislators, Wu also refuted reports claiming China was preparing to blockade Kaohsiung Port, saying that the military's anti-blockade capability should not be ignored.
Asked about Taiwan's international status, however, Wu expressed opposition to Lee Teng-hui's "special state-to-state relations" (特殊國與國關係) stance articulated last summer.
Wu said he does not believe China and Taiwan are "two countries," and that the status between Taiwan and China does not involve problems of international law.
Comments will be moderated. Keep comments relevant to the article. Remarks containing abusive and obscene language, personal attacks of any kind or promotion will be removed and the user banned. Final decision will be at the discretion of the Taipei Times.