Japanese pioneer remembered
MEMORIAL The farmers of southern Taiwan remain indebted to a Japanese engineer whose vision decades ago turned their infertile plots of land into Taiwan's 'rice barn'
Japanese and Taiwanese gathered at Wushantou Reservoir (烏山頭水庫) in Tainan County yesterday to hold a memorial for a deceased Japanese water conservationist who turned the infertile land of southern Taiwan into an abundant "rice barn" several decades ago.
Those attending the memorial, some sitting in wheelchairs, held chrysanthemums and sticks of incense, while reciting Japanese songs in front of a statue of engineer Yoichi Hatta (八田與一). More than 100 had traveled from Japan to cherish the memory of their unforgettable friend.
Hatta's statue, which overlooks the reservoir, was built by his subordinates in 1931, one year after the completion of the largest water conservation project in Taiwan, Chianan Ta Tsun (嘉南大圳).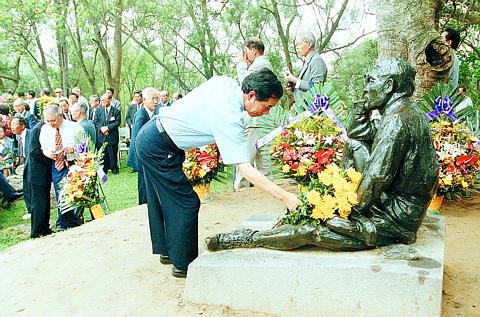 A man places flowers in front of a statue of Yoichi Hatta, the Japanese engineer who built the Wushantou Reservoir, during an annual memorial service yesterday. Hatta later came to be revered by both Taiwanese and Japanese here for his contribution to Taiwan's agriculture.
PHOTO: CHIANG YING-YING, TAIPEI TIMES
The 900,000 or so local farmers who benefitted from the irrigation network named Hatta the "father of Chianan Ta Tsun (嘉南大圳之父)" as an expression of their gratitude for his efforts to improve the productivity of the land.
Yesterday, dozens of officials from the Tainan-based Chianan Irrigation Association (嘉南農田水利會) joined the memorial with several former colleagues to remember and show gratitude to the engineer.
"The water supply system built 70 years ago is still functioning," Chen Cheng-mei (陳正美), chief of the association's finance division, told the Taipei Times.
According to research by Wu Wen-hsing (吳文星), a historian from National Formal University (師範大學), Hatta was classed as one of Japan's best engineers. He arrived in Taiwan in 1909 to serve at the civil engineering bureau, controlled by the Taiwan governor-general's office.
In 1919, Hatta was ordered to design an irrigation network for Chianan Plain (嘉南平原). After fact-finding missions to the US and Canada, he began construction of an earth dam to form Wushantou Reservoir, which can store as much as 150 million tons of water.
After spending nine-and-a-half years designing, raising finances for, and constructing the project, the team led by Hatta completed the dam in May, 1930.
Carried by a network of 16,000km of irrigation channels, water from the reservoir nourished more than 150,000 hectares of infertile land.
Historians have said that the irrigation work successfully turned the plain into what the Japanese called the "Taiwanese rice barn (台灣米倉)."
Chen Hung-tu (陳鴻圖), a lecturer at Fu Jen Catholic University (輔仁大學), said that Hatta's vision changed the face of agriculture in Taiwan.
"The three-year crop rotation (三年輪作) method for sugarcane fields and rice paddies solidified Taiwan's agricultural foundations and upgraded the economic status of the country's farmers," Chen said.
But the contributions Japan made to Taiwanese people's livelihoods were neglected after the KMT government took power after its retreat from China.
A local resident in his 40s, Yen Hung-hui (顏弘惠) said that as a child, he remembered Hatta's statue lying abandoned near his house, but could not recall exactly when the statue was relocated to its current site near the reservoir.
"When I attended school, I'd never been told these touching stories about the Japanese engineer who devoted himself to helping Taiwan," Yen said.
A Japanese-style grave adjacent to Hatta's statue belongs to his wife, Toyoki Hatta (八田外代樹).
Hatta died when his boat was blown up on its way to Southeast Asia on May 8, 1942. Following her husband's death, Hatta's wife remained in Taiwan for three years. Heartbroken over the sudden and tragic loss of her husband, she jumped from one of the reservoir's water discharge pipes to her death.
Comments will be moderated. Keep comments relevant to the article. Remarks containing abusive and obscene language, personal attacks of any kind or promotion will be removed and the user banned. Final decision will be at the discretion of the Taipei Times.