Foreign wives often denied rights
EQUAL TREATMENT For some women from southeast Asia and China, marrying a Taiwanese man has landed them in a quagmire of red tape and domestic isolation
Lawmakers and members of a private self-help group said yesterday that some foreign women married to local men are being denied their basic rights and urged the incoming government to address the situation.
Josephine Chu (朱惠良), an independent legislator, said that many women find life in Taiwan to fall short of even their basic expectations.
"Besides the need to become accustomed to the way of life in Taiwan, these young women are usually expected to take care of all the domestic chores. Still, their basic rights are not properly protected," Chu said.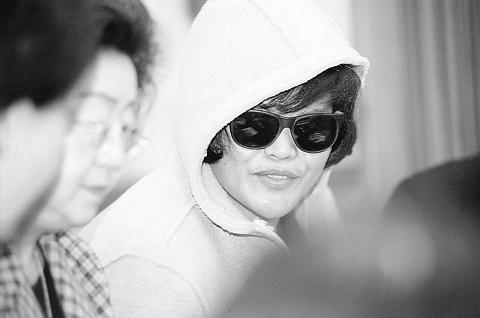 A foreign bride, identified only as Mercy, speaks out at a public hearing held by the Legislative Yuan yesterday concerning the mistreatment of some foreign women who have married local men.
PHOTO: GEORGE TSORNG, TAIPEI TIMES.
She said that official figures show that there are over 100,000 foreign women married to local men. Most of them come from Southeast Asia and China.
Currently, foreigners can apply for ROC citizenship after they have been married to local citizens for three years, but they must first relinquish their original nationality.
If they do not wish to give up their citizenship, they can apply for permanent residency after they have been married five years.
However, unless they obtain ROC citizenship, these foreign spouses are required to apply for permits with the government before they are allowed to work in Taiwan, although the procedures are simpler than those for average foreigners.
Chu said this requirement has become an obstacle for many foreign wives, because most employers would rather work around the law where possible instead of going through the legal paper work.
In cases where a couple divorces before the foreign spouse obtains citizenship or permanent residency, foreign wives without children are not allowed to stay in Taiwan because they do not have a household registration certificate, Chu noted.
Chu said that these women cannot inherit their husbands' property in case of death and have problems obtaining legal custody of their children in case of divorce.
"These situations give their husbands and in-laws the chance to take advantage of these women's helplessness to exploit them," Chu said.
Sister Stephana Wei Wei (韋薇), director of the Rerum Novarum Center (新事社會 務中心), a Catholic help center for laborers, Aborigines and foreign workers, said her center has had to deal with all manner of cases.
Wei also said that the center has encountered some extreme cases, where the husbands or in-laws do not allow the foreign wives to learn Mandarin or Taiwanese to keep them from seeking outside help.
"A large number of women are being kept in the dark about what their rights are. We don't know what sort of conditions they are living under and what their problems are," Wei said.
Mercy, a Filipino woman who has been married to a Taiwanese husband for 15 years, said she has heard a lot of stories about the miseries of women who have married local men, although her own marriage is a happy one.
"One woman whose husband died was not allowed to stay in the country because she did not have a household registration certificate," Mercy said.
"Another friend telephoned me in tears because her in-laws were trying to beat her," she said.
Hsia Hsiao-chuan (夏曉鵑), an assistant professor at Shih Hsin University's graduate school for social transformation studies has conducted research into the situation. Hsia said that many Taiwanese men who marry Southeast Asian women are farmers, laborers and even the physically or mentally challenged.
"They tend to be the neglected groups in society and have tried to resolve their problem of finding a mate by looking for women in third-world countries who have limited finances," Hsia said.
Since 1990 more and more foreign wives have been coming from Indonesia and Vietnam, she said.
However, as the government did not begin keeping records of foreign wives until 1994, their numbers are in all likelihood underreported, Hsia said.
Hsia pointed out that while these women have difficulty getting a job without an ROC identification card, this problem sometimes continues even after they get ROC citizenship because the government may not recognize their educational credentials obtained in their mother countries.
"The government must stop treating them as second-class citizens, because they are an important group of women who are raising our next generation," Hsia said.
She said the present system is damaging the positive potential that these women could have in society. Isolating them from others and restricting their personal freedom is no way to treat these woman or any others, for that matter, she said.
DPP legislator Fan Sun-lu (范巽綠), who will take over as Vice Minister of Education after the new Cabinet takes over on May 20, said many of the problems faced by foreign wives involve revising laws such as the Employment and Services Act, the Household Registration Law and the Immigration Law.
Fan said she believes the new government will coordinate among the relevant ministries and agencies to try to improve the situation.
As far as the Ministry of Education is concerned, Fan said, it needs to extend the adult education programs to newly arrived foreign wives to help their Chinese literacy so that they can better integrate into society.
Comments will be moderated. Keep comments relevant to the article. Remarks containing abusive and obscene language, personal attacks of any kind or promotion will be removed and the user banned. Final decision will be at the discretion of the Taipei Times.