Chiayi mayor takes Cabinet post
APPOINTMENT Public service runs in the family of Chang Po-ya, with both her mother and sister having been city mayors. Chang will now head the Ministry of the Interior with an acting mayor to replace her in Chiayi
Chiayi Mayor Chang Po-ya yesterday finally made official her acceptance of President-elect Chen Shui-Bian's (陳水扁) invitation to take up the post of Minister of the Interior, while serving concurrently as provincial chairperson.
Shedding tears during her announcement at the Chiayi City Hall yesterday, the incumbent mayor of the southern city said she was reluctant to leave the people in her hometown.
Chang said she had made the decision with a heavy heart, rather than with joy. She also said that the central government should not be superior to and aloof from local administration and people.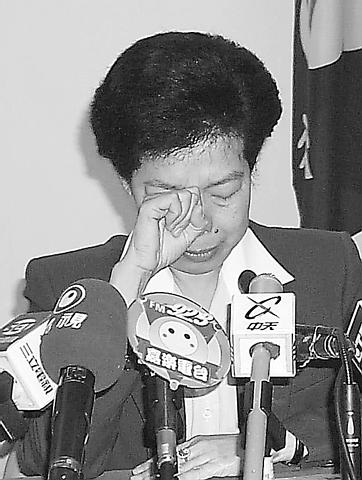 PHOTO: TSAI TSONG-HSUEN, LIBERTY TIMES
"This is an important factor for me in taking the post," she said.
"I hope that the opinions and needs of local communities can be brought to the central government, and that central authorities can pay serious attention to local development and construction. These situations are the same no matter where you are in Taiwan," Chang said.
Chang has served at Cabinet level before being the director-general of the Department of Health from 1990 to 1997, during which time she oversaw the difficult introduction of the National Health Insurance scheme.
Chang has served as mayor of Chiayi during three separate terms. First elected in 1983, Chang succeeding her mother, Hsu Shih-hsian (許世賢), after she died. She was re-elected once again in 1985, and then in 1997.
During those terms, her sister, current Taichung Mayor Chang Wen-ying (張文英), also served two terms.
In fact, the Chang family's political influence and popularity in Chiayi City have long been unrivalled.
Since Chang has served just over half of her four-year term as mayor,an acting mayor will be appointed by the central government to serve the rest of Chang's term which ends in 2001.
"It won't be my sister, though," Chang Po-ya said, smiling.
The search for a new Minister of the Interior after Chen's election has not been easy. Last week, Chen proposed that Chang take the post, and after what appeared to be great reluctance on her part, Chen paid a visit to Chiayi on Sunday to persuade her to change her mind.
In related news, Chen reportedly met last night with national security advisor Chien You-hsin (簡又新), who confirmed that Chen had asked him to serve as vice secretary-general of the Presidential Office.
Chien said he had yet to consider the offer, however, and that he had not made a decision on the matter.
Also, the appointment of Minister of Education remains undecided. Ovid Tzeng (曾志朗), president of National Yang Ming University, who has been named as a candidate, was not willing to make a firm commitment yesterday.
Comments will be moderated. Keep comments relevant to the article. Remarks containing abusive and obscene language, personal attacks of any kind or promotion will be removed and the user banned. Final decision will be at the discretion of the Taipei Times.