Flu continues to spread as temperatures plummet
Health officials said yesterday that at least 50,000 people nationwide have been infected by a continuing flu epidemic and that reports of new cases are still on the rise in central and southern parts of the country as temperatures continue to drop.
The Department of Health has asked doctors nationwide to report all cases of flu with complications, such as pneumonia or other illnesses.
The disease control bureau said that of the 600 doctors nationwide who regularly report to it, each currently has an average of 80 patients.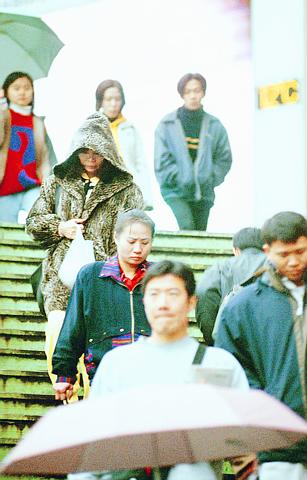 Pedestrians walk down the stairs of an overpass in front of the Taipei train station yesterday afternoon, as temperatures in the capital plunged to 12 degrees Celsius. The cold weather is expected to last until Friday, according to the Central Weather Bureau.
PHOTO: CHEN CHENG-CHANG, TAIPEI TIMES.
Meanwhile, flu vaccine has become a hot item in the local drug market, according to sources, costing between NT$600 and NT$800 for a single dosage. Pediatricians have warned, however, that children under the age of 12 months, and those who are allergic to eggs, should not get vaccinations.
Doctors have also warned that the vaccine will not work immediately, as its effects will only be felt two weeks after injection.
Taipei County is reportedly the latest to have mobilized its public services to prepare for a severe outbreak of the flu. According to statistics from the county government's health bureau, around 5,500 students were absent from school on Monday due to the flu.
Taipei County Commissioner Su Tseng-chang (蘇貞昌) has asked his medical staff to closely monitor the outbreak, with particular attention being paid to nursing homes and adoption centers for the handicapped.
Newspapers across the country have been full of reports warning that the Chinese New Year will bring on a surge in flu-related illnesses, as it is a time when a large part of the population is on the move and the flu bug can be spread more rapidly.
In related news, snow fell on the summits of Hohuanshan (合歡山) and Jade Mountain (玉山) yesterday, according to reports.
The Central Weather Bureau (中央氣象局) yesterday released a low temperature warning, in which it predicted minimum temperatures of 8 to 10 degrees Celsius along the northern coast for both today and tomorrow.
Temperatures are expected to go up on Friday, according to bureau officials.
Meanwhile, police in Taichung said they found the body of a 47-year-old homeless man on a downtown street. He apparently had frozen to death, police said.
Comments will be moderated. Keep comments relevant to the article. Remarks containing abusive and obscene language, personal attacks of any kind or promotion will be removed and the user banned. Final decision will be at the discretion of the Taipei Times.