OFF THE BEAT
The highest high and the lowest low
The world's tallest man met Taiwan's shortest in Taipei yesterday.
Naseer Ahmaad Soomro is currently the world's tallest man at 236.2 cm, according to the Guinness Book of World Records.
Soomro, who arrived in Taiwan on Dec. 22 on a four-month visit, was attending a press conference for Lin Yu-chih's (林煜智) new book about his life: A 67.5 cm Sky (67.5??尷?悛?/CHINESE>). That is the height of 27-year-old Lin, who suffers from dysostosis -- a disease characterized by stunted bone development.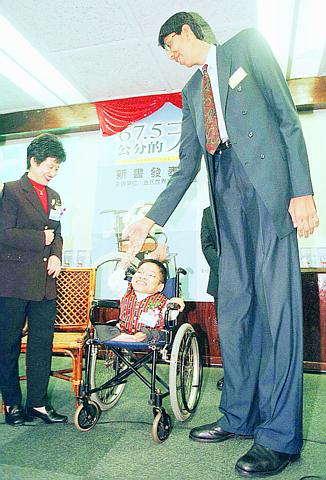 PHOTO: SUNG CHIH-HSIUNG, LIBERTY TIMES
Lin said he wrote the memoir because he wanted to inspire and motivate people.
"A short guy can see a more spacious sky," Lin said.
E-mail news tips and stories to:
offthebeat@taipeitimes.com
Comments will be moderated. Keep comments relevant to the article. Remarks containing abusive and obscene language, personal attacks of any kind or promotion will be removed and the user banned. Final decision will be at the discretion of the Taipei Times.