Photos recall day the earth shook
TRAGEDY REMEMBERED A group of photographers are trying to shake public memory by hosting an exhibition of photos from the 921 earthquake
As many are beginning to forget the disastrous earthquake which struck Taiwan on Sept. 21, 1999, a group of photographers and photojournalists have decided to prick the public's memory of the tragedy by publishing their photo collections of the quake.
"Photographers used their cameras to record a complete story of the quake. What we want to do here is to show that people are still suffering and that there are still people who need help," said event co-organizer Suan Hooi-wah (?thorn>會華).
David Smith, a professional photojournalist from Canada, contributed 45 pictures, of which 15 have been included in the exhibition.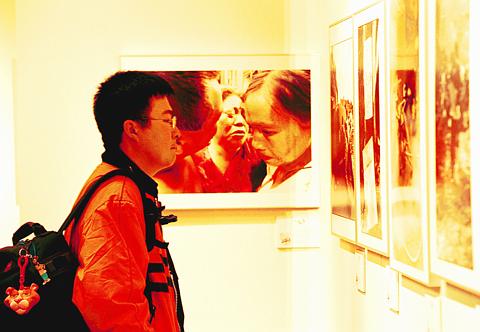 A press conference was held yesterday afternoon at the Eslite Bookstore on Tunhua S Road to preview an earthquake photo exhibition to open shortly.
PHOTO: CHIANG YING-YING, TAIPEI TIMES
"As a foreigner, I tend to see things somewhat differently than the local people. What strikes me most is that I see how Taiwanese people have joined together to deal with the disaster," he said.
Crystal Chiang (|翱梩?/CHINESE>), 28, a photographer at the Taipei Times, said she felt a sense of helplessness while taking many of her photographs.
"When you see so many people lose their families and the dead bodies lying on the ground, you feel sorry for them but you simply cannot do anything about it," she said.
The photo exhibition, titled "The quake -- a frame-by-frame record of Taiwan's Sept. 21, 1999 earthquake," will run from Jan. 8 through Jan. 23 in the basement of the Eslite Bookstore on Tunhua South Road.
Also available at the exhibition is a photo collection which contains 240 pages of black-and-white pictures. The photo book is a collection of some 400 pictures contributed by 200 local photographers and photojournalists which were chosen by a panel of judges. Accompanying the pictures are 10 Chinese and English articles contributed by writers and journalists.
The retail price of the book is NT$2,000. Proceeds will go to a Cabinet committee to be used for the education of Aboriginal children in disaster areas.
There are only 3,000 copies available, of which 1,000 have already been ordered by individuals and 75 more by the event co-organizer, the Government Information Office, Suan said.
Comments will be moderated. Keep comments relevant to the article. Remarks containing abusive and obscene language, personal attacks of any kind or promotion will be removed and the user banned. Final decision will be at the discretion of the Taipei Times.