German delegation: Fourth Nuclear Power Plant could be turned into theme park 核四何去何從? 德國經驗:改蓋主題樂園
A German nuclear industry delegation last month visited Taiwan to exchange ideas and share Germany's experience of decommissioning redundant nuclear power plants. The delegation highlighted the fact that Germany previously built a nuclear power plant — which, as with Taiwan's Fourth Nuclear Power Plant, was never put into use — but then successfully converted it into a theme park.
After construction of Taiwan's Fourth Nuclear Power Plant was completed, the plant was equipped with nuclear fuel, although this fuel was neither used nor even loaded into the nuclear reactors. The plant has since been mothballed, and its operator, Taiwan Power Co, will be shipping the plant's uranium fuel rods to the US for processing in a series of eight batches over the next three years, with the final batch expected to be shipped by the end of 2020.
Germany's Baden-Wurttemberg International and the German Trade Office Taipei put together the delegation, inviting six German companies and research organizations to travel to Taiwan to share their experiences of decommissioning nuclear power plants, together with the solutions they employed, holding an interview forum last month.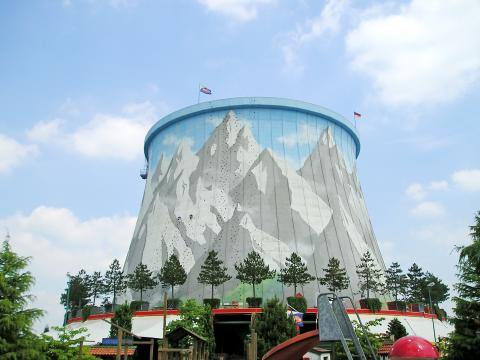 A climbing wall on the side of the former cooling tower at Wunderland Kalkar amusement park in North Rhine-Westphalia, Germany. 位於德國北萊茵-西法倫的卡爾卡遊樂園主題樂園,裝在舊的冷卻塔外牆的攀岩牆。
Photo: Wikimedia Commons
照片:維基共享資源
According to the former head of Germany's Nuclear Energy Supervision and Radiation Protection Department, Oskar Grozinger, Germany's Kalkar nuclear power plant is similar to Taiwan's Fourth Nuclear Power Plant, and was never taken online. The plant was eventually bought up by an amusement park company and turned into a theme park, with facilities including a spa. Grozinger says the park is suitable for families, children and adults of all ages, adding there are absolutely no safety concerns.
Regarding the long-term storage of nuclear waste material, Grozinger says that in Germany, a large amount of time is spent communicating with the public and other stakeholders. All the necessary information is provided so that the public is kept sufficiently informed and involved and this allows the public to understand the safety of nuclear waste storage sites, says Grozinger.
Executive Director of the German Trade Office Taipei, Axel Limberg, says the job of nuclear decommissioning is extremely complex and safety is the number one priority. Limberg said there is no one correct method of decommissioning; instead, each country has to make its own decisions. German companies and government departments stand ready to bring their experience of decommissioning to Taiwan to assist in the development of decommissioning methods suitable to local conditions, said Limberg.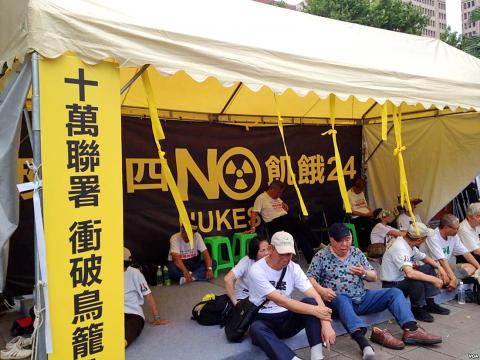 Anti-nuclear protesters carry out a hunger strike in protest against Longmen Nuclear Power Plant in May 2013 in New Taipei City. 二○一三年五月,反核四抗議者在新北市龍門核能發電廠(核四)絕食靜坐。
Photo: Wikimedia Commons
照片:維基共享資源
(CNA, translated by Edward Jones)
德國核能代表團上個月來台交流,分享德國核能除役經驗,代表團成員表示,該國也曾蓋過像台灣核四一樣未使用過的核電廠,後來變成一間主題樂園。
核四廠興建完工後,雖然有準備核燃料,但從未使用過,反應爐不曾裝填核燃料,目前正處在後備狀態。台電公司要把現有束燃料棒,在未來三年內分八批陸續運往美國處理,預計二○二○年底前全數運出。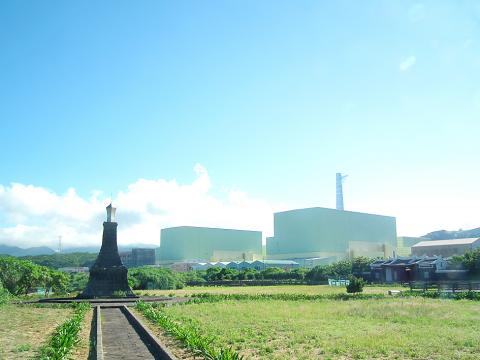 Longmen Nuclear Power Plant is pictured in Sept. 2010 in New Taipei City. 位於新北市的龍門核能發電廠(核四),照片攝於二○一○年,九月。
Photo: Wikimedia Commons
照片:維基共享資源
德國巴登符騰堡邦國際經濟與科技合作協會、德國經濟辦事處籌辦代表團,邀請六家德國企業與研究機構來台,分享他們在除役領域經驗與解決方案,上個月舉行訪談會議。
前任德國核設施審批監管司長Oskar Grozinger表示,位在德國卡爾卡鎮的核電廠類似核四廠的情況一樣,蓋好後就從未使用過,後來被一間娛樂公司收購買下,原址變成主題樂園,有SPA等設施,非常適合全家大小前往,而且很安全。
另外,談到核廢料最終處置場址選址議題,他說,以德國來說他們會花很多時間跟民眾、相關團體溝通,所有資訊讓民眾充分知情並參與,讓民眾了解核廢料最終處置場的安全性。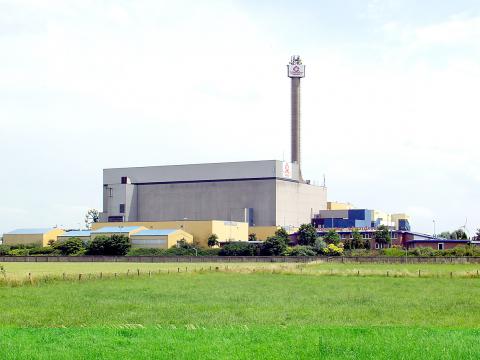 The former reactor building and vent stack of the former Kernwasser-Wunderland, pictured in July 2004 at Wunderland Kalkar amusement park in North Rhine-Westphalia, Germany. 位於德國北萊茵-西法倫的卡爾卡遊樂園主題樂園,卡爾卡核電廠舊的反應爐與通風豎管,照片攝於二零零四年,七月。
Photo: Wikimedia Commons
照片:維基共享資源
德國經濟辦事處長林百科表示,核能除役工作非常複雜,安全是第一優先,哪種除役方式最好,沒有唯一正確的答案,每個國家都要自己做出決定,德國企業、政府等單位願意把當地除役經驗帶來台灣,幫助台灣找到最適合自己的除役方式。
(中央社)
FOLLOW UP 讀後練習
From nuclear power plant to family amusement park
SNR-300, also known as Kalkar nuclear power station, was a sodium-cooled nuclear reactor located near to the town of Kalkar, North Rhine-Westphalia, Germany. Construction work commenced in April 1973, but work was paused following the partial meltdown of the US' Three Mile Island nuclear power plant in 1979, which led to a lengthy re-design of the plant's safety measures.
Local and state governments began to withdraw their support for the plant and blocked its opening in 1985. The 1986 Chernobyl disaster was the final nail in the coffin for SNR-300, and the power station was officially cancelled in March 1991. With the cancellation of the project, an estimated 7 billion Deutsche Mark (approximately US$4.5 billion at the exchange rate of the time) went up in flames.
Dutch entrepreneur Hennie van der Most is believed to have purchased the decommissioned nuclear power station site for US$3 million and converted the site into an amusement park, initially given the rather unfortunate name Kernwasser Wunderland ("Nuclear Water Wonderland"), before changing it to Wunderland Kalkar. An average of 600,000 visitors each year pass through the doors of the park, which houses four restaurants, eight bars, and six hotels.(Edward Jones, Taipei Times)
Comments will be moderated. Keep comments relevant to the article. Remarks containing abusive and obscene language, personal attacks of any kind or promotion will be removed and the user banned. Final decision will be at the discretion of the Taipei Times.