CEC's passage of anti-LGBT referendum proposals causes controversy 通過反同志公投提案 中選會爆爭議
The Central Election Commission (CEC) had a review of 14 national referendum proposals last week. Among the proposals, two proposals against same-sex marriage and one proposal against same-sex education initiated by the anti-LGBT group "Happiness of the Next Generation Alliance" passed the initial review. This decision has sparked an uproar.
Taiwan's gay rights pioneer Chi Chia-wei said that the three anti-LGBT referendum proposals were clearly a violation of the Constitution. He accused the CEC of ignoring the Grand Justices' Constitutional Interpretation No. 748 issued last year in support of same-sex marriage, while questioning how the government can put a human rights issue to a vote.
According to the Referendum Act, after a referendum proposal officially passes the CEC's initial review, a referendum will be held if it can meet the threshold by collecting just over 280,000 signatures. The LGBT community staged a large protest outside the CEC earlier this week, and it also submitted an appeal to the court against the CEC's decision.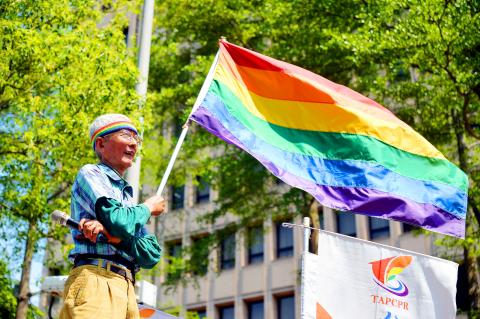 Taiwan's gay rights pioneer Chi Chia-wei waves a rainbow flag as the LGBT community stages a large protest outside the Central Election Commission on Monday. 台灣同志運動先驅祁家威高舉彩虹旗,和同志族群於週一在中央選舉委員會前發起大規模抗議。
Photo: CNA
照片 : 中央社
(CNA, translated by Eddy Chang)
中央選舉委員會於上週審查十四項全國性公民投票之提案,其中反同志團體「下一代幸福聯盟」發起的兩項反同性婚姻公投案,和一項反同志教育公投案都通過了中選會的初步審查,此舉引發社會一陣譁然。
台灣同志運動先驅祁家威表示,這三個反同公投案顯然違反了憲法,指中選會完全無視去年大法官釋憲第七四八號對於同婚的支持,並質疑政府怎麼可以用投票來決定人權議題?
根據公民投票法,一項公投案在通過初步審查後,只要能跨越二十八萬多人的連署門檻即可舉行。同志族群本週稍早在中選會前發起大規模抗議,並針對該會的決議向法院提出訴願。
(中央社)
Publication Notes
TODAY'S WORDS
今日單字
1. review v.
審查 (shen3 cha2)
2. referendum n.
公投 (gong1 tou2)
3. same-sex adj.
同性的 tong2 xing4 de5)
4. constitution n.
憲法 (xian4 fa3)
5. threshold n.
門檻 (men2 kan3)
Comments will be moderated. Keep comments relevant to the article. Remarks containing abusive and obscene language, personal attacks of any kind or promotion will be removed and the user banned. Final decision will be at the discretion of the Taipei Times.