Report: New 6.1-inch iPhone to have out-cell touch module iPhone新六.一吋版 傳外掛式觸控模組現身
Apple's new iPhone is setting rumor sites abuzz. Analysts believe this year's 6.1- inch new LCD model iPhone will feature out-cell (add-on) touch modules, with price per unit higher than the 3D touch modules used in current LCD iPhones. The company's supply chain is also being reported on.
Apple analyst, KGI Investment Advisory's Kuo Ming-chi, predicts the 6.1 inch LCD iPhone expected to be released in the second half of this year will have the largest screen-to-body ratio of all LCD version iPhones, and will come without the 3D touch module.
According to Kuo, in order to reinforce the structural design and to protect the LCD panel, the add-on Cover Glass Sensor (CGS) touch module — or out-cell touch module — will also include metal elements, in addition to the glass cover and touch sensor components.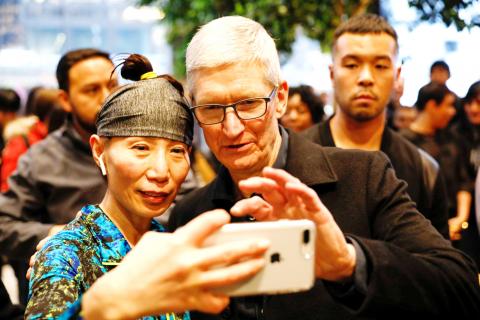 Tim Cook, Chief Executive Officer of Apple Inc., takes a selfie with a customer as he visits the Apple Store in Chicago, Illinois, US, on Mar 27. 蘋果執行長提姆‧庫克在三月二十七日造訪美國伊利諾州芝加哥市的蘋果直營店時,和一位顧客自拍。
Photo: Reuters
照片:路透
The report also says that Chinese companies Biel Crystal and Lens Technology may be supplying the out-cell touch module cover glass, while the touch sensor components will be supplied by Japan's Nissha Printing and China's O-film. The metal components will be supplied by Taiwan's Foxconn Tech and US-based Jabil.
The report forecasts the unit price for the out-cell touch modules could be over US$20, more expensive than the 3D touch modules of the current LCD iPhones, which cost from US$8 to US$10 each.
Market analysts believe Apple may release a 6.5-inch and 5.8-inch OLED iPhone in the second half of the year, in addition to a 6.1-inch LCD iPhone. The 6.1-inch LCD iPhone is expected to be produced in higher volumes, between 65 percent to 75 percent of the total volume, with as many as 100 million to 120 million units being shipped.
(CNA, translated by Paul Cooper)
蘋果新iPhone外界關注。分析師預期,今年六.一吋新液晶顯示版iPhone將內建外掛式觸控模組,單價高於目前液晶顯示版iPhone的3D觸控模組,相關供應鏈也浮出檯面。
凱基投顧分析師郭明錤出具報告指出,今年下半年蘋果可能新推的六·一吋液晶顯示版iPhone,將是屏占比最高的液晶顯示版iPhone,新液晶顯示版iPhone可能移除3D觸控模組。
報告指出,為了強化機構設計和保護液晶顯示面板,預期今年新款液晶顯示面板版iPhone的外掛式觸控模組Cover Glass Sensor、也稱為out-cell觸控模組,除了表面玻璃與觸控感應元件外,還包含金屬機構件。
從供應鏈來看,報告分析,外掛式觸控模組的表面玻璃可能由中國大陸伯恩光學和藍思科技提供,觸控感應元件由日本寫真印刷和中國大陸歐菲光電提供,金屬機構件由台灣的鴻準機密工業和美商捷普集團供應。
從單價來看,報告預期,外掛式觸控模組單價可能在二十美元以上,高於目前液晶顯示版iPhone的3D觸控模組的八美元到十美元。
市場一般預期,今年下半年蘋果可能推出六·五吋和五·八吋有機發光二極體版iPhone、以及六·一吋液晶顯示版iPhone。其中六·一吋液晶顯示版iPhone占今年下半年三款新iPhone出貨比重,可達約百分之六十五到七十五,出貨量可達一億支到一億兩千萬支。
(中央社)
Publication Notes
TODAY'S WORDS
今日單字
1. out-cell phr.
外掛式 (wai4 gua4 shi4)
2. touch module phr.
觸控模組 (chu4 kong4 mo2 zu3)
3. screen-to-body ratio phr.
屏占比 (ping2 zhan4 bi3)
4. touch sensor component phr.
觸控感應元件
(chu4 kong4 gan3 ying4 yuan2 jian4)
Comments will be moderated. Keep comments relevant to the article. Remarks containing abusive and obscene language, personal attacks of any kind or promotion will be removed and the user banned. Final decision will be at the discretion of the Taipei Times.