Wax apples price rise expected due to premature drop caused by weather 蓮霧寒害受損落果 春節價格將上漲二~三成
Wax apples are popular gifts during the Spring Festival season in Taiwan. The fruit's major producing area is the coastal townships in Pingtung County such as Donggang, Fangliao and Nanjhou. However, since 2016, wax apple production has been affected by adverse weather, including the strongest cold stream for 10 years and the effect of typhoons in 2016. This year's anticipated bumper harvest never arrived, hampered by the unexpected low temperatures brought by the cold stream early this month. Prices for the popular Spring Festival gift are expected to have increased by the time of the holiday.
This year's first cold stream hit Taiwan in early January. It was initially hoped that wax apples would not be overly affected, but temperatures turned out to be as low as 5 degrees Celsius, as measured by a farmer in Pingtung's Nanjhou Township. The delayed chilling injury is now in play, resulting in a sharp decrease in production. Even the fruit that survived have blackened spots on their skin, due to the effects of frostbite. The estimated output has dropped by at least 50 percent.
The affected batch of wax apples was originally due to be ready to ship in about 1-2 weeks. However, the recent cold stream sent the temperature in southern Taiwan plunging to 9 degrees, and then back up to 27 to 28 degrees when the sun came out. The considerable temperature difference caused serious premature drop in wax apples, by an estimated 30 percent. To prevent further loss, farmers have harvested wax apples and put them on the market, explaining why prices have yet to increase. However, by the time of the Spring Festival, when the supply of wax apples will have fallen dramatically, it is estimated that their price will rise 20-30 percent, making them cost NT$700-800 per kg. This is still less expensive than last year's price of over NT$1,000 per kg, the result of the strongest cold stream in 10 years.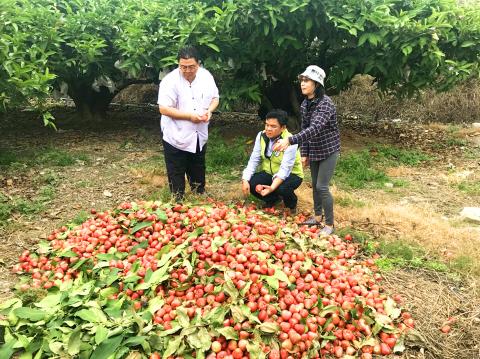 Democratic Progressive Party Legislator Chuang Jui-hsiung, center, and Pingtung's Fangliao Township Mayor Lu Wen-hsin, left, inspect affected wax apple farms in their jurisdictions on Sunday. 立委莊瑞雄和枋寮鄉長盧文信週日到轄內蓮霧田勘災,發現落果相當嚴重。
Photo: Chen Yen-ting, Liberty Times
照片:自由時報記者陳彥廷
(Liberty Times, translated by Lin Lee-kai)
蓮霧是春節時令熱門的伴手禮,其主要產地為屏東沿海的東港、枋寮、南州等鄉鎮。但近年蓮霧產量連續受到二○一六年的霸王寒流,及去年因二○一六年颱風的後續影響而減少。原以為今年能豐收,但豈料日前寒流的低溫出乎意料,春節伴手禮恐面臨漲價。
今年首波寒流一月初侵台,原預期蓮霧不會產生太大農害,不過卻傳出南州鄉有農友在園中測到攝氏五度低溫。現在遲發性寒害發酵,產量大減,部分僅存的蓮霧,卻也出現表皮瘀黑的凍傷,預估產量至少下滑五成。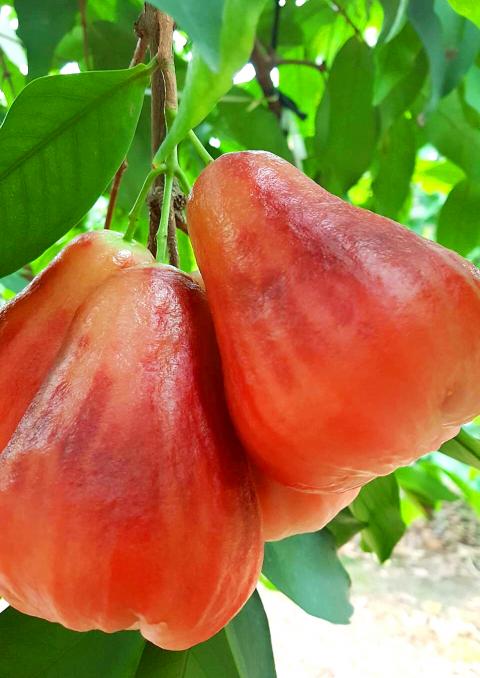 Wax apples, even though unaffected by premature drop, exhibit blackened skin due to frostbite. 未落果之蓮霧也有表皮凍傷瘀黑的情形。
Photo: Chen Yen-ting, Liberty Times
照片:自由時報記者陳彥廷
這批受害的蓮霧大約再一到二週後就能熟成出貨,而這一波寒流南部低溫來到九度,天氣回溫後陽光直曬溫度又達二十七、八度,溫差過大的情況造成蓮霧熟前落果的情況嚴重,預估落果可能達到三成;為避免進一步損失,農民紛紛採收上市,因此蓮霧目前的價格因為產量多,仍維持平盤;但到農曆春節時,將因產量大幅減少,上品蓮霧相當搶市,因此價格預估將上漲二~三成,每公斤價格可能達到七百~八百元,但是應不至於像去年霸王級寒流來時,每公斤一千元以上還買不到蓮霧的情形。
(自由時報)
DID YOU KNOW?
你知道嗎?
Taiwan has a subtropical climate, which is warm and humid throughout the year, without very distinct seasons. However, in winter, the weather may be affected by the southward movement of the polar cold air mass, and the temperature can rapidly drop to 10 degrees Celsius or even below 5 degrees Celsius in a short period of time, which may hinder the physiological activities of crops and, in serious cases, destroy tissue in what is called "chilling injury."
台灣氣候型態屬於亞熱帶型氣候,全年溫暖潮濕而四季變化較不明顯,但冬季偶爾會受極地冷氣團南下影響,氣溫可於短時間內迅速降至攝氏十度甚至五度以下,而使作物生理活動受到障礙,嚴重時某些組織遭到破壞,謂之「寒害」。
Publication Notes
TODAY'S WORDS
今日單字
1. wax apple phr.
蓮霧(lian2 wu4)
2. cold stream phr.
寒流(han2 liu2)
3. chilling injury phr.
寒害(han2 hai4)
4. frostbite n.
凍傷(dong4 shang1)
5. premature [fruit] drop phr.
熟前落果(shou2 qian2 lou4 guo3)
Comments will be moderated. Keep comments relevant to the article. Remarks containing abusive and obscene language, personal attacks of any kind or promotion will be removed and the user banned. Final decision will be at the discretion of the Taipei Times.