The Exodus of the Rohingya 羅興亞人的流亡
The Rohingya are a predominantly Muslim ethnic group that for centuries has called the area that is now majority Buddhist Myanmar home. Since a Burmese citizenship law — in which Rohingya were not recognized as one of the country's 135 ethnic groups — was passed in 1982, the Rohingya have effectively been stateless within their own country.
Although many historians say Muslims have lived in this area since the 12th century, large numbers of Rohingya laborers migrated from today's India and Bangladesh to what is now Myanmar during the more than 100 years of British rule (1824-1948), when such migration would have been considered internal.
After independence in 1948, the government deemed this migration to have been illegal, and this is why the Myanmar government refuses to give the Rohingya Muslims citizenship.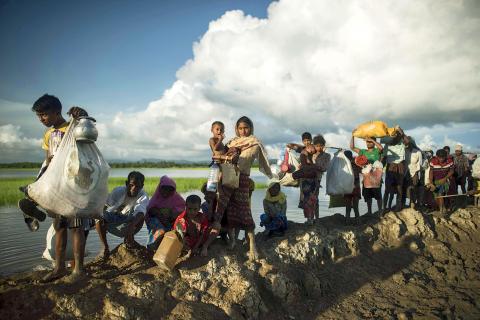 Rohingya refugees walk after crossing the Naf river from Myanmar into Bangladesh in Whaikhyang on Monday. 羅興亞難民上週一由緬甸穿越納夫河後,徒步來到孟加拉的維克揚。
Photo: AFP
圖:法新社
Myanmar considers them to be Bangladeshi; Bangladesh says the Rohingya are Burmese.
Recent killings attributed by the government to armed Rohingya in Myanmar's Rakhine State has led to an army crackdown — which the UN has said includes actions such as extrajudicial killing, rape and arson — and a mass exodus of over half a million Rohingya.
The UN has condemned the ongoing violence, with one official describing the campaign as "textbook ethnic cleansing."
A Rohingya refugee cries as she walks after crossing the Naf river from Myanmar into Bangladesh in Whaikhyang on Monday. 一名由緬甸穿越納夫河進入孟加拉維克揚的羅興亞難民,在跋涉途中哭泣,攝於週一。
Photo: AFP
圖:法新社
Bangladesh now has a plan to build an enormous refugee camp of approximately 1,200 hectares for over 800,000 Rohingya refugees in Kutupalong near the Myanmar border.
(Paul Cooper, Taipei Times)
羅興亞人這一族群主要信奉伊斯蘭教,已在緬甸定居數世紀,並視之為家園,不過大部分的緬甸居民為佛教徒。一九八二年緬甸公民法通過,在緬甸政府所承認的該國一百三十五個族群中,羅興亞人並未列入,此後羅興亞人在自己國家中實際上成了無國籍的人。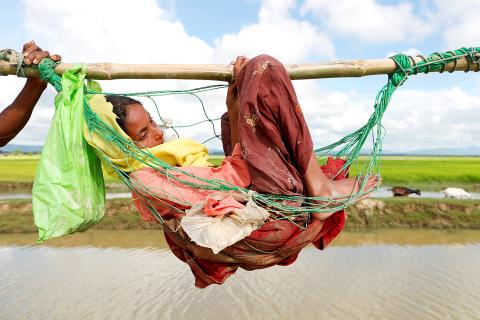 A Rohingya refugee woman is carried after crossing the border in Palang Khali, Bangladesh on Monday. 一名羅興亞難民婦女被人抬著穿過邊境來到孟加拉的巴蘭卡利,攝於週一。
Photo: Reuters
圖:路透社
雖然許多歷史學家說穆斯林自十二世紀以來一直住在這個地區,但在受英國統治的一百多年期間(西元一八二四年至一九四八年),大批羅興亞勞工由現今屬印度和孟加拉之地區移居緬甸,這在當時是屬於境內的遷徙。
一九四八年緬甸獨立後,緬甸政府認定該期間移居為非法,因而拒絕給予羅興亞穆斯林公民身份。
緬甸政府認為羅興亞人是孟加拉人;而孟加拉政府說羅興亞人是緬甸人。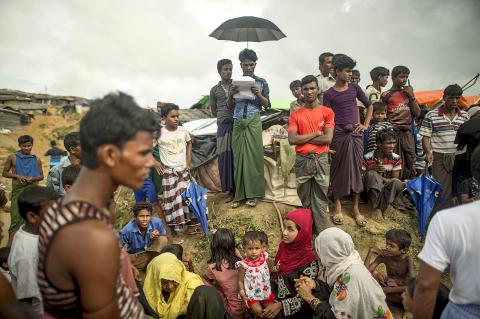 Rohingya Muslim refugees listen for their names before collecting food at Kutupalong refugee Camp in Bangladesh's Ukhia district on Oct. 7. A top UN official said Saturday last week that Bangladesh's plan to build the world's biggest refugee camp for 800,000-plus Rohingya Muslims was dangerous because overcrowding could heighten the risks of deadly diseases spreading quickly. The arrival of more than half a million Rohingya refugees who have fled an army crackdown in Myanmar's troubled Rakhine state since Aug. 25 has put an immense strain on already packed camps in Bangladesh. 羅興亞穆斯林難民十月七日在孟加拉烏切亞地區的庫圖帕朗難民營等待叫名以領取食物。孟加拉打算為超過八十萬羅興亞穆斯林建造世上最大的難民營,但聯合國高級官員上週六說該計畫相當危險,因為讓難民生活在過度擁擠的空間將提高致命疾病傳播的風險。緬甸自八月二十五日起對境內若開邦展開軍事鎮壓,導致五十萬羅興亞難民逃往孟加拉,對當地已經過擠的難民營造成巨大壓力。
Photo: AFP
圖:法新社
若開邦的武裝羅興亞人最近被指控犯下數起殺戮,緬甸政府隨後展開軍事鎮壓。聯合國說該鎮壓行動包括非法處決、強姦和縱火等,並造成超過五十萬羅興亞人大規模流亡。
針對目前仍持續進行的暴力行為,聯合國已加以譴責。一名官員將這一波軍事鎮壓形容為「標準的種族淨化」。
孟加拉現已計劃在靠近緬甸邊境的庫圖帕朗,替為數約八十萬的羅興亞難民建造一個面積達約一千兩百公頃的大型難民營。
(台北時報編譯林俐凱譯)
Comments will be moderated. Keep comments relevant to the article. Remarks containing abusive and obscene language, personal attacks of any kind or promotion will be removed and the user banned. Final decision will be at the discretion of the Taipei Times.