Hebe's "A Little Happiness" exceeds 100 million hits on YouTube 台灣第一位! Hebe「小幸運」 點閱量破億
Since its release in Taiwan in August last year, the movie "Our Times" has caused a sensation, and continues to set box-office records. The theme song, "A Little Happiness," sung by Hebe Tien Fu-chen, has also been a big hit. As the number of views of its music video on YouTube exceeds 100 million, it has now become the first Taiwanese song to receive more than 100 million hits online.
"A Little Happiness" was nominated for Best Original Film Song Award at the Golden Horse Awards last year, as well as Song of the Year at the Golden Melody Awards this year.
At a party celebrating the movie's success last year, Hebe admitted the "bad boy" role Hsu Tai-yu in the movie played by lead actor Darren Wang is exactly her "type," and said that her ex-boyfriend in high school looked just like Hsu.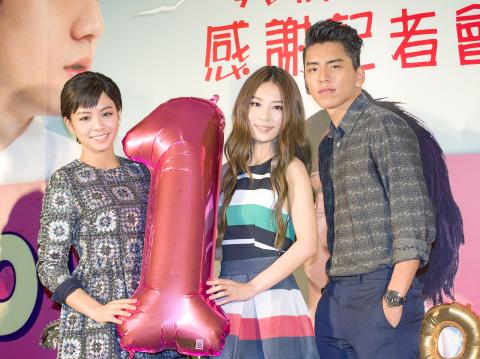 Hebe Tien, center — singer of the theme song of the film " Our Times" — poses with leading man Darren Wang and lead actress Vivian Sung at a party celebrating the movie's success in Taipei on Aug. 25 last year. 電影「我的少女時代」主題曲演唱人Hebe(中),和男主角王大陸、女主角宋芸樺於去年八月二十五日,在台北的電影慶功會上合照。
Photo: CNA
照片:中央社
The MV for "A Little Happiness" is also the first of its kind to attract over 100 million views. Korean singer Psy's music video for "Gangnam Style" still holds the title for the world's most viewed video, at over 2.6 billion views. (LIBERTY TIMES, TRANSLATED BY EDDY CHANG)
電影「我的少女時代」去年八月在台灣上映後造成轟動,票房屢創新高。由Hebe田馥甄所演唱的主題曲「小幸運」也跟著夯,MV目前在YouTube網站點閱量已突破一億次,成為台灣第一首破億的歌曲。
「小幸運」也入圍去年金馬獎最佳原創電影歌曲獎,與今年金曲獎最佳年度歌曲獎。
Hebe去年出席電影慶功會,並承認男主角王大陸飾演的「壞痞男」徐太宇,完全是她的「菜」,還自爆以前高中男友就長得跟徐太宇一樣。
「小幸運」也是華人世界首支破億的MV,目前全球最高瀏覽量MV是南韓歌手PSY的「江南Style」,點閱量超過二十六億次。(自由時報綜合報導)
Publication Notes
TODAY'S WORDS
今日單字
1. box-office adj.
票房的 (piao4 fang2 de5)
2. theme n.
主題 (zhu3 ti2)
3. music video ph.
音樂錄影帶 (yin1 yue4 lu4 ying3 dai4)
4. type n.
菜;類型 (cai4; lei4 xing2)
5. billion n.
十億 (shi2 yi4)
Comments will be moderated. Keep comments relevant to the article. Remarks containing abusive and obscene language, personal attacks of any kind or promotion will be removed and the user banned. Final decision will be at the discretion of the Taipei Times.