Pai Hsien-yung's famous novel Crystal Boys to be adapted for the stage 白先勇文學經典《孽子》搬上舞台
Having been adapted into a TV mini-series and a movie, writer Pai Hsien-yung's popular novel Crystal Boys (niezi, or "sons of sin" in Chinese) will be adapted for the stage next year for the first time. The play is being created especially for National Theater Concert Hall's annual Taiwan International Festival of the Arts next year. Pai says that being able to see a theatrical version of his play made three decades after the novel was originally published is, "Quite unexpected. I hope that ticket sales will be as good as my production of The Peony Pavilion for young people, becoming a veritable box office sensation."
Crystal Boys was turned into a movie in 1986 and a TV miniseries in 2003. This is the first time, however, that the novel has ever been adapted into a theatrical play. Pai has invited Tsao Jui-yuan, who won the Television Golden Bell Awards' Best Mini-series TV/Movies Director Award for Crystal Boys in 2003, to direct the play. Tsao believes that it is not merely a novel about homosexuals, "Pai Hsien-yung uses several dozen characters to reconstruct Taiwan as it existed during that time. The fantasy, romance, as well as the fighting and redemption found in the relationship between father and son are all quite stirring."
Pai says that a stage play differs from a novel, film or television series in that it requires more dramatic tension. "No matter how it is adapted, the most important thing is that it moves people." Pai says that the protagonist would like to return to simply being a "son" instead of a "son of sin," and that the main thing he needs is to be accepted by his father, "who represents society at large." In the book, the boy's psyche is quite fragile, so Pai would like to use performance art forms such as dance and music to complement the realism of the play.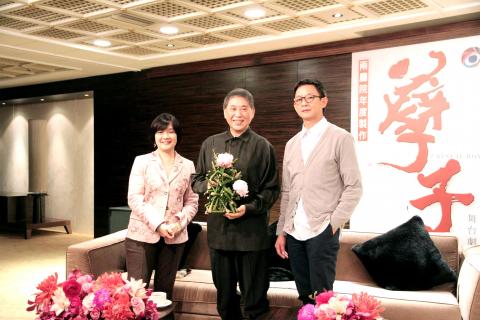 From left to right, National Chiang Kai-Shek Cultural Center director Ping Heng, Pai Hsien-yung and director Tsao Jui-yuan hold a press conference in Taipei on April 23 to promote Pai's novel Crystal Boys being adapted for the stage.
兩廳院藝術總監平珩、白先勇與導演曹瑞原四月二十三日於台北舉辦記者會,推廣白先勇小說《孽子》明年將搬上舞台。
Photo courtesy of NTCH
照片:照片由兩廳院提供
Veteran scriptwriter Shih Ju-fang will be in charge of adapting the script. Topics concerning homosexuality often appear in today's movies and on television, so Shih thinks the subject is not as taboo as when the book was first published. The ways in which Crystal Boys utilizes homosexual romance to challenge Confucian values and question father-and-son relations still make it an entirely unique work today. "The greatest challenge a scriptwriter faces when adapting a novel for the stage is having it accepted by the audience." Shih says that she will use the father-son relationship as the play's main theme and homosexual romance as a secondary theme. In creating the theatrical version of the novel, dream-like romance will pervade the entire production of Crystal Boys as it follows these two main themes, she says.
(Liberty Times, Translated by Kyle Jeffcoat)
繼電影與電視劇之後,白先勇經典名著《孽子》明年將首度搬上舞台,成為兩廳院「台灣劇場藝術節」的年度製作。對於小說在出版三十年後竟然有機會推出劇場版,小說家白先勇直說:「出乎意料,希望票房可以像崑曲青春版牡丹亭一樣,票房開出紅盤。」
《孽子》分別於一九八六年和二00三年被改編翻拍為電影和電視劇,首度搬上台灣劇場舞台,白先勇邀請以電視劇《孽子》拿下金鐘獎最佳導演的曹瑞原執導。曹瑞原認為《孽子》不只是一本書寫同志的小說,「白先勇用幾十個角色,建構出那個時代的台灣,其中原著的傳奇、愛慾、父子親情對決與救贖,特別觸動人心。」
白先勇說,舞台劇和小說、電影、電視都不相同,需要更大的戲劇張力,「但不論如何改編,最重要是要能感動人。」白先勇說,「孽子」心中想要恢復成「人子」,最需要的是父親的接納,「父親也象徵整個社會。」《孽子》書中的男性內心世界都很柔軟,白先勇也希望用舞蹈、音樂等表演形式來補足戲的寫實感。
舞台劇版《孽子》將由擅長鋪排的施如芳擔任改編劇本的工作,施如芳認為當前同志題材已多見於電影、電視,不再如當年充滿禁忌,但像《孽子》這樣以同志情愛挑動儒家價值,甚至挑戰父子關係的作品,至今未見其二。「長篇小說搬上舞台對編劇最大的挑戰是取捨」,施如芳傾向以父子親情為主,同志情愛為輔,藉由神話般的「龍鳳戀」貫串全劇,從親情和愛情兩組線索,架構出舞台劇版的《孽子》。
(法新社╱翻譯:林倩如)
Publication Notes
TODAY'S WORDS 今日單字
1. sensation n.
轟動事件 (hong1 dong4 shi4 jian4)
例: The performance was a sensation.
(這是場轟動的演出。)
2. tension n.
張力;緊張 (zhang1 li4; jin3 zhang1)
例: A dangerous tension exists between the two military powers.
(兩國劍拔弩張,關係緊張。)
3. taboo adj.
禁忌的 (jin4 ji4 de5)
例: It is taboo in Thai culture to point your feet at someone.
(用腳直接對別人,在泰國文化是個禁忌。)
Comments will be moderated. Keep comments relevant to the article. Remarks containing abusive and obscene language, personal attacks of any kind or promotion will be removed and the user banned. Final decision will be at the discretion of the Taipei Times.