Catalan language row sets Spanish tongues wagging 加泰隆尼亞語教學在西班牙引發議論
Tensions between Spain's Catalonia region and the central government have flared over a national education reform that targets the sensitive issue of Catalan language teaching in schools.
In a sign of how dear the right to teaching in Catalan is to inhabitants of the northeastern region, Barcelona Football Club — one of Catalonia's most powerful institutions — spoke out to defend it.
"FC Barcelona wishes to express its active support for the Catalan language and the model of linguistic immersion which has been employed in Catalonia over the last 34 years," it said in a statement.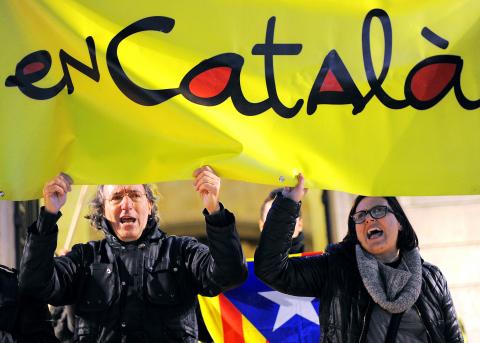 Demonstrators hold a banner reading "in Catalan" during a protest in Barcelona, Spain on Dec. 13 last year. 示威者去年十二月十三日在西班牙巴塞隆納,高舉「使用加泰隆尼亞語」的標語。
Photo: AFP
照片:法新社
"The Catalan language and its teaching in our schools form part of our identity and are key elements for social cohesion and coexistence within our country."
Catalonia's leaders and media jumped on the defensive after national Education Minister Jose Ignacio Wert proposed an education reform focusing on Spanish language teaching in all regions.
Wert proposed to stop obliging students in Catalonia to speak Catalan in order to study at universities there, and to make the region pay for private schooling in Spanish for children whose parents demanded it.
"It could only come from a total ignorance of Catalonia or simply from bad faith," said the regional government's spokesman Francesc Homs. "If it is necessary to appeal to the Constitutional Court, we will do so."
(AFP)
西班牙加泰隆尼亞地區和中央政府間的對峙情勢,最近又因為全國教育改革而突然升高,這項改革的目標則為校內加泰隆尼亞語教學此一敏感議題。
西國東北部地區居民有多麼重視在學校裡使用其母語加泰隆尼亞語的權利,從加泰隆尼亞影響力最大機制之一的巴塞隆納足球隊都公開發言力挺可看出。
「巴塞隆納隊在此表達對加泰隆尼亞語,以及加泰隆尼亞地區過去三十四年來所使用的沉浸式語言教育模式的積極支持,」該隊在聲明中指出。
「加泰隆尼亞語以及在我們的學校裡教授這種語言,構成了我們身分認同的一部分,更是促進社會凝聚力以及全國族裔共存的重要成分。」
在教育部長韋特提出一項要求全國地區教授西班牙語的教改計畫後,加泰隆尼亞領袖及媒體立刻跳出來為現行加語政策辯護。
韋特提議停止強制加泰隆尼亞地區學生必須說加語,才能在當地大學就讀的規定,並要求當家長要求讓子女接受以西語教學的私立課程時,地方政府應支付學費。
「這只能是出於對加泰隆尼亞的全然無知,或者根本就是言而無信,」加泰隆尼亞地區政府發言人侯姆斯說。「假如此案必須上訴至憲法法庭,我們也一定會這麼做。」
(法新社/翻譯:俞智敏)
Publication Notes
TODAY'S WORDS 今日單字
1. flare v.
情勢惡化;發怒 (qing2 shi4 e4 hua4; fa1 nu4)
例: Tempers flared after a three-hour delay at the airport.
(機場作業延誤三小時後,旅客終於忍不住發飆。)
2. jump on v. phr.
立刻採取某種作為 (li4 ke4 cai2 qu3 mo2 zhong3 zuo4 wei2)
例: My friend asked me if I wanted tickets to the game, and I jumped on the opportunity.
(我朋友問我是否要此賽事的入場票,我立刻把握良機。)
3. bad faith n. phr.
不守信用 (bu4 shou3 xin4 yong4)
例: She accused her landlord of bad faith because he had promised to paint the apartment but never did it.
(她指控房東不守信用,因為他曾承諾要粉刷公寓卻從未動工。)
Comments will be moderated. Keep comments relevant to the article. Remarks containing abusive and obscene language, personal attacks of any kind or promotion will be removed and the user banned. Final decision will be at the discretion of the Taipei Times.