Aboriginal self-made hunting rifle laws need amending: councilor 原民自製獵槍爭議 議員促修法
There are many limitations on self-made Aboriginal hunting rifles. Taitung County Councilor Chiang Chien-shou said on May 22 that the National Police Agency (NPA) has amended regulations without any communication with Aborigines. The amended legislation says Aborigines are not allowed to use the safer Hilti Corp nail gun nails, and instead must directly insert gunpowder into their guns the old-fashioned way, which keeps them from using cheaper and safer methods.
The legislation regarding permits and the control of guns, ammunition, and bladed weapons was amended on Nov. 7 last year, which stipulates that Aborigines' self-made hunting rifles must be made by the individual using them or with help from other Aborigines that is non-profit in nature. In addition, they must be completed at a place designated by the local police department and gunpowder must be inserted manually into the rifle's barrel.
Chiang says the NPA formulated the legislation without holding discussions with the actual Aborigines who make their own hunting rifles, and asked whether the guns they piece together and make on their own are indeed safe. Hilti nails can be purchased at most hardware shops and can be used for hunting by adding a barrel to the rifle, which is currently illegal.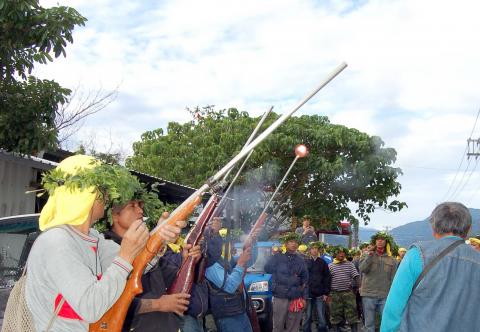 Aborigines shoot hunting rifles into the air in Taitung County on May 22. 原住民五月二十二日於台東縣以獵槍向空中射擊。
Photo: Chen Hsien-yi, Taipei Times
照片:自由時報記者陳賢義
Chiang also says that the gunpowder used in firecrackers is more expensive and that the barrels of the guns must be at least 1.2m long, which is not suitable for the intended purpose of the rifles. The process of adding gunpowder manually into barrels is not fast enough, and it puts the lives of Aborigines living in mountainous areas in danger when they come into contact with animals. Chiang suggests that the NPA take into consideration Aborigines' suggestions and swiftly amend the legislation.
There is a lot of controversy surrounding the various types of Aboriginal hunting rifles. The NPA has clamped down on and banned modified hunting rifles that use Hilti nails for ammunition. Wu Yi-ming, a prosecutor with the Taitung District Prosecutors Office, says he supports the NPA's policies, adding that although Aborigines have their own culture of hunting, public safety issues will arise if they simply do as they see fit and evade laws.
Kemushiyang, a member of the Paiwan tribe, says that the forceful bans of the past have already caused a gap in the traditional wisdom that was once passed down from their ancestors, and that as the elders pass away, the younger generation is gradually forgetting the art of making traditional hunting rifles. Forcefully carrying out the legislation causes hindrances and creates a cultural crisis, he says.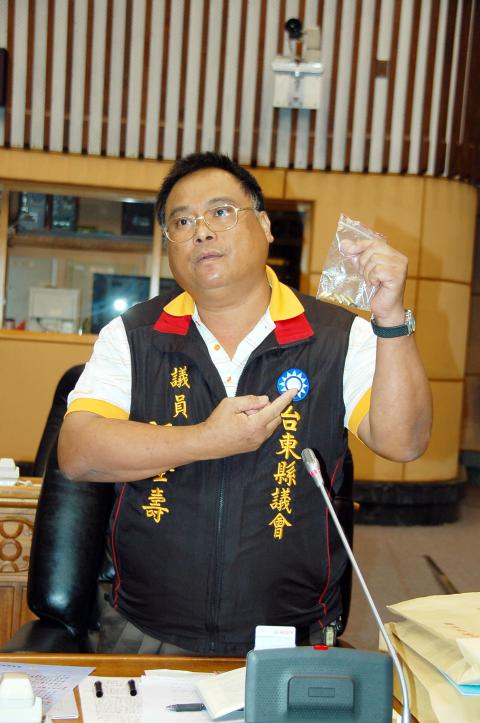 Taitung County Councilor Chiang Chien-shou holds up Hilti Corp nail gun nails in Taitung County on May 22. 台東縣議員江堅壽五月二十二日於台東縣拿出「喜得釘」。
Photo: Photo: Chang Tsun-wei, Liberty Times
照片:自由時報記者張存薇
Wu says Aborigines cannot evade laws just because they want to hunt a certain way, and that passing down the traditions of ancient artisans has its own historical significance, which will be lost if future generations simply modify those traditions. The hunting rifles that most Aborigines own are not currently registered with the government and many of them are modified.
(Liberty Times, Translated by Kyle Jeffcoat)
原住民自製獵槍限制多,國民黨籍議員江堅壽五月二十二日指出,警政署修訂辦法卻未與原住民溝通,原住民無法採用較安全的「喜得釘」,反而需採用較原始的填充黑色火藥,無法兼顧成本與安全。
槍砲彈藥刀械許可及管理辦法於去年十一月七日修正,規定原住民自製獵槍必須自行獨立、或與非營利為目的的原住民協力,在警分局核准的報備地點製造完成,且須由槍口裝填黑色火藥於槍管內。
江堅壽表示,警政署制訂相關辦法時,未與使用自製獵槍的原住民協商,而原住民自行獨立、拼湊完成的獵槍安全嗎﹖此外,以往在材料行可以買到「喜得釘」、再加通條即可發射獵捕,但現在全變成不合法。
他進一步說,炮竹用的黑色火藥成本較高,且槍管至少要長一點二公尺,不符實際需求,填充火藥速度更不夠快,原住民在山區面對獵物反而不安全,建議警政署要聽取原住民意見,儘快修正相關規定。
原住民獵槍型式多爭議,警政署嚴查取締以「喜得釘」為底火的改造獵槍,台東地檢署主任檢察官吳怡明支持警政署規定,他表示,原住民狩獵傳承有其精神,倘若便宜行事,任其規避法則,恐造成社會治安問題。
不過排灣族人葛姆西洋說,以往的強制禁止,造成祖傳智慧的撕裂,年輕一輩因耆老的逐漸逝去,早已忘了製作傳統獵槍的技藝,強行規定恐形成罣礙,致使文化傳承出現危機。
吳怡明表示,原民狩獵的因果關係,不能因便宜行事而規避科法,老工匠的傳承有其歷史意義,後代的直接改造,已失去原住民狩獵的原始意涵。原民持有獵槍,大都未依法完成登記,其中多為改造式獵槍。
(自由時報記者張存薇、陳賢義)
Publication Notes
TODAY'S WORDS 今日單字
1. gunpowder n.
火藥 (huo3 yao4)
例: Gunpowder was invented in China over 1,000 years ago.
(中國一千多年前發明火藥。)
2. controversy n.
爭議 (zheng1 yi4)
例: The topic of same-sex marriage has caused a lot of controversy in contemporary American politics.
(同性婚姻的議題目前在美國政壇爭議多端。)
3. hindrance n.
罣礙;阻礙 (gua4 ai4; zu3 ai4)
例: The president has met numerous hindrances in trying to pass the legislation.
(總統試圖通過這個法令時面對許多阻礙。)
Comments will be moderated. Keep comments relevant to the article. Remarks containing abusive and obscene language, personal attacks of any kind or promotion will be removed and the user banned. Final decision will be at the discretion of the Taipei Times.