China clones castrated quake hero pig 川震「豬堅強」複製下一代誕生
A heroic pig who survived more than a month buried under rubble after the 2008 earthquake in China's Sichuan province has been successfully cloned, according to a report Sunday.
Scientists in the southern city of Shenzhen performed the experiment on Zhu Jianqiang, or "Strong-Willed Pig," and produced six offspring with DNA identical to their dad, who was hailed as a national hero following his harrowing ordeal, the Sunday Morning Post reported.
The births over the past few weeks of six piglets happened even though Zhu had been castrated before the quake, suffered severe trauma from being buried for 36 days, and is five years old — or about 60 in human terms.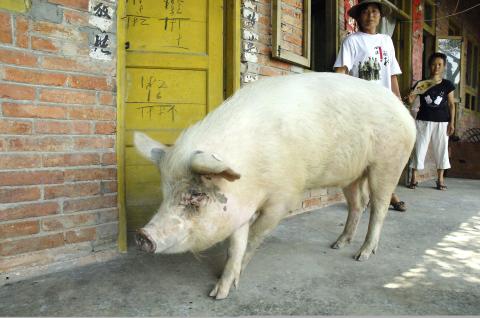 The pig, known as Zhu Jianqiang, roams free at a museum in Dayi, in southwest China's Sichuan province on July 6, 2008. He was discovered alive beneath rubble 36 days after the 8.0-magnitude earthquake struck Sichuan province on May 12, 2008. 有「豬堅強」之稱的一頭豬,二○○八年七月六日在中國西南方四川省大邑縣的一家博物館四處遊蕩。這頭豬二○○八年五月十二日在四川發生芮氏規模八點○地震後的第三十六天,於瓦礫堆下被活著救出。
Photo: AFP照片:法新社
"But the wonderful pig surprised us again," Du Yutao, the leader of the cloning project, told the Post.
The 150kg hog reportedly survived in the ruins of its sty by chewing charcoal and drinking rainwater.
His offspring reportedly bear a striking resemblance to their dad, including a birthmark between their eyes, the Post reported.
The piglets will likely be paired off and sent to a museum and a genetic institute, it said.
An 8.0-magnitude quake rocked Sichuan and parts of neighboring Shaanxi and Gansu provinces on May 12, 2008, killing tens of thousands and flattening swathes of the province.(AFP)
根據週日的一則報導,一頭二○○八年中國四川大地震後,被埋在瓦礫堆下超過一個月還能生還的英勇豬,這回已成功地被複製出下一代。
《星期日南華早報》報導,中國南方深圳的科學家在「豬堅強」身上做實驗,並複製出六頭DNA與豬爸爸完全相同的小豬。這位豬爸爸,因受折磨考驗還能意志堅強存活,而被全國人民讚頌為民族英雄。「豬堅強」意即「意志堅強的豬」。
雖然「豬堅強」早在地震前就被結紮,還在震後困在瓦礫堆下長達三十六天而受到嚴重創傷,而且現已年屆五歲─大約是人類的六十歲─但這六頭小豬還是在上幾週順利產出。
該複製研究的計畫主持人杜玉濤告訴《南華早報》說:「但這頭超棒的豬,再度帶給我們驚喜。」
據報導,這頭重達一百五十公斤的公豬,在被震毀的豬圈廢墟中,以嚼食木炭與喝雨水生存下來。
據《南華早報》報導,牠的下一代與爸爸長得十分相似,包括雙眼間的胎記也都一模一樣。
報導指出,這些小豬將有可能被分成一對一對,分別送往一家博物館與一所基因研究機構。
二○○八年芮氏規模八點○的地震,不僅使四川天搖地動,連鄰近陝西省與甘肅省的部分地區,也受到地震波及。該地震造成數萬人罹難,並導致該省內長而寬的一條地帶被夷為平地。
(法新社/翻譯:林亞蒂)
Publication Notes
TODAY'S WORDS 今日單字
1. harrow v.
折磨 (zhe2 mo2)
例: The book is an account of the soldier's harrowing journey through the desert.
(該書描述該士兵橫渡沙漠飽受折磨的旅程。)
2. sty n.
豬圈 (zhu1 quan1)
例: Your room looks like a pig sty.
(你的房間看起來像豬圈。)
3. birthmark n.
胎記 (tai1 ji4)
例: The oddly shaped birthmark on his left shoulder helped them identify the body.
(他左肩上形狀奇特的胎記,應該有助他們指認遺體。)
Comments will be moderated. Keep comments relevant to the article. Remarks containing abusive and obscene language, personal attacks of any kind or promotion will be removed and the user banned. Final decision will be at the discretion of the Taipei Times.