Britain lifts ban on gay men giving blood 英解除歧視禁令 男同志可捐血救人
Britain said last Thursday that it was lifting a ban on gay men giving blood providing they have not had homosexual intercourse within a year.
A lifetime ban on blood donation by men who have had sex with another man was introduced in Britain in the 1980s as a response to the spread of AIDS and HIV.
But a review by a panel of leading experts and patient groups found it could no longer support their permanent exclusion.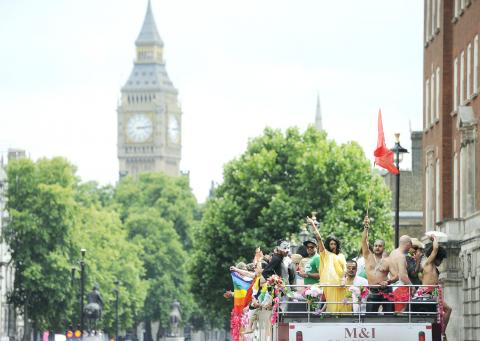 Participants take part in the annual Pride London parade in London on July 2. 群眾七月二日在倫敦參加年度倫敦同志大遊行。
Photo: Reuters
照片:路透
However, men who have had anal or oral sex with another man in the past 12 months, with or without a condom, will still be barred from donating blood, the Department of Health said.
The experts considered the risk of infection being transmitted through blood, the willingness of potential donors to comply with the selection criteria and improvements in testing donated blood.
The change brings the criteria for men who have had sex with men into line with other groups who are deferred from giving blood for 12 months due to infection risks associated with sexual behavior.
These include women who have slept with a man who has had sex with another man, people who have slept with prostitutes and those who have had intercourse with anyone who has injected themselves with drugs.
The announcement was welcomed by human rights campaigner Peter Tatchell, but he said it fell short of lifting the ban on gay men who always use condoms.
He said: "Although the new policy is a big improvement on the existing discriminatory rules, a 12-month ban is still excessive and unjustified."
Tatchell, who launched the first campaign against the lifetime ban in 1991, added: "Most gay and bisexual men do not have HIV and will never have HIV.
"If they always have safe sex with a condom, have only one partner and test HIV negative, their blood is safe to donate.
"They can and should be allowed to help save lives by becoming donors."
(AFP)
英國政府上週四表示,男同志不得捐血禁令即將解除,不過條件是捐血男性必須在一年內無同性性行為。
一九八O年代因愛滋病與HIV(人類免疫不全病毒)的蔓延,英國政府為控制疫情,下令曾與男性有過性行為的男子,終生不得捐血。
不過經由一流專家及病友團體組成的專門小組發現,永久排除這些人捐血,可能有矯枉過正之嫌。
然而英國衛生部門表示,若一年內與同性有肛交或口交行為的男性,不論是否使用保險套,仍將被禁止捐血。
專家認為造成感染的風險包括血液傳染、可能捐血者對於捐血同意書內容的誠信,以及捐血檢測的改善。
這項解禁讓有同性性行為男性在捐血時,得以與其他因性行為相關感染風險,而不得在十二個月內捐血的族群,享有一致的標準。
這些族群包括,與有同性性行為的男性發生性關係的女性、與妓女發生性關係的民眾,以及與有自行注射藥物的任何人發生性關係的民眾。
人權運動倡議者彼得‧塔裘爾對這項宣布表示歡迎,但他說,美中不足的是,新政策並未對總是使用保險套的男同志解禁。
他說:「雖然新政策對於目前的歧視規定,是一大進步,但是十二個月的禁令條件,仍太超過且並未被證實有其必要。」
一九九一年首度對於終身不得捐血禁令,發起反對運動的塔裘爾補充說:「大部分男同志以及雙性戀男性皆非HIV帶原者,且永遠不會有HIV。」
他說:「若他們總是使用保險套進行安全性行為、只有一位性伴侶,以及HIV檢驗為陰性,則這些人捐出的血液則安全無虞。」
他說:「他們可以且應該被允許捐血救人,盡一己之力。」
(法新社/翻譯:林亞蒂)
Publication Notes
TODAY'S WORDS 今日單字
1. spread n.
蔓延 (man4 yan2)
例: The spread of computer viruses has gotten out of control.
(電腦病毒的蔓延,已一發不可收拾。)
2. permanent adj.
永久的 (yong2 jiu3 de5)
例: Padre Bei, originally from Spain, has devoted nearly half a century to helping Taiwanese people, and was granted permanent residency on June 1.
(西班牙籍神父貝立民,近半世紀服務臺灣人民,六月一日獲頒永久居留證。)
3. criteria n. plural
標準 (biao1 zhun3)
例: Researchers use a set of unique criteria when selecting a subject for a case study.
(研究員以特別的標準選擇個案研究的對象。)
Comments will be moderated. Keep comments relevant to the article. Remarks containing abusive and obscene language, personal attacks of any kind or promotion will be removed and the user banned. Final decision will be at the discretion of the Taipei Times.