US man survives pruning shears in eye socket 修枝剪刺穿眼窩 美國老翁奇蹟生還
An 86-year-old American has made a stunning recovery after a gardening accident left him with a pair of pruning shears impaled through an eye socket deep into his skull.
Leroy Luetscher lost his balance and fell face-down on the shears, which had landed point-end down in the ground when he dropped them at his home in Green Valley, Arizona.
"It was excruciating. I just can't tell you how much it hurt ... I thank my lucky stars that I'm here," he told a news conference at the University Medical Center in Tucson.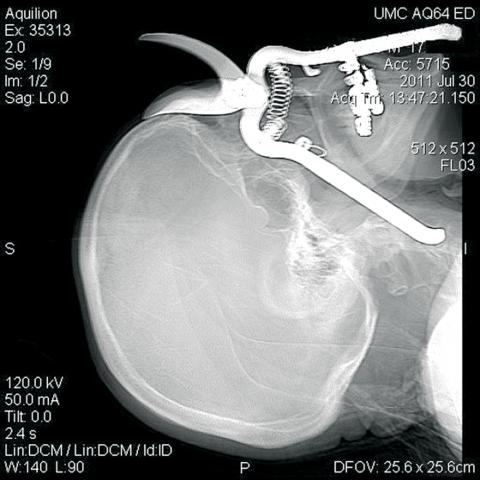 This image provided by the University Medical Center in Tucson, Arizona shows the X-ray of Leroy Luetscher, 86, who was accidentally impaled through his eye socket with pruning shears at his home on July 30. 這張由亞利桑那州圖森大學醫療中心的照片,是一位八十六歲男子勒魯瓦‧路契爾的X光片。路契爾七月三十日於自家中被一把修枝剪刺入眼窩。
Photo: AFP
照片:法新社
An X-ray released by the hospital shows the garden implement impaled through his right eye, with the handle stuck 15cm down inside his skull.
But all that remains of the July 30 accident is some slight swelling of his upper and lower lids and minor double vision in the affected eye, said Dr. Lynn Polonski, one of the surgeons who operated on him.
"You just wonder how the handle of the pruning shears got there. The handle was actually resting on the external carotid artery in his neck," Polonski said.
"We decided we could safely remove the pruning shears. We are so happy that Mr. Luetscher did not lose his eye or any vital structures," said the doctor, a clinical assistant professor of ophthalmology.
Trauma surgeon Julie Wynne described how, after removing the shears, she and other doctors rebuilt the socket with metal mesh and saved the octogenarian's eye.
"You wouldn't believe your eyes ... Half of the pruning shears was sticking out and the other half was in his head," she said.
Luetscher's girlfriend Arpy Williams, who called 911 after the accident, said: "I was just shocked. There was blood all over ... I saw this instrument in his face, and I just said 'Leroy honey, what have you done?'"
(AFP)
美國一位八十六歲老翁,意外被修枝剪刺穿其眼窩並深入顱骨,復原狀況卻是神乎其神地好。
勒魯瓦‧路契爾將修枝剪刀尖端插入其位於亞歷桑納州綠谷家的地面後,他一個重心不穩,正臉跌向剪刀把手上。
他在圖森大學醫療中心的一場記者會上說:「當時簡直是痛不欲生。我難以形容有多痛…真慶幸我福星高照,還能在這裡。」
一張院方公布的X光片,可見園藝工具刺穿老翁右眼,而長達十五公分的剪柄,就這麼硬生生的深入其顱內。
其中一位操刀的醫師霖恩‧波隆斯基表示,這場七月三十日令人驚駭的意外,留下的症狀卻僅是老翁上下眼皮的些微腫脹,以及該眼輕微的複視。
波隆斯基說:「當時你只納悶這把修枝剪是如何卡入頭內。剪柄竟正巧停在其頸部的外頸動脈上。」
這位醫師也是眼科臨床助理教授說:「我們認為可以安全地移除這把修枝剪。我們對於路契爾先生並未失明,也沒有損及體內重要構造,甚感欣慰。」
創傷外科醫師裘莉‧偉恩在移除這把剪刀後,描述她與其他醫師是如何以金屬網重建眼窩,並且保住這位八旬老翁的靈魂之窗。
她說:「你不敢相信眼前所見的…修枝剪有一半外露,而另一半則在他頭內。」
事發當時打電話向九一一求救的是路契爾的女友阿比‧威廉斯,她描述當時狀況說:「我簡直嚇呆了。當時到處是血…我看見這個工具在其臉內,而我只說:『親愛的勒魯瓦,你做了什麼?』」
(法新社/翻譯:林亞蒂)
Publication Notes
TODAY'S WORDS 今日單字
1. implement n.
工具 (gong1 ju4)
例: The sharp-edged implement is used for cutting metal.
(這個刀刃鋒利的工具是用來剪斷金屬的。)
2. remain v.
留下;剩下 (iu2 xia4; sheng4 xia4)
例: The remaining questions must be answered in order to complete the questionnaire.
(剩下問題必須回答,才能完成這份問卷。)
3. vital adj.
重要的 (zhong4 yao4 de5)
例: Some of his vital organs are no longer functioning properly.
(他的一些重要器官已無法正常運作了。)
Comments will be moderated. Keep comments relevant to the article. Remarks containing abusive and obscene language, personal attacks of any kind or promotion will be removed and the user banned. Final decision will be at the discretion of the Taipei Times.