Curse of number 39 haunts Afghan car dealers 忌諱「三十九」 阿富汗車商視之色變
Attracting dust but few prospective buyers in a car lot on the outskirts of Kabul, three sedan cars, a crane and a dump truck sit abandoned due to a numerical curse that has swept Afghanistan.
A bizarre phenomenon that equates the number 39 with prostitution has become a headache for the car industry, as buyers avoid car license plates containing the dreaded number for fear of being ostracized.
"This is no longer just a social issue, it is becoming an economic issue for us," said the car yard's owner Said Mohammad Zaman.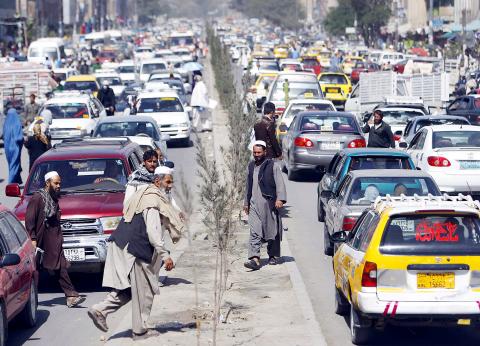 A view of the traffic on a street in Kabul on June 15. 這是六月十五日喀布爾車水馬龍的街景。
Photo: Reuters
照片:路透
"It has been months and no one is buying them," he said, pointing at the white, black and blue sedans and the construction vehicles cluttering up his lot.
According to many Afghans, "39" got its bad reputation through a well-known pimp who was often identified by the number on his car plates as he drove around Herat, a western city that lies close to the border with Iran.
The man's seedy image and illicit business meant that the number became associated with immorality. Apocryphal or not, the tale spread to other Afghan cities in recent years — and the curse was born.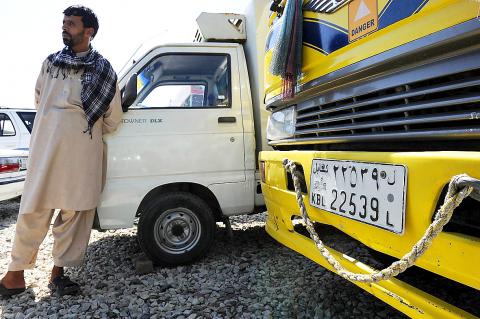 An Afghan man stands next to a car with the number "39" on its license plate in Kabul on June 20. 一位阿富汗男子六月二十日於喀布爾,站在一輛有號碼「三十九」的車牌。
Photo: AFP
照片:法新社
Now anyone seen traveling around sporting a "39" license plate is in danger of being linked to the underground sex industry that is taboo in the devoutly Muslim nation.
Bashir Ahmad, who bought a Toyota Corolla for US$12,000 (NT$345,000) in Kabul at the beginning of the year, is now trying to sell it for US$6,000 (NT$173,000) after becoming a laughing stock in his neighborhood due to the unlikely urban legend.
"I didn't know about this 39 thing, but soon some boys near my home started ridiculing me," he says. "At first I didn't care, but now every time I return from work, the boys shout 'Hey! Here comes Haji 39!'"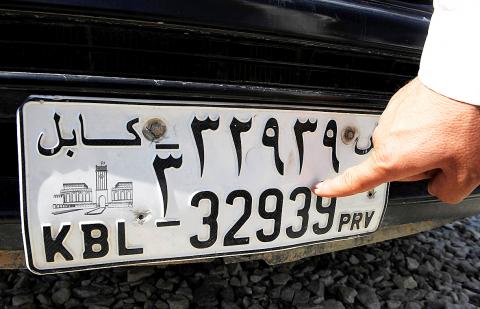 An Afghan man points to the number "39" on a car's license plate in Kabul on June 20. 一位阿富汗男子六月二十日於喀布爾,指著車牌上的號碼「三十九」。
Photo: AFP
照片:法新社
Car industry professionals say the number's unwanted place in the popular imagination is damaging for dealers trying to make an honest living in the war-ravaged nation.
(AFP)
喀布爾市郊停車場停放待售的三台小轎車、一台吊車與一台傾卸車,因為阿富汗普遍對數字的忌諱,而鮮少有人願意購買這些車輛,致使這些車無人聞問,繼續停在停車場內積灰塵。
將數字「三十九」與娼妓畫上等號的怪異的現象,已使汽車產業大傷腦筋,因為買主皆避開車牌含令人害怕數字的車子,以防被排擠。
二手車商負責人薩伊德‧穆漢默德‧札曼說:「這不再只是社會問題,它對我們也是個經濟問題。」
他指著在塞滿車輛的停車場中的白色、黑色與藍色轎車,以及工程車說:「數個月過去了,還是沒人要買它們。」
根據許多阿富汗人,數字「三十九」之所以惡名昭彰,是因一位廣為人知的拉皮條者,過去經常開著車牌含有該號碼的車做為識別,四處行駛在西部鄰近伊朗交界的城市赫拉特。
這位男子的下流形象與他所從事的非法交易,讓這個號碼與放蕩缺德畫上等號。不管此傳聞是真是假,它在近幾年已傳到阿富汗其他城市,該詛咒也因而誕生。
現在只要看到有人駕駛亮出含有「三十九」的車牌號碼,他/她就會面臨被認為與地下色情業有染的危險,而對篤信教義的穆斯林國家來說,色情業是禁忌。
巴希爾‧阿瑪德今年初在喀布爾,以一萬兩千美元(新台幣三十四萬五千元)購買豐田Corolla轎車,但在鄰近地區,因該都會傳說讓他被被當成笑柄後,他正試著以六千美元(新台幣十七萬三千元)將此車脫手。
他說:「我原先並不知道關於『三十九』的事情,但不久後有些家附近的男孩開始奚落我。」他繼續說:「一開始我不以為意,但現在只要我下班回家,這些男孩就會大喊『嘿,哈吉(編按:赴麥加朝聖的回教徒)三十九來了。』」
汽車產業銷售員說,在大眾壓根兒對該號碼的排斥,已損及想在這個戰火摧殘國家中,試著誠實過生活的銷售員。
(法新社/翻譯:林亞蒂)
Publication Notes
TODAY'S WORDS 今日單字
1. outskirts n.
市郊 (shi4 jiao1)
例: The temple is located on the outskirts of the city, so it will take you at least an hour to get there.
(這座寺廟位於市郊,所以至少要花一小時才能抵達。)
2. ostracize v.
排擠 (pai2 ji3)
例: Survivors of mental illness are often ostracized by society.
(精神病患通常遭社會排擠。)
3. ridicule v.
奚落 (xi1 luo4)
例: The other kids were ridiculing him for wearing a jacket in the middle of summer.
(其他小孩奚落在盛夏穿著夾克的他。)
Comments will be moderated. Keep comments relevant to the article. Remarks containing abusive and obscene language, personal attacks of any kind or promotion will be removed and the user banned. Final decision will be at the discretion of the Taipei Times.