"Little Fatty" hits the big time 「小胖」紅透半邊天
A chubby-faced Shanghai gas station intern known as "Little Fatty" has reached the heights of Internet fame in China thanks to cheeky Photoshop artists who are turning the 100kg youth into a pop icon.
It all started three years ago when Qian Zhijun, then 16, was attending a traffic safety class and someone snapped a picture of his rotund, rosy-cheeked face.
His suspicious-looking sideways look at the camera soon made its way on to the Internet. That picture of "Xiao Pang" (Little Fatty), as he was soon named, has since been morphed onto other iconic visages including the Mona Lisa, Marilyn Monroe and other well-known celebrities. It has also spawned Web sites, blogs and numerous fan clubs.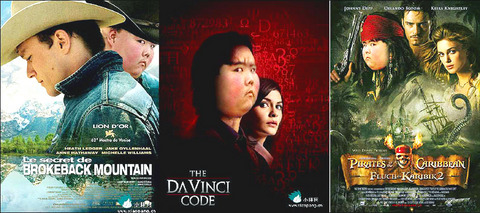 Photoshopped pictures of "Xiao Pang" taken from a Chinese Web site. 中國網站爆紅的經 Photoshop 處理的「小胖」變身照。 (照片:法新社)
PHOTO: AFP
"I like it when they put me on the body of heroes, such as Russell Crowe in Gladiator," Qian said. "But I hate it when they place me on the shoulder of naked women or when the touchup job is terrible," he said.
Qian, who now attends vocational school and works part-time at a gas station, discovered his fame when he walked into a cybercafe and came face to face with himself.
He is yet to make any money off his celebrity and initially considered suing somebody, but now welcomes the attention and even set up his own personal blog where his fans, many of them also overweight, write in.
"I really like the way you are," one blogger called "Constantine" gushed in Chinese on Qian's blog. "Very ordinary but very hopeful and with a fat person's cleverness."
Qian now fancies a career in entertainment. "It would be nice to work as an entertainer, even though it'll mean I'll have to give up some of the pleasure of being a regular guy," he said. (AFP)
臉頰肥嘟嘟、被稱為「小胖」的一位上海加油站實習生在中國網路上發紅發紫,全都要多虧Photoshop玩家讓這位一百公斤的年輕人變成流行象徵。
一切都要追溯到三年前十六歲的錢志君參加交通安全講習課程時,有人拍了張他圓嘟嘟的紅臉頰照片。
他斜眼望著相機的疑心模樣隨即在網路上流傳。他很快就被叫做「小胖」,照片從此被移花接木加入其他象徵性的臉孔,包括蒙娜麗莎、瑪麗蓮夢露與其他眾所皆知的名人。他的照片也衍生出網站、部落格與眾多粉絲俱樂部。
「我喜歡他們把我放在如《神鬼傳奇》的羅素克洛等英雄的身體上,」錢志君說︰「不過我討厭他們把我放在裸女臉上,或是影像處理很糟的時候。」
目前為職校學生、並在加油站打工的錢志君在一家網咖看到自己的臉時,才發現自己紅透半邊天。
他的知名度還沒幫他賺到錢,他起先也考慮興訟,不過他現在樂見這樣的名氣,甚至還成立了自己的個人部落格,讓粉絲可以留言。他的很多粉絲也是過重者。
「我真的很喜歡你的風格,」一位署名「康斯坦汀」的部落客用中文熱情寫道︰「非常平凡但充滿前途,有著胖子的聰明。」
錢志君現在想朝影藝事業發展。他說︰「當個藝人應該不錯,雖然這也代表我必須放棄當個普通人的一些樂趣。」 (法新社/翻譯:賴美君)
Publication Notes
Today's Words 今天單字
1. rotund adj.
矮胖的 (ai3 pang4 de5)
例: The chef's rotund figure confirmed her belief that his food must be immensly enjoyable.
(那位主廚矮胖的身軀讓她安心,他的食物想必美味可口。)
2. iconic adj.
象徵的 (xiang4 zheng1 de5)
例: Jackie 'O' was famous for her iconic sunglasses.
(賈桂琳以她代表性的太陽眼鏡出名。)
3. spawn v.t.
產生 (chan3 sheng1) ,招致 (zhao1 zhi4)
例: Sally's absence from school spawned rumours of a pregnancy.
(莎莉未到校上課引發她懷孕的謠言。)
4. touchup n.
影像處理 (ying3 xiang4 chu2 li3)
例: Cover models benefit from touchup in the design stage.
(設計階段的影像處理讓封面模特兒獲益良多。)
Comments will be moderated. Keep comments relevant to the article. Remarks containing abusive and obscene language, personal attacks of any kind or promotion will be removed and the user banned. Final decision will be at the discretion of the Taipei Times.