2020 Elections: Hundreds of foreign journalists to observe elections
Saturday's presidential and legislative elections are drawing worldwide attention, as several foreign delegations, as well as more than 210 journalists, are to observe the voting results, the Ministry of Foreign Affairs said yesterday.
Three delegations from Europe — a four-member legislative delegation from Sweden, a five-member legislative delegation from Ireland and a five-member delegation of academics from Denmark — are to observe the elections, Department of European Affairs Deputy Director-General Ko Liang-jui (柯良叡) told a news briefing in Taipei.
They are to visit the Central Election Commission's poll center and local ballot stations, he said, adding that foreign parliamentary groups had previously observed elections in Taiwan.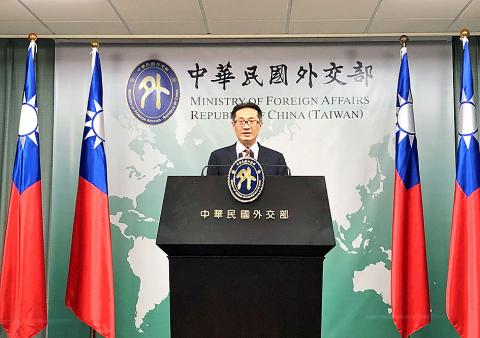 Ministry of Foreign Affairs Department of European Affairs Deputy Director-General Ke Liang-ruey speaks at a news conference in Taipei yesterday to welcome delegations from three European nations that are to observe the presidential and legislative elections on Saturday.
Photo: CNA
More than 210 international journalists — 60 originally stationed in Taiwan and more than 150 flying in from other nations — representing 100 media agencies have applied for permits to cover the elections, ministry spokeswoman Joanne Ou (歐江安) said.
Minister of Foreign Affairs Joseph Wu (吳釗燮) is to brief them on background information related to Taiwan's democracy and election system, Ou said, adding that they are traveling to the nation at their own expense.
There would also be several groups from the US and other countries, she said, but added that the ministry could not provide a list at the moment.
Separately yesterday, US Senator Rick Scott said on Twitter that "Taiwan's election is vital to the continued fight for human rights & freedom in the region."
"Allowing Communist China's influence to spread will only open more doors for oppression. We must stand with our brothers & sisters in #HongKong & #Taiwan," he wrote.
In related news, Ko is later this month to succeed Representative to the Czech Republic Wang Chung-yi (汪忠一) as Taiwan's envoy to the European nation.
Asked if Czech Senate President Jaroslav Kubera might change his plan to visit Taiwan after the elections due to Beijing's influence, Ko said that Kubera has repeatedly expressed his plan to visit Taiwan and that the ministry welcomes his visit.
Prague has placed a great emphasis on attracting foreign investment, and Taiwan and the Czech Republic have many collaborative opportunities in industry, culture and technology, Ko said, adding that he hopes to make Taiwan better-known among the Czech public.
Comments will be moderated. Keep comments relevant to the article. Remarks containing abusive and obscene language, personal attacks of any kind or promotion will be removed and the user banned. Final decision will be at the discretion of the Taipei Times.